Under the amended National Flag and Emblem Ordinance, schools must hold a ceremony at least once a week, with acts of improper flag handling and disposal banned.
A new rule requiring Hong Kong schools to hold regular flag-raising ceremonies kicked in on Monday, with some seeking police help on training students in etiquette for the practice.

The Education Bureau released guidelines last October, following legislative changes to the National Flag and Emblem Ordinance to ban acts such as inverting or casual disposal of the Chinese flag.

Under the guidelines, schools must also hold a flag-raising ceremony at least once a week. The move falls under measures by the Education Bureau to cultivate national identity among students.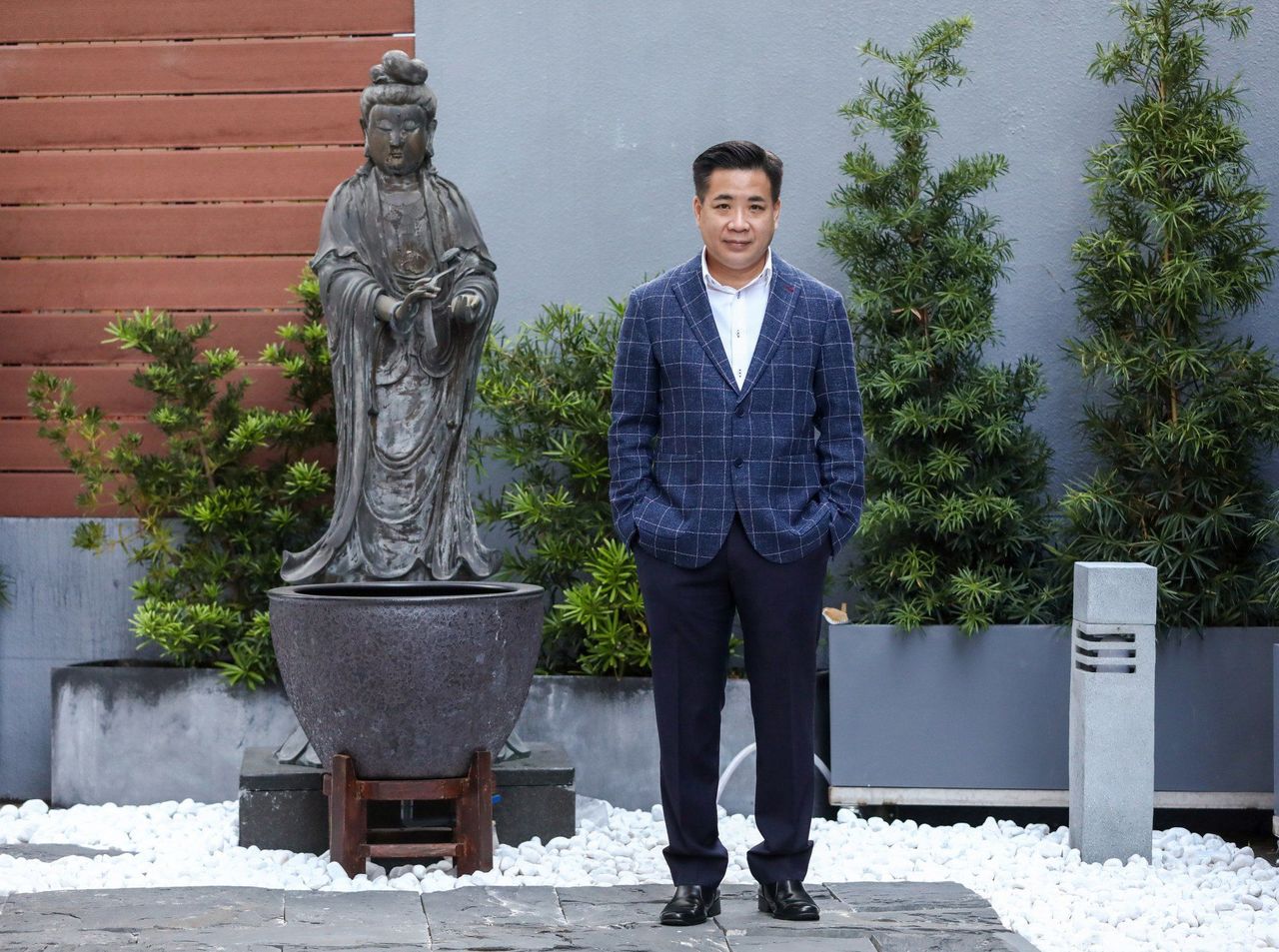 Principal of Buddhist Lim Kim Tian Memorial Primary School Ricky Ng Wing-hung.

Ricky Ng Wing-hung, principal of Buddhist Lim Kim Tian Memorial Primary School in Kwai Chung, said flag-raising arrangements had always been held weekly on his campus, but would now be conducted in a more formal fashion.

"In the past, the scouts were responsible for the task, but now a team of students are formally trained to do it," he said.

Choi Wing-ho, a teacher from the school, said they had sought help from police to provide training, much like other institutions.

Ng noted that training demand outpaced supply, even though the bureau's guidelines were clear. "We were lucky to have training sessions arranged for us by a communication officer in the force, but some schools are still in the queue … so it would be great if there were more resources available."

Chan Lok-yan, a teacher instructing the school's flag team, said: "Time was tight – the team received training over four Saturdays. It could be slightly challenging for students to learn [the entire process], but they were dedicated and therefore we managed."

The school took into account Covid-19 risks and avoided requiring its nearly 1,000 students to gather at its sports ground to observe the ceremony. Instead, students will stand and watch a live broadcast in their classrooms.

"The students don't have to understand everything, especially the younger ones, but they should appreciate the purpose of this ceremony and the reasons to respect the national flag," Ng added.

Members who volunteered to join the school's flag-raising team described the experience as "solemn" and agreed that the practice strengthened their sense of national belonging.

At Yaumati Catholic Primary School, scout members responsible for its flag ceremony echoed the sentiments.

Anthony Wong Tsz-wai, 12, said he was in high spirits as the flag was raised, as he believed the practice would nurture a sense of national identity and belonging.

"This is the first time in two years that I am watching the ceremony in person. Due to social-gathering restrictions, I was only able to see it through pre-recorded footage before," he said.

"It feels heart-warming, as I live in China and China feels like home," said Liu Hang-tung, another member of the team.

To prepare for the ceremony, Liu said she had been practising at home every other day.

The school said it would soon establish a team to receive training from the Association of Hong Kong Flag-guards, which was set up in 2002.

Kwok Nga-wai, panel head of general studies at Yaumati Catholic, said the school had hosted its flag-raising ceremony every Friday, as well as on special dates such as the handover anniversary.

"Our school bought a five-metre-tall movable flagpole at the end of November last year, so we could continue with the ceremony indoors during bad weather," she said.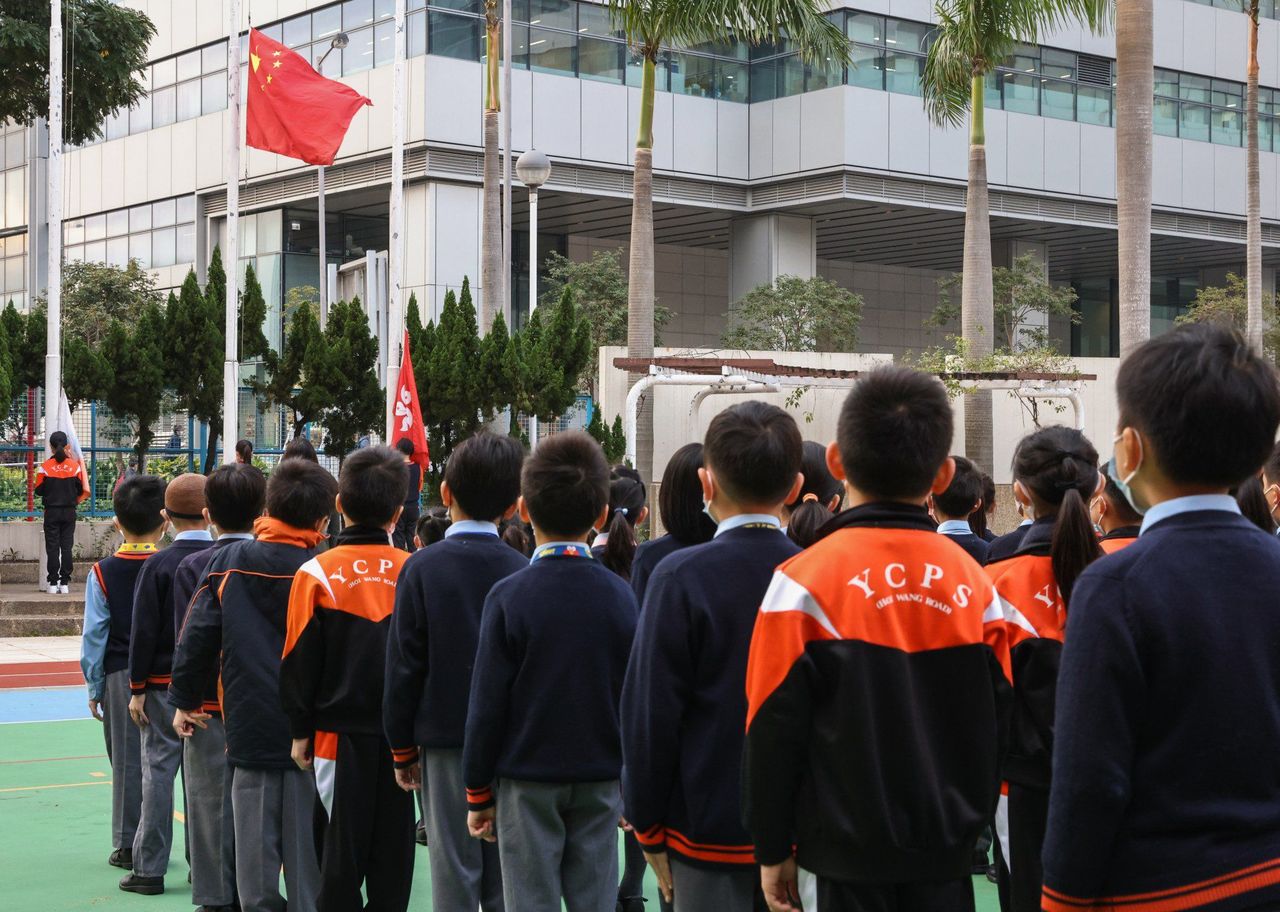 Students attend a flag-raising ceremony at Yaumati Catholic Primary School.

National pride is also being cultivated through other educational measures at the school, according to principal Polly Chan Shuk-yee.

"During moral and civic education classes, we discuss the national constitution and Basic Law in a simple manner, and in Chinese lessons we expose students to Chinese literature," she said.

Knowledge about China's geography and technological development can be seen plastered on walls in a covered playground at the school, while books on Chinese history and culture can be found in the library.

According to Junior Police Call Sergeant Yeung Kai-lung, there are no staff currently assigned to assist schools with the training. The trainers were either active or retired members of the police force who volunteered to participate.

Around 10 schools have already received help from the JPC, and more are expected to benefit in the future.