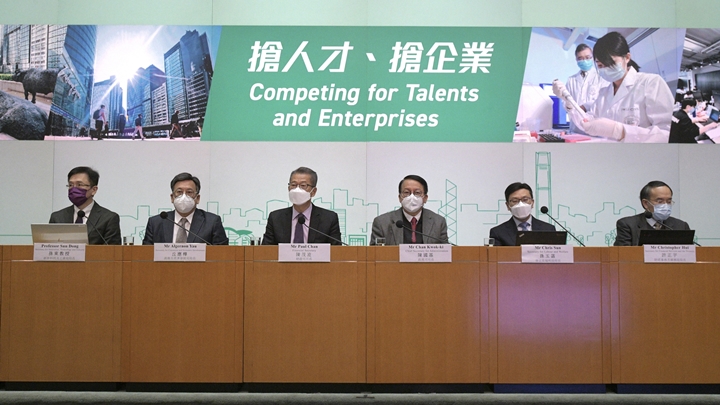 New platform for overseas talents to apply to come to Hong Kong
Hong Kong introduced an online platform for overseas talents to apply to come to the city on Friday, as officials said the platform will commence services starting next Wednesday (Dec 28) with the vetting process completed in four weeks the soonest. 
In an afternoon press conference, Secretary for Labor and Welfare Chris Sun Yuk-han said the online platform running from next Wednesday onwards will accept applications globally and talents can submit their applications or pay necessary fees online. 

A physical office will be set up soon and the vetting process is expected to be completed by the government in four weeks after collecting all necessary documents, Sun said. 

Sun also spoke of the Top Talent Pass Scheme, the application of which will open to bachelor degree holders of 176 universities that made the list of world's top 100 universities. Among these universities, nine are from mainland and five from Hong Kong. 

He continued that the talents programs will allow applicants to come to Hong Kong alongside their spouse and underage kids. 

Sun went on to say that Hongkongers are the root of this city and overseas talents serve as a supplement to tackle the city's brain drain. He referred to the latest youth development policies and said the SAR government wants local talents to stay. 

Meanwhile, Financial Secretary Paul Chan Mo-po said he has set up an office to snatch leading enterprises, to be headed by former permanent secretary of the Food and Health Bureau Philip Yung Wai-hung. 

Chan expected the new office to provide one-stop services for overseas enterprises, from understanding enterprises' needs, to negotiating terms and conditions, to providing support. 

Chan noted that Yung has met many leading industry representatives and drafted the first target list already. The office will proactively contact those enterprises and the list will be updated every now and then. 

Chief Secretary Eric Chan Kwok-ki said Hong Kong is proceeding steadily on the path to normalcy and now is the best timing for the city to make the first move to compete for overseas talents. 

Eric Chan believed at least 35,000 global talents will come to Hong Kong yearly in the next three years and stay for at least 12 months.