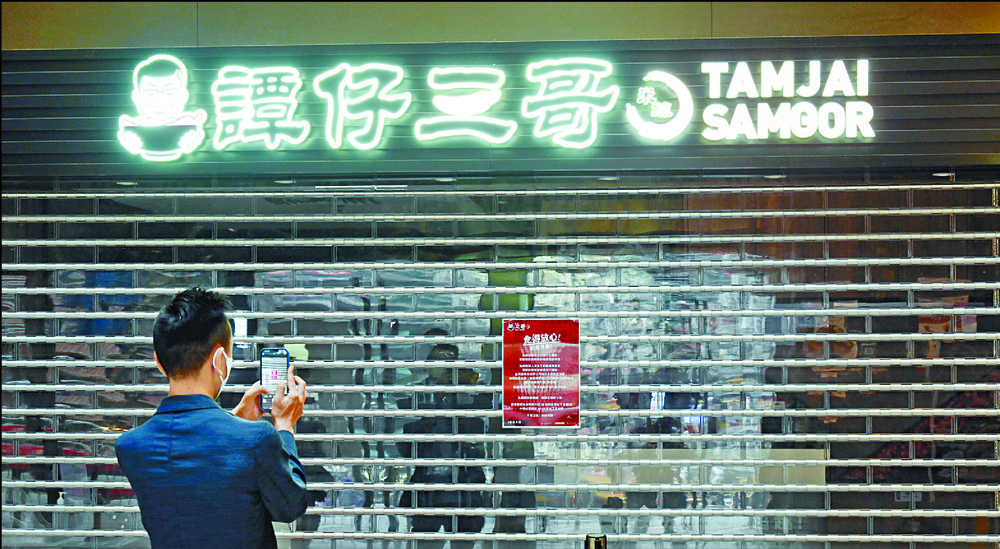 New noodle shop cluster spurs race
Authorities are tracing customers of a Tam Jai Sam Gor noodle shop in Sheung Wan after five diners were infected last Friday, four of whom are classmates at a Sheung Wan training institution.
That comes as Hong Kong yesterday reported 291 infections - 116 confirmed through PCR tests and 175 through rapid tests - and one death.

Centre for Health Protection's principal medical and health officer Albert Au Ka-wing said the new cluster broke out at a Queen's Road Central outlet in Sheung Wan with five cases.

The five infected - three men and two women aged 26 to 57 - visited the restaurant from 4.30pm to 6pm last Friday. All of them developed mild symptoms between Sunday and Wednesday.

Au said the five did not know each other and sat at different tables even though four of them had attended the same class at training organization Benchmark on the 13th floor of the West Exchange Tower in Sheung Wan from May 11 to May 15.

Health officials were told there were around 40 students in the class and they would take off their masks sometimes during classes, Au said.

Apart from the four, Benchmark also reported the infection of a 35-year-old man who did not go to the noodle shop and fell sick Monday.

It is unclear where the transmissions took place, but all classmates and those who visited the restaurant at the same time are subject to compulsory tests.

Meanwhile, both the Imperial Kitchen cluster in Kwun Tong and Sky Cuisine cluster in Sheung Wan recorded three cases each yesterday, taking the cluster tallies to 29 and 73, respectively.

Au said ventilation at Sky Cuisine was not ideal as the ventilation system in the toilets was broken. The chairman of the administration's restaurant ventilation task force, Yuen Pak-leung. said he would conduct a review of Sky Cuisine's ventilation standards.