Financial Secretary Paul Chan says law will allow small and medium-sized enterprises in these industries to delay rent payments from January for up to six months.
An unprecedented law designed to forbid Hong Kong landlords from chasing tenants for falling behind on rent will apply to more than 19 sectors hit hard by the fifth wave of coronavirus infections, according to the city's finance chief.

The law would allow small and medium-sized enterprises (SMEs) in these industries, including catering and retail, to delay rent payments from January for up to six months, Financial Secretary Paul Chan Mo-po said on Thursday.

But small businesses said the new law would be pointless as they still had to pay rent, preferring more relief measures instead. Some landlords were also worried they would not be able to pay mortgage bills to banks as a result of the new law.

Financial Secretary Paul Chan.

Chan said the city's de facto central bank, the Hong Kong Monetary Authority, would issue notices and guidelines to banks about flexible treatment of mortgage repayment, and he was confident that banks would comply with them.

"This is an extraordinary measure implemented at an extraordinary time. We have no alternative," Chan said a day after delivering his budget speech. "My initial thought is that [landlords] can still recover the outstanding rent that arose before January when the fifth wave hit."

Chan said 17 categories of premises were covered in the government's latest round of anti-epidemic funding, such as beauty parlours, massage establishments, fitness centres and cinemas.

Separately, Secretary for Financial Services and the Treasury Christopher Hui Ching-yu also said other premises not included in the fund, such as nurseries, private schools and interest class venues, would be covered under the new policy.

More details would be discussed and made available to the public, Hui added.

The government will seek to have the new law passed in the Legislative Council soon. It is expected to be in force for three months, and be extended for another three if necessary. The legislation will mirror a temporary law in Singapore introduced in 2020 that benefited SMEs.

Constance*, who runs a stationery and gift shop in Causeway Bay, said she would prefer it if the government could impose rent control instead, mandating landlords not to increase or reduce rents for tenants.

Constance is in the middle of negotiating the renewal of her lease and says her landlord has asked for a 10 per cent increase in rent, despite stringent social-distancing measures bringing business in many retail shops to a standstill.

The measures – including the temporary closure of 17 types of premises – will be extended until April 20, angering many businesses who have been bearing the brunt of previous such restrictions.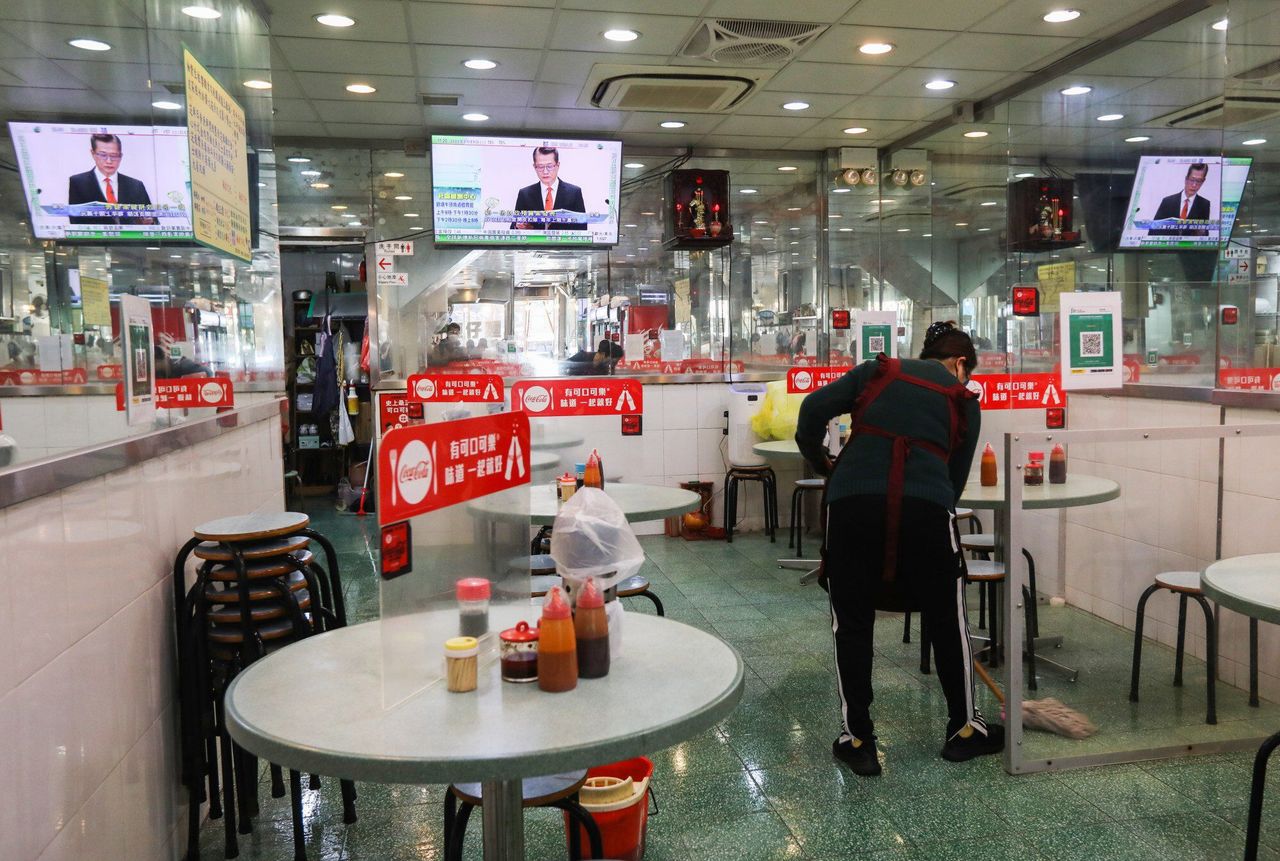 Strict social-distancing measures have angered businesses struggling to cope amid the city's fifth wave of infection.

"My takings were only HK$48 the day before," Constance said. "My landlord deals with us through an agent; even the agent finds it crazy to raise rent at this point."

Constance relies on her shop's limited cash flow to pay the monthly rent of HK$15,000 (US$1,920).

"[The new law] doesn't help frankly … Even if you defer the rent by three months, what's the point because I have to pay three months' rent at one go?" she said.

A landlord, who gave only his surname Wong, said he still had to pay mortgage fees to the bank even though his tenant had missed out on some rent payments in recent years.

"If the tenant still refuses to pay rent after the six-month period, will the government help us pay mortgage and interest fees to the bank? Can we sue the tenant for damages?" he asked during a televised programme in which finance chief Chan was also present.

In response, Chan said the new law aimed to help landlords negotiate with those who had been hit hard by the fifth wave delay paying rent.

Liberal Party lawmaker Frankie Yick Chi-ming asked what landlords should say to the bank if their tenants went bankrupt after deferring rent for six months.

"If you receive complaints like these, in which a bank was being unreasonable, let us know and we will follow up seriously … This is a standstill arrangement so that landlords and tenants can sit down and discuss," Chan replied during a Legco session on Thursday.

Marcos Chan, head of research at CBRE Hong Kong, said the measure was likely to cause some uncertainty to the commercial real estate investment market, especially for short-term investors and buyers with mortgages.

Meanwhile, Link Reit, Asia's largest real estate investment trust, said it had been running a HK$120 million scheme since early February to offer rental concessions to tenants affected by social-distancing measures.