Mortuaries are facing huge pressures as they have had to process 50 bodies a day since December, Department of Health consultant Dr Poon Wai-ming says.
Hong Kong's largest mortuary is aiming to cope with an increasing demand for storage and provide more advanced forensic tools, as a surge in Covid-19 infections has led to a rise in related deaths in the city.

Department of Health consultant and forensic pathologist Dr Poon Wai-ming on Wednesday said the New Territories (Sha Tin) Forensic Medicine Centre, which can hold up to 830 bodies and opened last Thursday, would replace the Fu Shan Public Mortuary.

"Fu Shan Public Mortuary's facilities are old and cannot meet a rise in demand so there is a need to replace them," he said.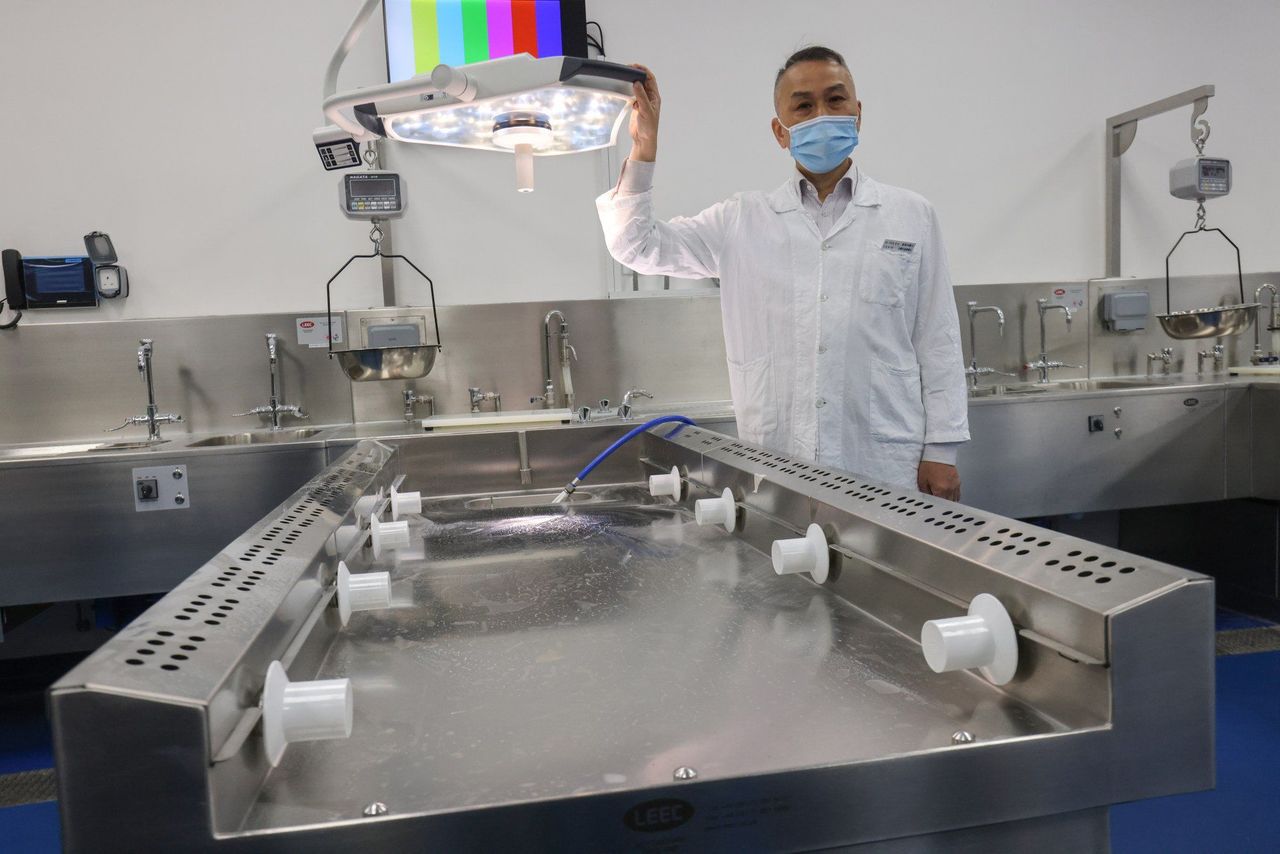 Forensic pathologist Dr Poon Wai-ming at the New Territories (Sha Tin) Forensic Medicine Centre.
"[The centre] is not only a storage facility for bodies but also an integrated centre for forensic pathology. We can also conduct forensic investigations and other tests such as X-rays and computed tomography (CT) scans."
He added that the centre would also serve as a training ground for law enforcement officers in criminal investigations.
Since mid-December, about 400 bodies have been transferred to the facility from other public mortuaries.
The Fu Shan Public Mortuary, which will cease operations from Saturday, can store only 216 bodies – almost four times fewer than the new facility. The city's other two public mortuaries are Kwai Chung Public Mortuary and Victoria Public Mortuary.
Surrounded by greenery, the centre is equipped with a number of forensic pathology tools such as cold rooms, deep freezers, autopsy suites and laboratories.
It is also the first public mortuary with a CT scan room, allowing forensic pathologists to examine bodies without having to carry out autopsies.
Poon said mortuaries had used X-rays to examine corpses, but with CT scans, which produce three-dimensional images, they could see a clear picture of fatal pathological changes such as bleeding in the brain tissue and signs of a heart attack.
"Through CT scans, we can also find bullets or their fragments as a result of shootings or explosions," he said. "For some pathological changes, it may be better to use CT scans than conducting an autopsy."
Poon said the new centre was different from traditional mortuaries, adding that it featured a spacious waiting area for body identification and collection, and naturally lit reception rooms and lounges for the family of the deceased.
Three indoor farewell rooms have also been set up for loved ones to hold memorial services in a private space.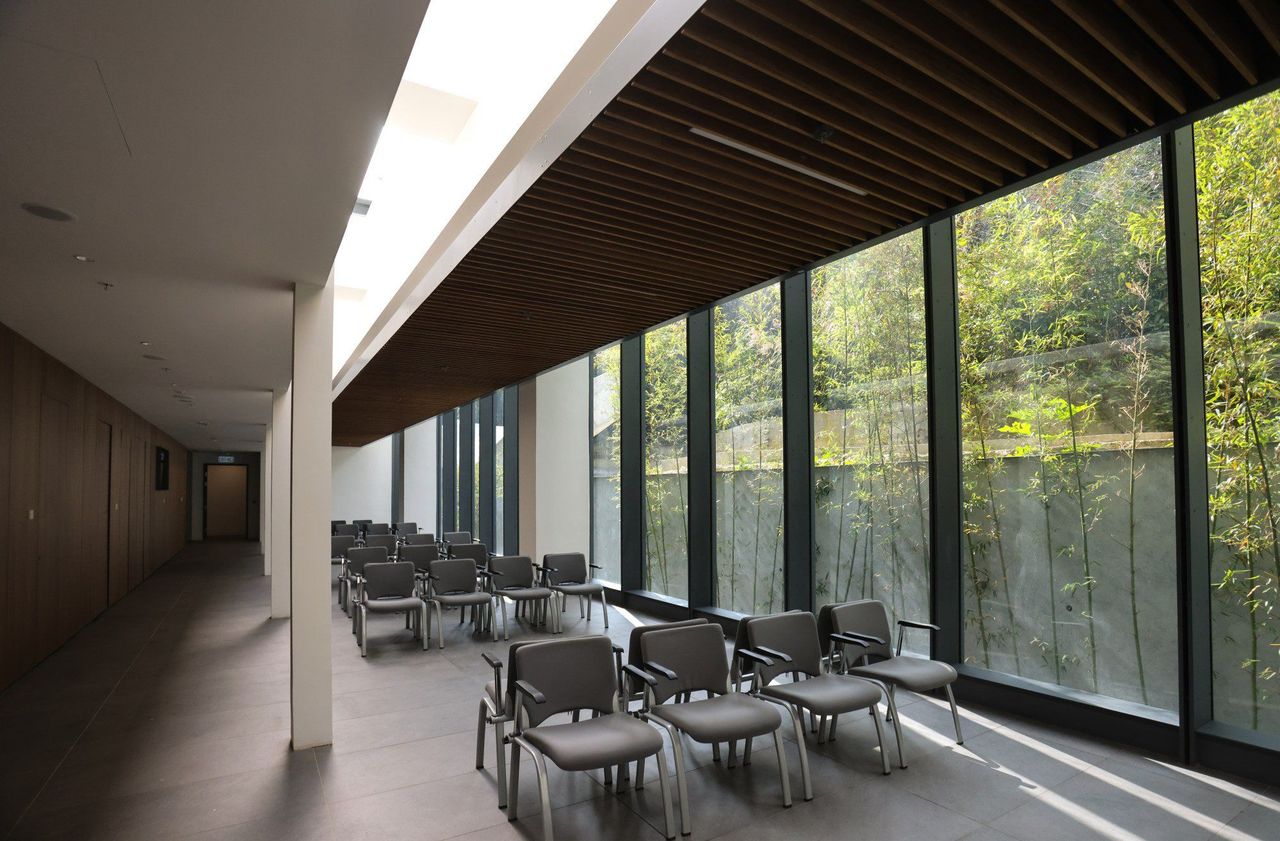 The new mortuary features a waiting area for body identification and collection, reception rooms and lounges.

He said a total of 2,200 bodies could be kept in the new facility, the Kwai Chung Public Mortuary, the Victoria Public Mortuary and the old Kowloon Public Mortuary, which was on standby, as well as non-fixed storage spaces such as mobile refrigerator devices and double-deck trolleys.

An additional 3,000 places could be provided by temporary refrigerated containers during emergencies. The units were widely used during the fifth and most serious wave of Covid-19 infections in the first half of 2022.

Hospitals and mortuaries were overloaded with a huge backlog of dead bodies during the fifth wave, with more than 9,000 related deaths reported by the end of April.

Coronavirus infections began rising in Hong Kong in early November and after topping 29,000 at the end of last month, they have started to decline. Health officials on Wednesday confirmed 16,423 infections, of which 401 were imported, and 63 related deaths.

Poon said public mortuaries were facing huge pressures as they have had to process 50 bodies a day since December, up from the usual 30. In December, the number of bodies stored in the facility increased to 300.

But he said the situation was still manageable compared with the peak of the fifth wave, when mortuaries had to deal with 100 bodies a day.

"As Chinese people normally avoid holding funerals during the Lunar New Year, bodies were mostly stacked up during that period as only a few of them were being collected," he said.

He said similar to the past few years, there would be 100 to 200 more bodies during Lunar New Year this year, but he was confident that the new facility could ease the burden.