Commissioner of Police Raymond Siu says recent 'recruitment experience and assessment day' attracted more than 2,460 attendances, compared with an average of 1,463 for the previous three.
More young people in Hong Kong are willing to become police officers after recruitment difficulties in recent years, with the force's latest hiring drive attracting more than double the number of applicants compared with previous ones, according to its chief.

Speaking after a passing-out parade at the Hong Kong Police College in Wong Chuk Hang on Saturday, Raymond Siu Chak-yee said the force's new recruitment strategy had started to show encouraging results.

"We have faced challenges in recruitment in past years … because of a wave of retirement in the force and the establishment of many large-scale infrastructures in the city which need a large amount of manpower from police as well as other disciplined services," the commissioner of police said.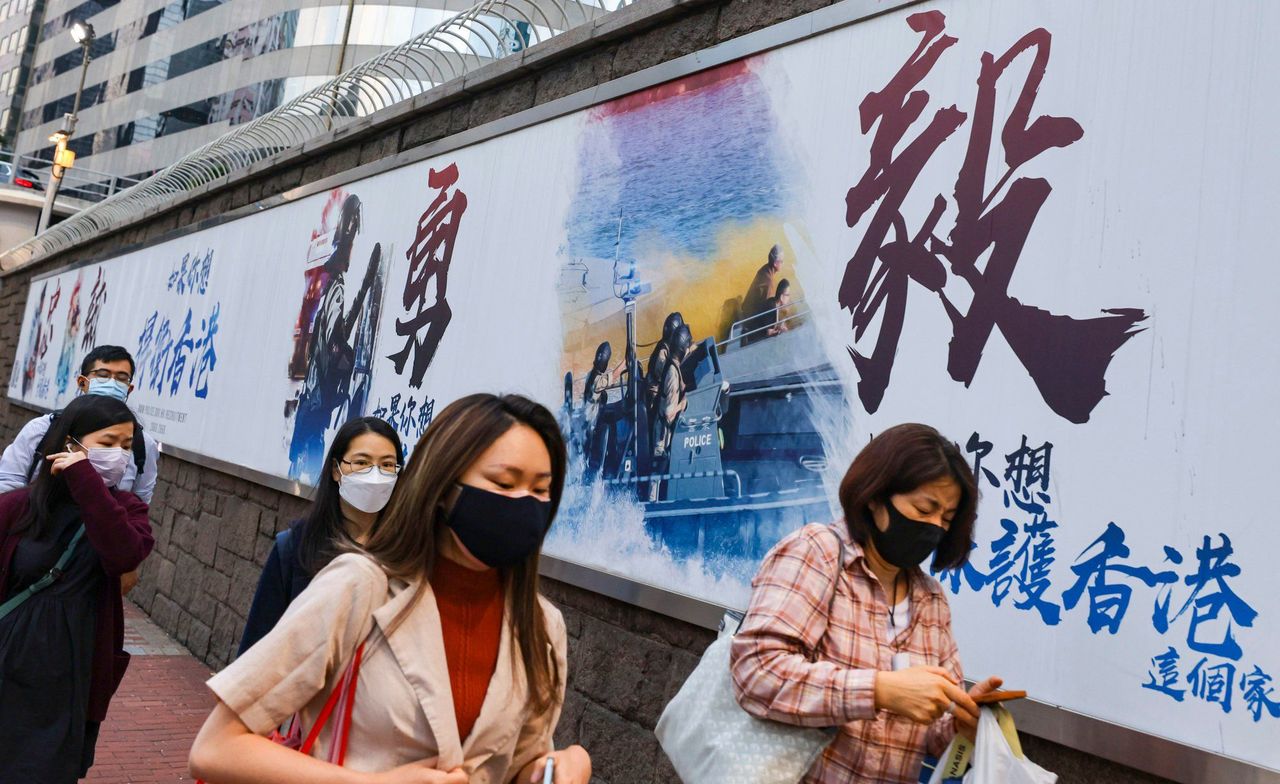 A recruitment poster takes up a wall at police headquarters in Wan Chai.

But since May last year, a "police recruitment experience and assessment day" has been held every quarter to enable those taking part to learn more about the 30,000-strong force.

Siu said the fourth such event on June 19 had attracted an attendance of more than 2,460, compared with an average of 1,463 for the previous three.

Last month's event received 926 on-the-spot applications, compared with an average of more than 400 for the previous ones. Among them, 657 applications were for police constable, a surge from an average of about 200 in the first three events.

"We have seen that the willingness among young people to join the police force has improved significantly," he said. "The result is encouraging."

Siu said the Police Mentorship Programme, a recruitment strategy aimed to inspire high-calibre students from local universities to join the force right after graduation, had attracted 323 participants this year, compared with 198 in 2021 and 138 in 2020.

Meanwhile, 155 university students joined the force's summer internship programme this year, up from 75 last year and 45 two years ago, he said, adding the force would keep reviewing these strategies to maintain the momentum.

Meanwhile, the police chief also noted that many young people who had taken part in violent activities and committed crimes during the social unrest that broke out in 2019 regretted their behaviour and should be given "opportunities".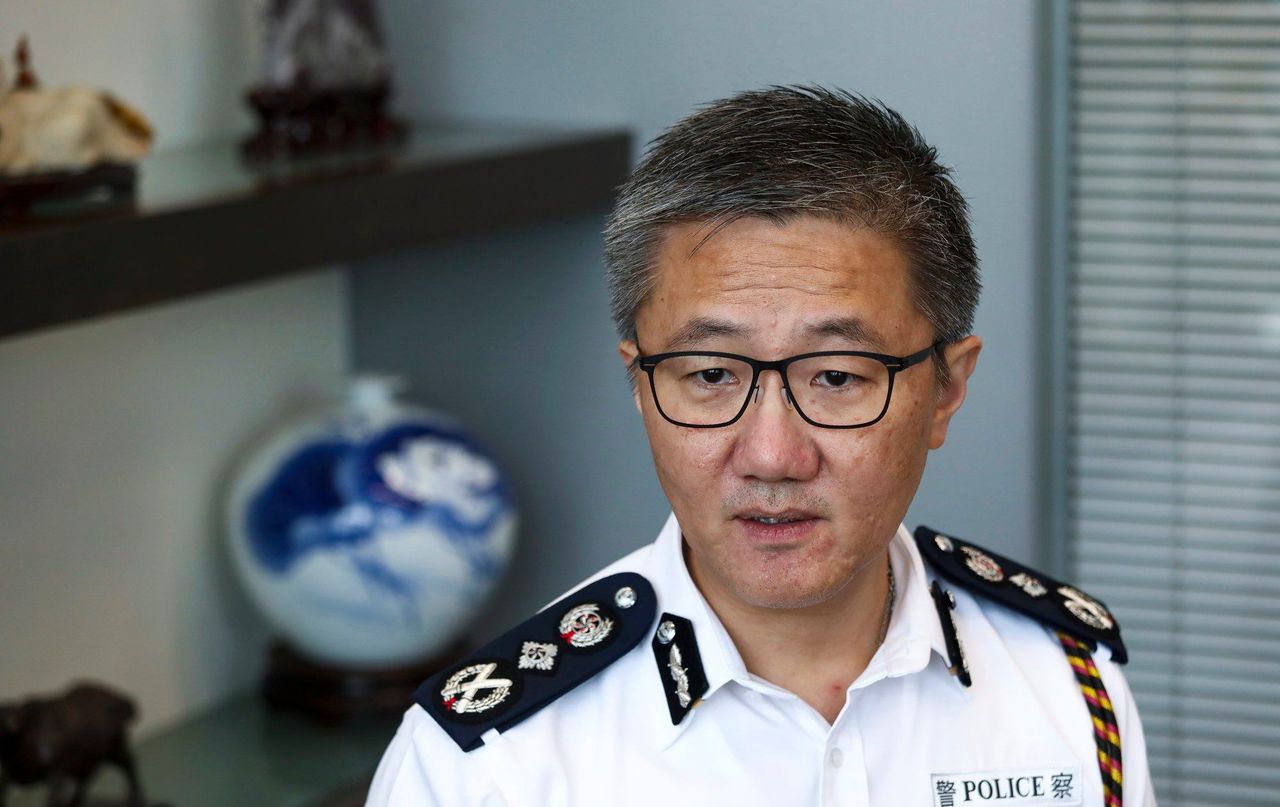 Police chief Raymond Siu.

"President Xi Jinping said we should care for our young people among his four expectations for the city, which I think is very important," Siu added, referring to a speech the state leader gave in Hong Kong on July 1.

"When these young people are offered opportunities and feel hopeful, it is important for Hong Kong's social harmony and stability."

Saturday's passing-out parade at the college fully adopted Chinese-style "goose-step" marching for the first time and commands and replies were uttered in Mandarin rather than English. Thirty-one probationary inspectors and 83 recruit constables took part in the passing-out. Hong Kong's new leader John Lee Ka-chiu reviewed the police officers.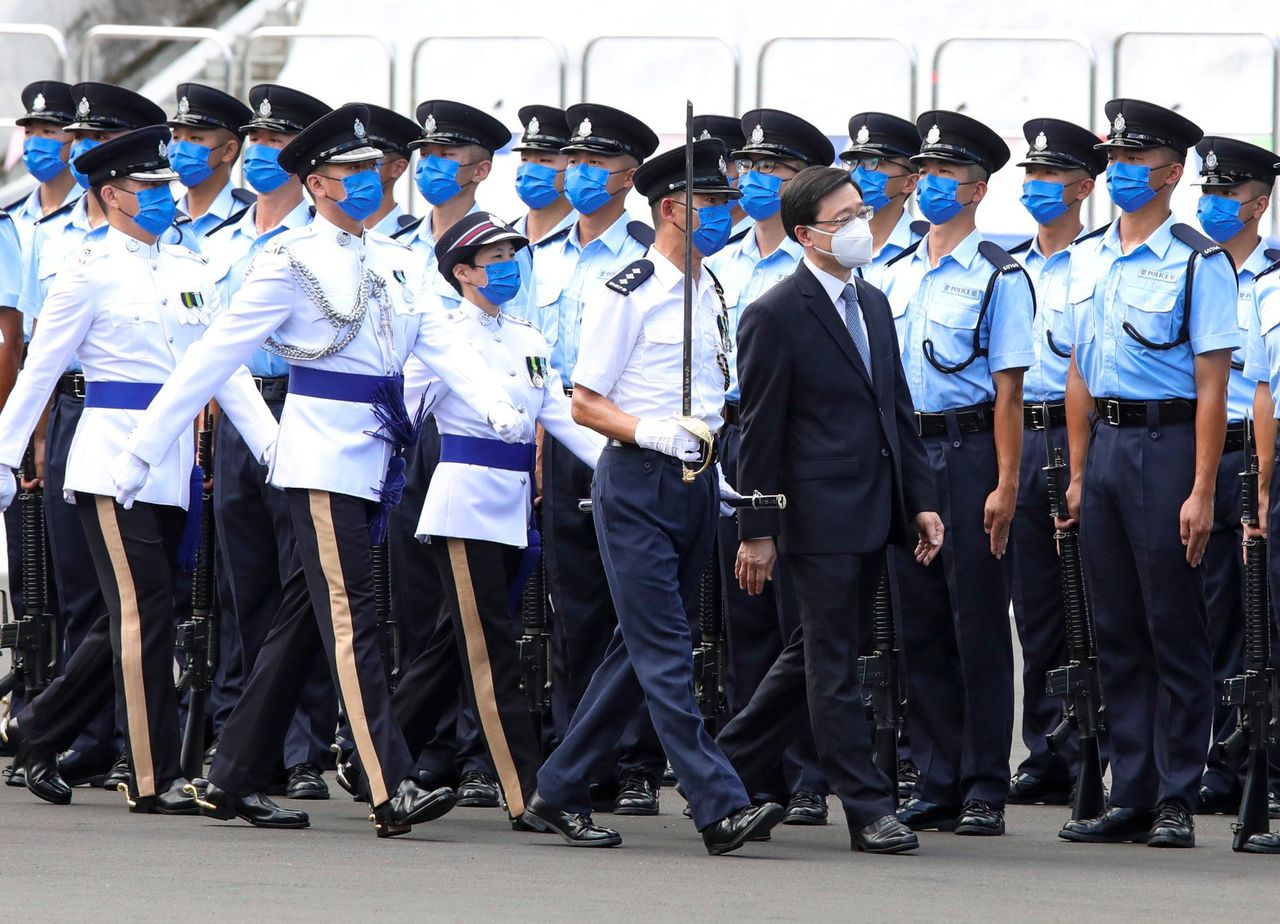 Chief Executive John Lee inspects the police officers at the passing-out parade.

In his speech at the parade, Lee said he had noted Xi mentioned that Hong Kong could not afford to be in chaos in his July 1 address to mark the 25th anniversary of the city's return to Chinese rule.

The chief executive said the city had to take precautions and maintain stability.

"As a law enforcement force to safeguard national security and Hong Kong's stability, police help promote the long-term development of Hong Kong society and ensure the stable and long-term implementation of 'one country, two systems'," he said, referring to the principle under which the city is governed.

Lee said switching to the Chinese-style parade, which had only been adopted at certain ceremonial occasions such as flag-raising events, was of special significance.

"Our full adoption of the Chinese-style parade reflects the police's national identity and sense of belonging to the country, and represents its solemn commitment to the country's trust and loyalty," he said.

Zheng Yanxiong, head of the central government's Office for Safeguarding National Security in Hong Kong, deputy director Luo Yonggang of Beijing's liaison office in the city, and Fang Jianming, deputy commissioner of the foreign ministry's office in Hong Kong, also attended the passing-out parade.