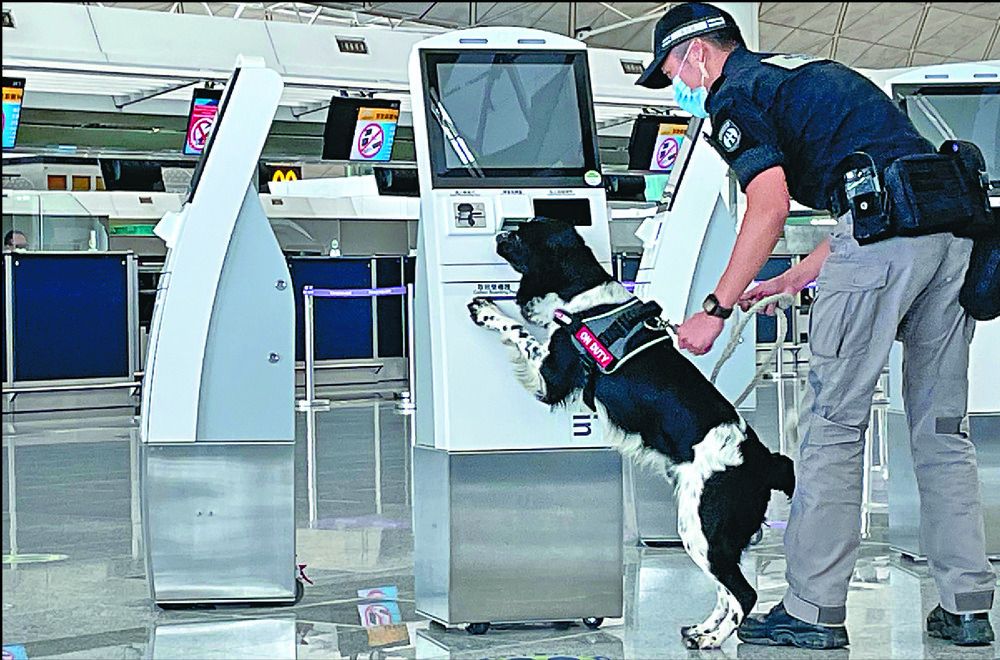 New furry 'ambassadors' to greet airport arrivals
Aviation Security Company has set up its first dog squad at the airport, not only for security but also as "friendly ambassadors" to welcome inbound travelers with their wagging tails.
Three dogs were deployed at the airport in May to conduct regular patrols in the non-restricted area. They are responsible for detecting explosives, firearms and ammunition.

The three are part of the Avseco Canine Unit, which consists of 10 dogs from the Netherlands and Belgium. All are expected to be deployed to the airport by the end of this year.

The 10 dogs consist of Labrador Retrievers, English Springer Spaniels and Brittany Spaniels. Each is paired with one handler to lead and take care of them.

Avseco hopes that the canine unit can assist police and customs in strengthening airport security. They will not be replacing the police dog unit stationed at the Airport Police District.

"After explosions occurred at several airports in Europe, the International Civil Aviation Organization's safety handbook has requested each airport to strengthen security for two to three years," said Steven Yiu Siu-chung, the Hong Kong Airport Authority's deputy director of service delivery.

When asked how severe is the security risk of the airport's non-restricted area, the assistant executive director of Avseco, Martin Tsang Fan-kwok, said there is no direct security risk at the moment but ensuring the airport's security is the company's priority.

The dogs can work for four hours a day and have to take a break every half an hour.

Airport visitors can interact with them when the tag on their collar changes from "On Duty" to "Pat Me." The public can pat these friendly ambassadors after getting their handler's permission.

Canines and their handlers are required to undergo 12 months of training before they can be deployed. An area for accommodating and training dogs at the airport cost HK$10 million.

Yiu added that the Airport Authority is planning to build another dog facility near the Hong Kong-Zhuhai-Macau Bridge to accommodate more dogs and expand the squad.