City's largest public transport interchange at Yue Man Square, Kwun Tong, will open on Friday.
For decades, 81-year-old Hong Kong resident Tong has waited for her bus under scorching heat or amid heavy rain at Yue Man Square, located in the heart of Kwun Tong in east Kowloon.

On Tuesday morning, she was one of the residents invited by the Urban Renewal Authority to experience the city's largest public transport interchange, which has been equipped with air-conditioned depots and an artificial intelligence system.

Spanning over 15,000 square metres (161,000 sq ft), the new Yue Man Square Public Transport Interchange will open from 5.30am on Friday.

Tong was impressed. "Waiting here seems really comfortable, now that it is air-conditioned and not affected by the heat, I'm no longer worried about getting soaked in the rain or burnt by the sun," she said.

She also complimented the terminal's artificial intelligence system, which ensures sensor-fitted bus gates will only open when passengers board the vehicles.

"The automatic sensors open the gates for us to slowly enter the bus when it arrives … it's really good, safe and comfortable," she added.

Connected to Yue Man Square shopping centre, the interchange is part of the second and third development area of the multibillion-dollar Kwun Tong Town Centre project, one of the biggest schemes undertaken by the URA.

The interchange has 10 passenger entrances and exits, connecting to Hip Wo Street, Mut Wah Street, Hong Ning Road and Yue Man Square.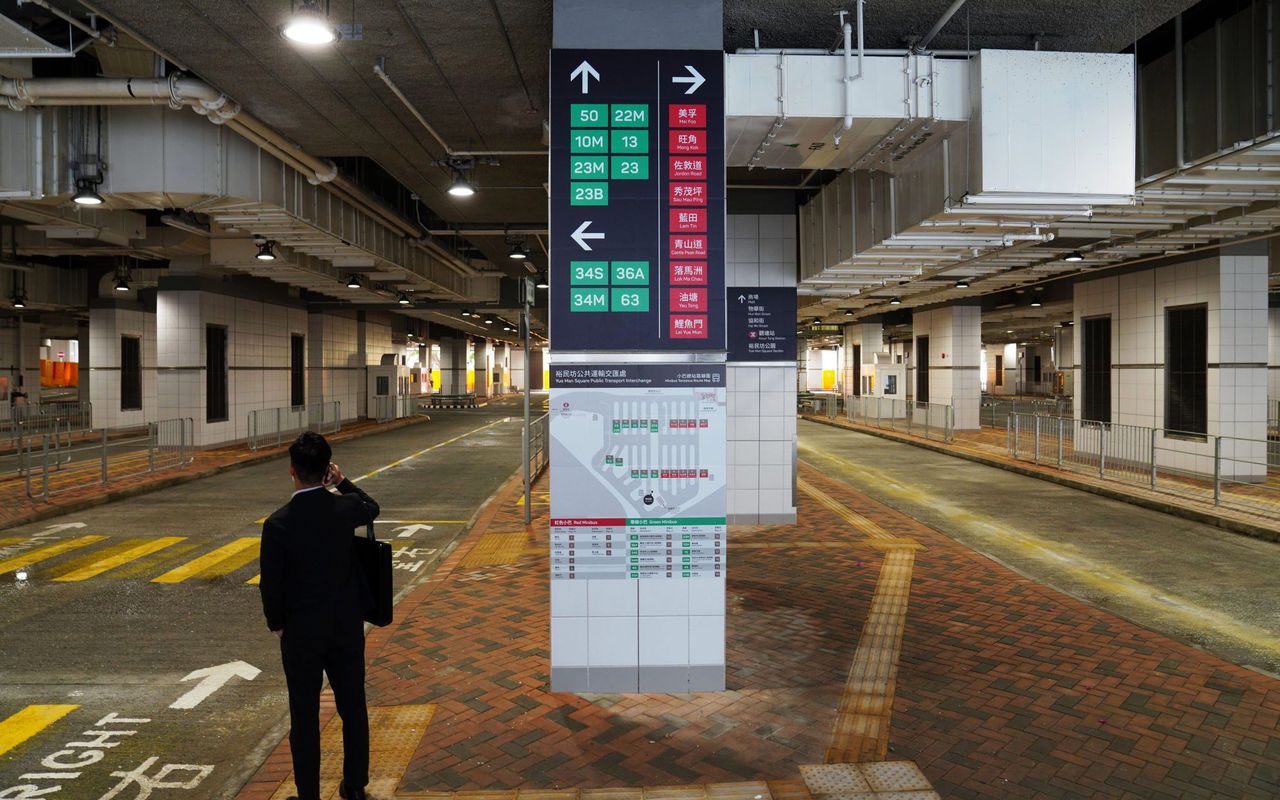 The minibus terminal at Yue Man Square Public Transport Interchange at Kwun Tong.

The two-storey facility has a bus terminal serving eight routes on the first floor and a minibus one meant for 21 routes on the ground level.

The 97,000 sq ft minibus terminus has space for installing three fast-charging facilities for electric vehicles. The interchange has provisions to become the city's first public transport interchange for electric minibuses.

Anderson Leung Tak-ming, the URA's director of works and contracts, said this was the first time the authority would operate an indoor bus interchange of this scale. He believed the mall, which was equipped with a backup waiting area, had enough space to handle the flow of people.

"If there are too many people waiting for the bus, our staff will instruct passengers to go to the backup waiting area and maintain order," Leung said.

A designated shopping zone, called the Yue Man Hawker Bazaar, has been set up near the minibus terminal to allow hawkers from Tung Yan street to relocate and sell their products. Leung said 112 hawkers would relocate to the hawker bazaar.