Hong Kong Exhibition and Convention Industry Association releases report based on survey of members, calling for more subsidies by year-end.
Nearly half of Hong Kong's exhibition and convention sector could face closure by the end of the year if authorities do not ease travel restrictions and roll out more subsidies, an industry survey has found.

The Hong Kong Exhibition and Convention Industry Association, which released the report on Monday, urged the government to relax Covid-19 quarantine rules for eligible business travellers to attend events, conferences and conventions in the city.

It warned that 45 per cent of event organisers, contractors, freight forwarders, travel agents, audiovisual equipment suppliers and design houses could fold within a year if current control measures remained and no financial aid was provided by the end of 2021.

"The convention and exhibition industry, which contributed over HK$58 billion (US$7.5 billion) to Hong Kong's economy in 2018, has been in deep water since February 2020 as no international event could be held in Hong Kong due to travel restrictions and preventive measures," association chairman Stuart Bailey said.

In its survey, conducted in August on 60 members, the association found event organisers and industry players were facing losses totalling HK$50 million this year.

Despite keeping coronavirus cases at bay for months, health authorities have been adamant in maintaining a "zero-infection" policy in the hopes of reopening the border with mainland China.

The city's travel restrictions are among the strictest in the world, with arrivals from countries and regions deemed high risk facing 21 days of hotel quarantine.

Last week, authorities announced Asia's premier tech conference RISE would be held in Hong Kong for the next five years starting in March as an in-person event, promising 10,000 attendees. The conference was originally set to be held in Malaysia, but organiser Web Summit said that was no longer a feasible location because of logistical issues.

However, Hong Kong's government has not offered quarantine exemptions for the summit.

According to the survey, all respondents said quarantine-free travel for overseas participants was important to their operations, with 75 per cent warning they would move international events elsewhere if Hong Kong insisted on its tough measures till the end of the year.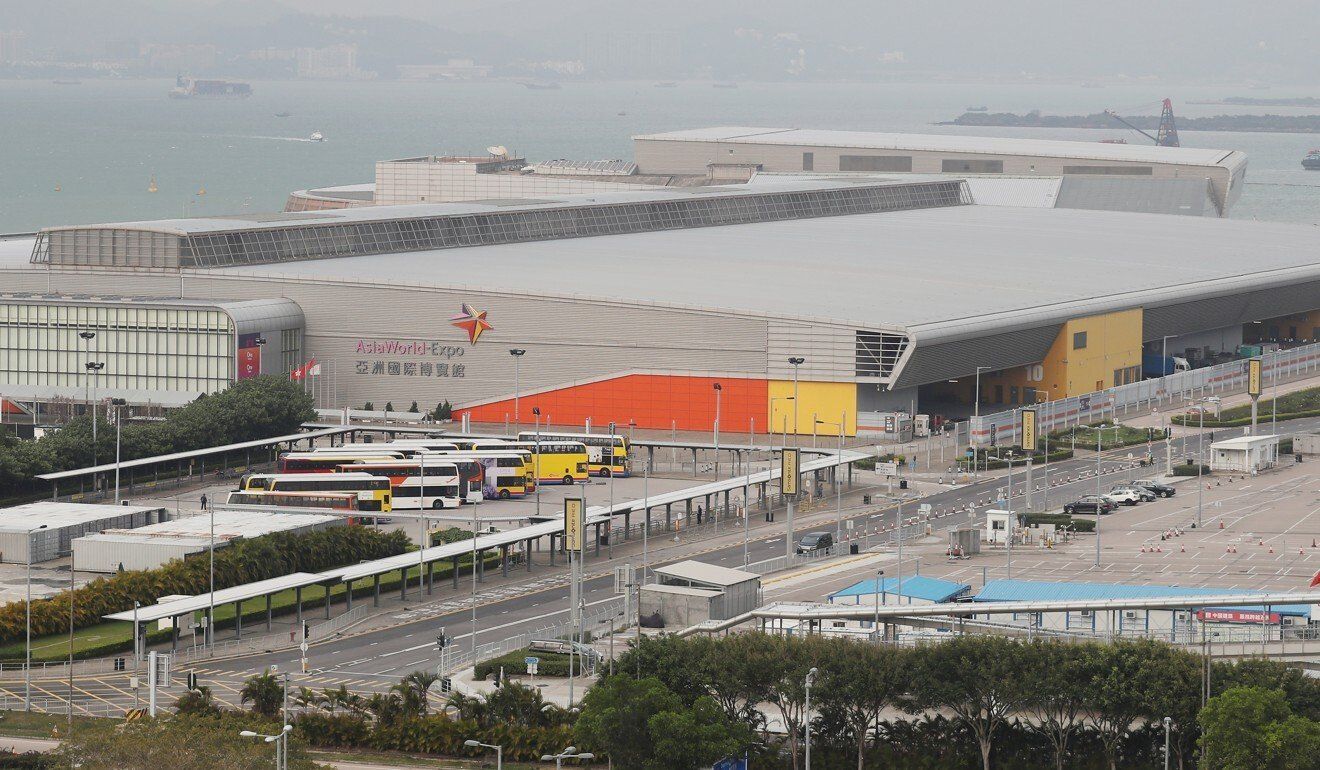 The AsiaWorld-Expo near the airport, another major Hong Kong exhibition venue that used to host key events.

Under the government's Anti-epidemic Fund subsidy scheme, private organisers of events held at the Convention and Exhibition Centre in Wan Chai and the AsiaWorld-Expo in Chek Lap Kok near the airport are eligible for financial aid covering full venue rents until June 2022.

However, organisers have had to postpone or cancel events, meaning they have been unable to benefit from the subsidies. The association said only 42 exhibitions had been awarded a total of HK$97.38 million as of June 30.

The association called on the Commerce and Economic Development Bureau to provide more aid and prepare a road map for relaxing travel restrictions so the industry could plan ahead, warning the city could lose out to foreign competitors.

In a reply to a Post inquiry, the bureau said it was aware of the survey and would continue to liaise closely with the sector to work on reinvigorating Hong Kong's premier position as an international convention, exhibition and sourcing hub.

It added the subsidy scheme totalling HK$1.07 billion had been extended twice since it was first announced.