Transport minister Frank Chan says most of the 7,000 drivers actively working were expected to be inoculated by end of the month, and testing requirements could be eased as a result.
Almost all of the roughly 7,000 cross-border truck drivers actively in business were expected to be fully vaccinated against Covid-19 by late April, Hong Kong's transport minister said on Saturday, hinting that a higher inoculation rate could bring about a further relaxation of testing rules.

Secretary for Transport and Housing Frank Chan Fan revealed around 98 per cent of the drivers had already received their first doses by Thursday, while nearly 90 per cent, or 6,200 workers, were fully vaccinated.

The industry's high jab rates came as the testing requirements for cross-border truck drivers who their second dose at least 14 days ago were relaxed from Friday.

As part of the Hong Kong government's so-called vaccine bubble scheme, which explicitly ties vaccination with relaxation of social distancing and quarantine-related requirements, inoculated drivers can be tested for the coronavirus every three days instead of on a daily basis.

Chan hoped rules could be relaxed further when the vaccination rates among truck drivers, and the overall population, increased.

"Based on the principles to keep the city's pandemic effectively under control and safeguard the health of residents living on both sides [of the border], it is hoped that there can be room for further relaxing the testing measures in the future," he wrote in his blog.

The vaccination bubble incentives were announced by Chief Executive Carrie Lam Cheng Yuet-ngor earlier this month, amid a low take-up rate for the city's jabs.

As of Saturday, some 1.25 million doses of vaccine had been administered in Hong Kong. A total of 828,312 people have received their first dose, while 424,849 have been given their second jab, representing a full vaccination rate of 5.7 per cent.

Of those doses, 576,284 people took the BioNtech jab and 676,877 the Sinovac shot.

In Hong Kong there are about 11,000 qualified cross-border truck drivers, of which only 7,000 are actively working.

Chan Fu-chuen, permanent vice-chairman of the Chamber of Hong Kong Logistics Industry, said the sector was largely receptive to being vaccinated, but some of the older drivers who had chronic illnesses were hesitant.

Welcoming the latest easing measures, Chan said being tested daily had been inconvenient for drivers.

"Sometimes, having them get tested at the border points can create congestion," he said, adding some workers had to wait for up to two hours for screening when the checkpoint was very busy.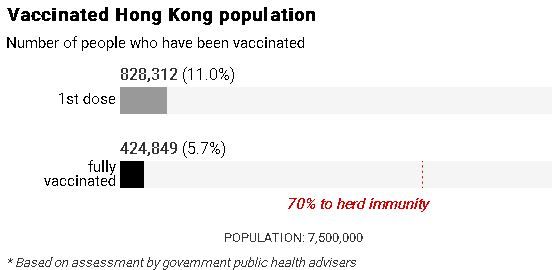 To help truck drivers further, he urged mainland Chinese authorities to allow drivers who were fully vaccinated to submit their test results every month or every two weeks.

Meanwhile, the transport minister found the vaccination rate among the cross-border passenger service sector encouraging, as almost all of those drivers had received their first shot.

Of about 1,000 frontline workers providing cross-border ferry services, nearly 80 per cent had done so too.

He added that about 75 per cent of the some 3,400 pilots staying in Hong Kong and employed by local airlines had received or had booked their first jab.