Twelve national flags hung at Lam Shek House in Kwun Tong found to have been stained, while black marks on yellow stars of some flags were spotted.
National and Hong Kong flags have been found damaged at some public housing estates in the city, ahead of the 25th anniversary of its return to Chinese rule.

Police received a report at about 5am on Sunday from security guards at Ping Shek Estate in Kwun Tong, where national and Hong Kong flags have been hung on every floor of Lam Shek House, creating a sea of banners in the building's lightwell.

A preliminary investigation by the force showed that 12 national flags at Lam Shek House were stained, while one was stolen.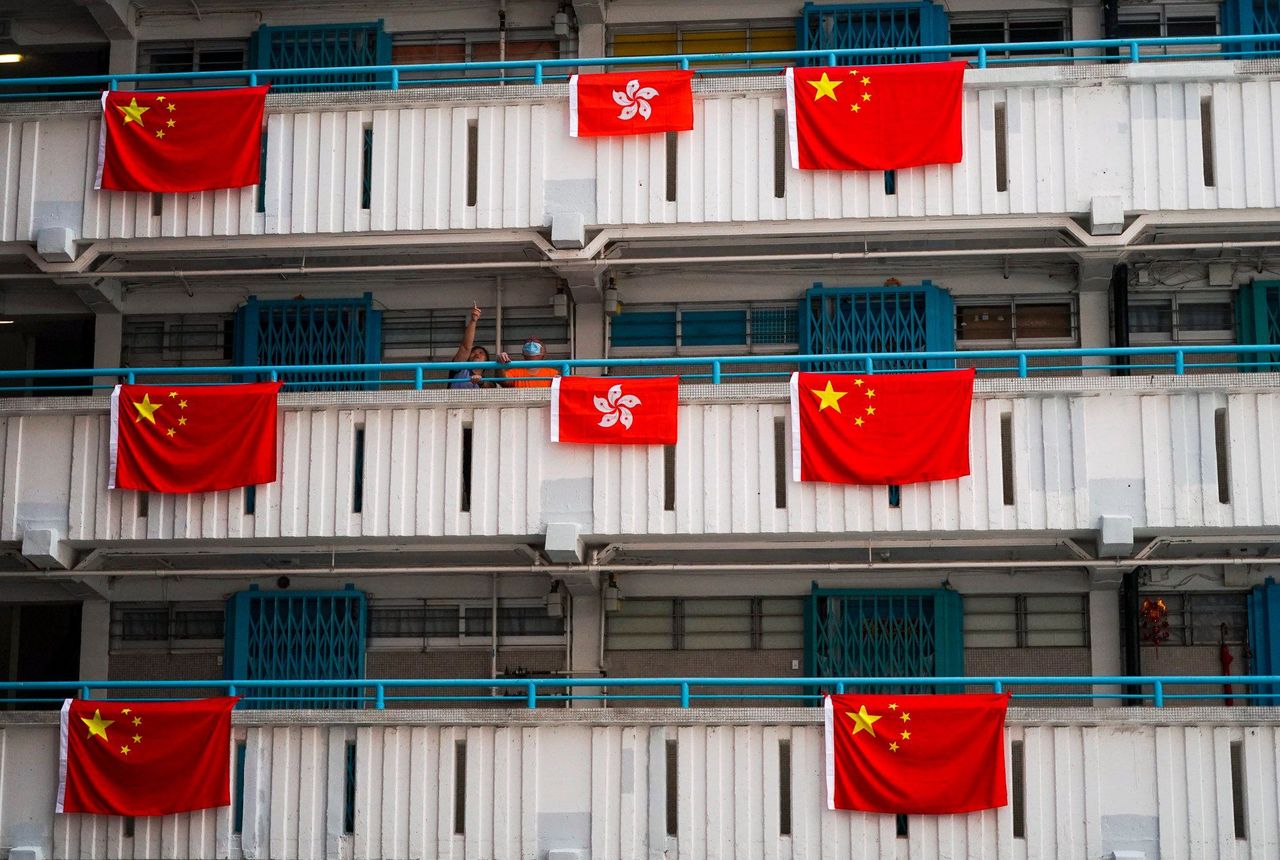 National and Hong Kong flags hang on every floor of Lam Shek House at Ping Shek Estate in Kwun Tong.

The Post also observed that there were black marks on the yellow stars of some flags, while others were loosely hung.

A national flag at Kam Shek House in the same estate was also found missing. Police have listed the cases as desecrating the national flag and theft. No one has been arrested so far.

Tam Yiu-chung, Hong Kong's sole delegate to the National People's Congress Standing Committee, the nation's top legislative body, said it was a serious offence.

"The national flag represents the country, you damage it, what is your intention? It is illegal if someone does that, the police must bring those responsible to justice," Tam said.

Current laws stipulate that a person who desecrates the national flag or national emblem by publicly and wilfully burning, mutilating, scrawling on, defiling or trampling on it commits an offence punishable by a fine of up to HK$50,000 (US$6,370) and three years in jail.

The Post observed that clean flags were hung back at Lam Shek House later in the day.

Despite plastic fences and warnings by security guards, some visitors to the estate went inside the lightwell – an architectural feature allowing light and air to penetrate to the lower levels of a building – to take photos of the flags. A few of them also brought their own mini national flags for photos.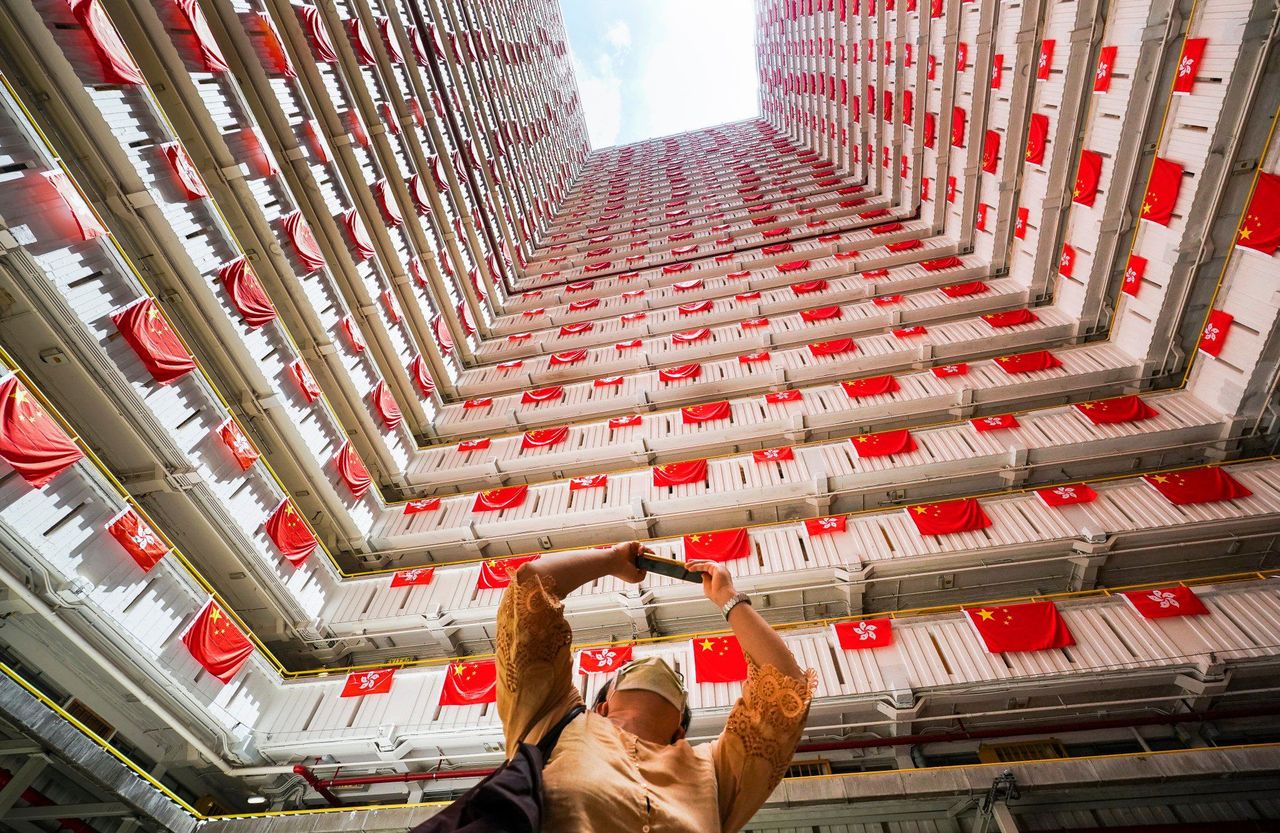 A visitor takes a photo of the flags hanging at Kam Shek House.

A 72-year-old visitor, who gave only his surname as Li, said he had come from Lai Chi Kok to see the flags.

"It is rare to see such beautiful flags. It is magnificent," Li said. "Those who desecrate the flags are … not patriotic."

Li said he also planned to visit other places with decorations for the handover events, such as the Golden Bauhinia Square in Wan Chai.

Another visitor who gave his name as Chan said he thought the image of a sea of flags reflected the city at the halfway mark of Beijing's pledge under the "one country, two systems" governing principle guaranteeing Hong Kong a high degree of autonomy for 50 years after reunification.

"We don't even need to wait for 50 years. The current Hong Kong gives me a feeling of what Hong Kong would look like [in 2047]," Chan said.

"It is a bit of a pity to

see this as Hong Kong is special and has the advantage of being different from the mainland, but now it has been catering to the mainland's standard for political correctness."

A resident of the estate, surnamed Ho, said she was concerned she would be held culpable if a mishap occurred.

"There is a flag outside my flat. If the flag falls down, it hurts people and is damaged, will I be responsible for it? I am not the one who hangs the flag," said Ho, adding that she could be penalised by the Housing Department for any misdemeanour.

She suggested hanging the flags at the public square in the estate to reduce possible nuisance to residents.

Another resident, who gave his name as Li, said he felt annoyed by the crowds who came to take photos of the flags, and was concerned about Covid-19 transmission risks.

Pro-Beijing newspaper Ta Kung Pao reported on Saturday that the Kowloon East Chaoren Association had hung 11,500 national and Hong Kong flags in Kowloon East with approval from the Housing Department.

Police also received reports on Sunday that one national and two Hong Kong flags in Upper Ngau Tau Kok Estate, located in the same district, were suspected to have been stolen or stained. No arrests have been made so far.

On Friday, an arson case was reported where one Hong Kong and two national flags in Oi Man Estate at Hung Hom were found with burnt marks.