She argues that regional policies secured for city's young people would amount to nothing if future generations lacked national identity and awareness and shunned integration with mainland China.
Hong Kong leader Carrie Lam Cheng Yuet-ngor has vowed to step up national education efforts for the city's youth, after admitting that it was an "undisputed fact" there were "deficiencies" in promoting the topic to students.

Lam's remarks on Wednesday came weeks after education authorities issued sweeping guidelines to schools on awareness and teaching pupils about national security, while top Beijing officials have been pushing the city to do more in instilling patriotism in young people.

Education minister Kevin Yeung Yun-hung, meanwhile, reiterated on Wednesday that the government would help schools promote national education via a "multipronged approach".

"There are indeed deficiencies in our national education, which is an undisputed fact, and the government is determined to make improvements," Lam told lawmakers.

She was responding to pro-establishment lawmaker Jeffrey Lam Kin-fung during a Legislative Council question and answer session, on what elements were missing in the current education system when it came to promoting patriotism in classrooms.

Lam added: "Even if Hong Kong is able to secure various policies in the Greater Bay Area, such as the [Shenzhen-Hong Kong] stock connect, when Hong Kong residents and especially our next generations lack national awareness and identity and do not support integration with the mainland, all these policies will amount to nothing."

The government would be "enhancing national education on all fronts" starting in schools, she said, citing the example of the recent overhaul of the controversial liberal studies subject, under which a new focus on national development and patriotism would take up more than one-third of the adjusted syllabus.

But while referring to the subject being renamed "citizenship and social development", a move endorsed by curriculum advisers last month, Lam erroneously called the new title "national and social development".

Chief Executive Carrie Lam.

Liberal studies, introduced in 2009 as a mandatory module for senior secondary pupils under a large-scale reform of the city's education system, was initially aimed at raising social awareness and developing critical thinking skills among students.

But in recent years, pro-Beijing figures blamed the subject as biased and responsible for radicalising youth, pointing to it as the cause of escalating violence from young protesters during the anti-government protests of 2019.

Top officials from Beijing, including Hong Kong and Macau Affairs Office director Xia Baolong, meanwhile, have highlighted the need for patriotic education for young people and implementing the principle of "patriots governing Hong Kong" for educators.

China's latest 14th five-year plan, which sets out the country's major political and economic goals for 2021-25, had also mentioned strengthening patriotic education among young people in Hong Kong and neighbouring Macau.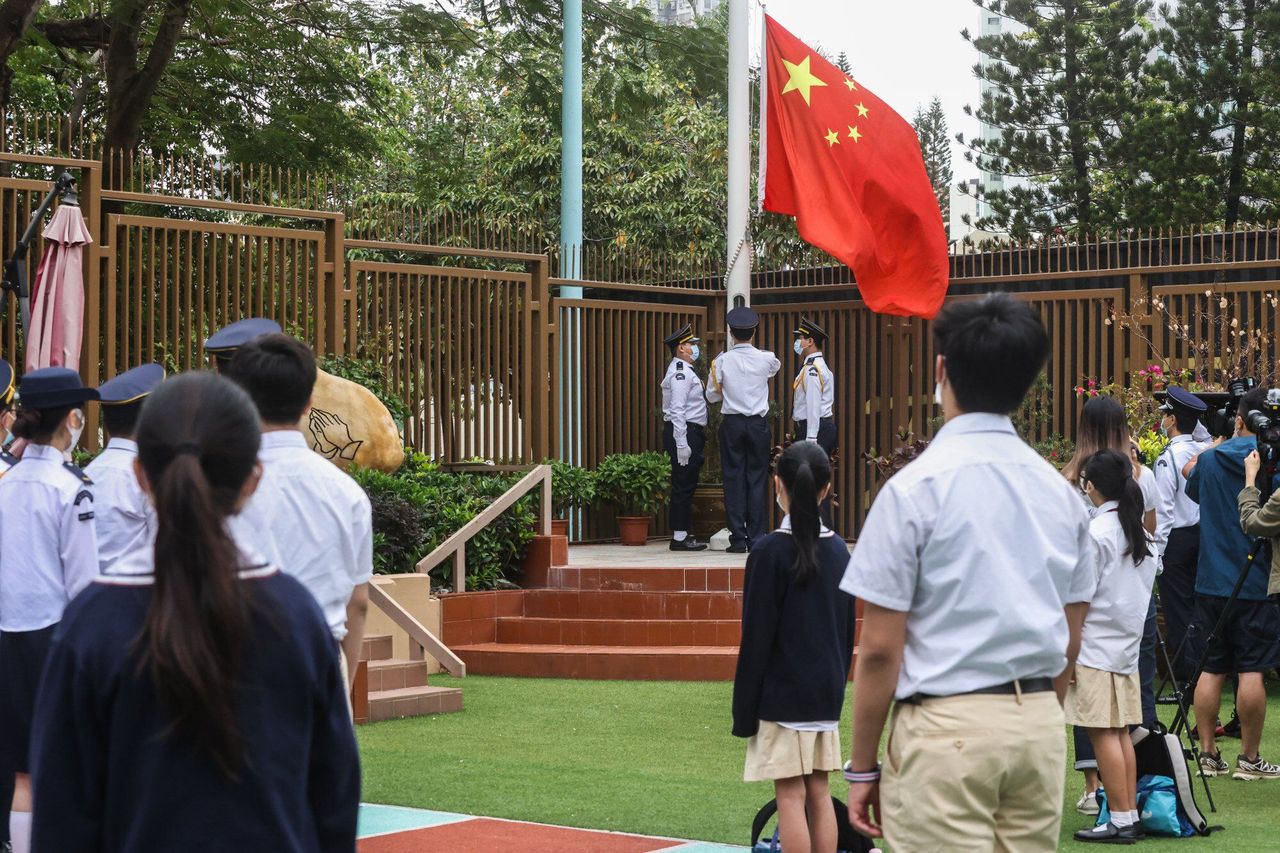 A flag-raising ceremony at Gertrude Simon Lutheran College at Yuen Long on National Security Education Day.

Last week, the Education Bureau rolled out new sets of guidelines for infusing national security education into eight secondary school subjects, with elements of national security advised to be included in business and accounting, information technology, chemistry and even physics classes.

Under previous curriculum frameworks released by authorities in February, children as young as six years old were recommended to learn about offences under the Beijing-imposed national security law – which came into effect last June – namely secession, subversion, terrorism and collusion with foreign forces.

Amid the sweeping changes to the education system, some teachers and parents have said they are planning to leave the city over fears of shrinking academic freedom. Some schools have also recorded an increasing number of teachers resigning in recent months.

Education minister Yeung, in a separate written response to lawmakers, said authorities would "continue to adopt a multipronged and coordinated approach in supporting schools" to promote national education, such as through teachers' training, exchange trips and learning activities.

Schools should teach pupils a "strong sense of nationhood", national identity as well as to abide by the law, he said.

"As 'national identity' is an education goal and one of the priority values to be cultivated among students, teachers have the responsibility to implement it both within and outside the classroom," Yeung said.