'We are not afraid of competition,' Secretary for Financial Services and the Treasury Christopher Hui says.
The support Hong Kong receives from mainland China allows the city to stand out as an international financial hub and supplies it with a unique advantage over regional rival Singapore, the treasury chief has said.

Speaking on a radio programme on Saturday, Secretary for Financial Services and the Treasury Christopher Hui Ching-yu said Hong Kong was not afraid of the increased rivalry with Singapore because the city had many of its own advantages.

"We are not afraid of competition. We are only afraid of failing to put up a good fight," Hui said.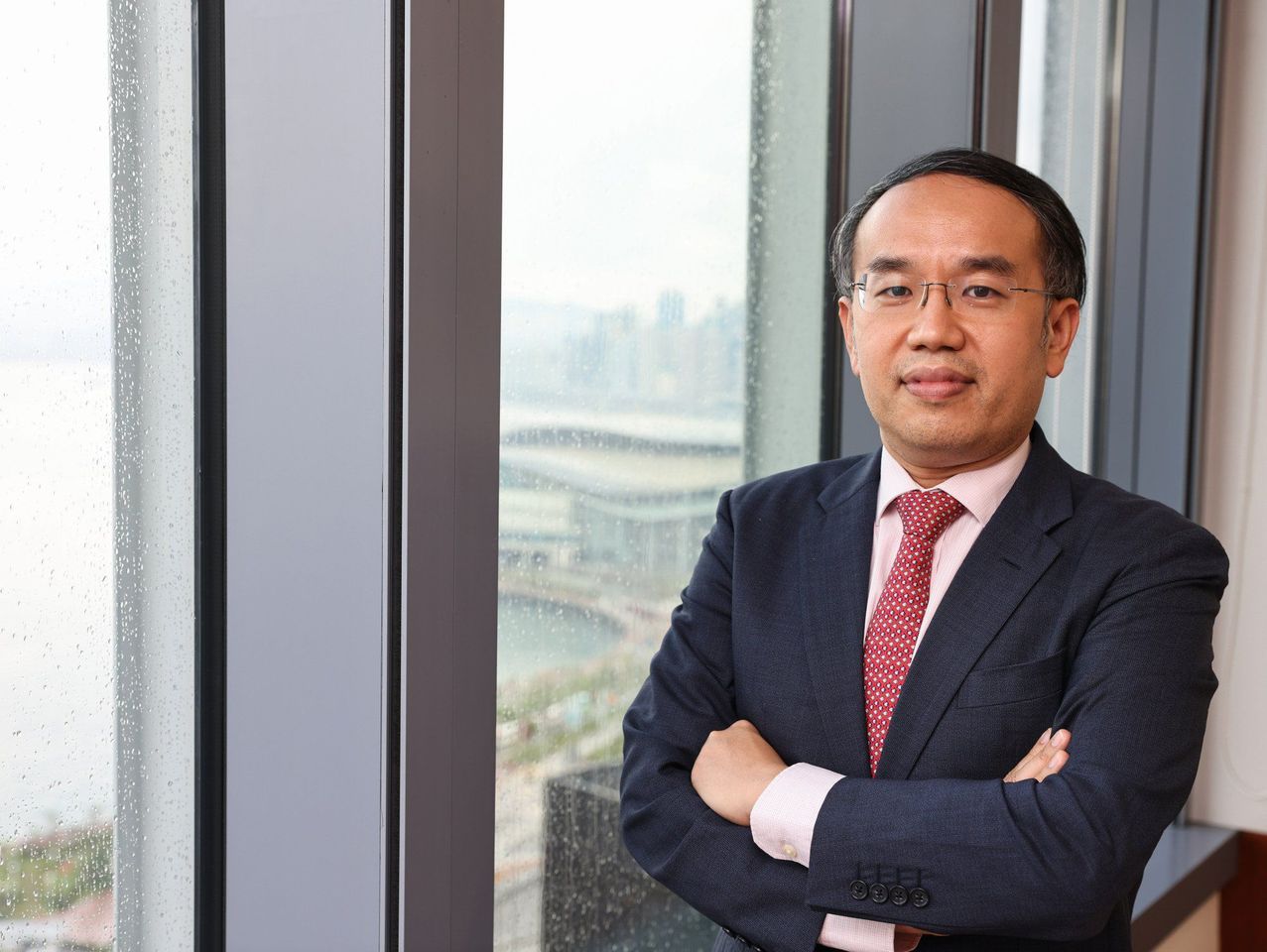 Secretary for Financial Services and the Treasury Christopher Hui.

"The biggest difference between Hong Kong and Singapore is that we have the support of our country to be a gateway to the world. This is Hong Kong's unique advantage and we need to make better use of our competitive edge."

Amid rising geopolitical tensions, Hong Kong could serve as a market for diversification and decentralisation, he added, arguing the city's free flow of capital remained a significant attraction.

Hong Kong has faced intense rivalry with Singapore in the race for global investment and talent, especially amid the Covid-19 pandemic. Some experts said Hong Kong was lagging behind, as Singapore had already fully reopened up to the world.

In an effort to reboot its international image and woo global bankers, Hong Kong will hold the Global Financial Leaders' Investment Summit, organised by the Hong Kong Monetary Authority, from November 1 to 2, as well as Hong Kong FinTech Week from October 31 to November 4.

But the events coincide with the Monetary Authority of Singapore's FinTech Festival on November 2 to 4, raising concerns that Hong Kong will lose out in the race with its southern rival for capital investment and talent.

Hui said he expected more than 20,000 participants would attend Hong Kong FinTech Week, adding the city had a competitive edge over asset management and green finance.

"Different from Singapore, Hong Kong has always positioned itself to leverage support from the mainland, while engaging with the rest of the world," he said.

"That's why a lot of international financial institutions and participants want to understand better via this FinTech Week how Hong Kong can leverage its financial technology to help them tap into the mainland market."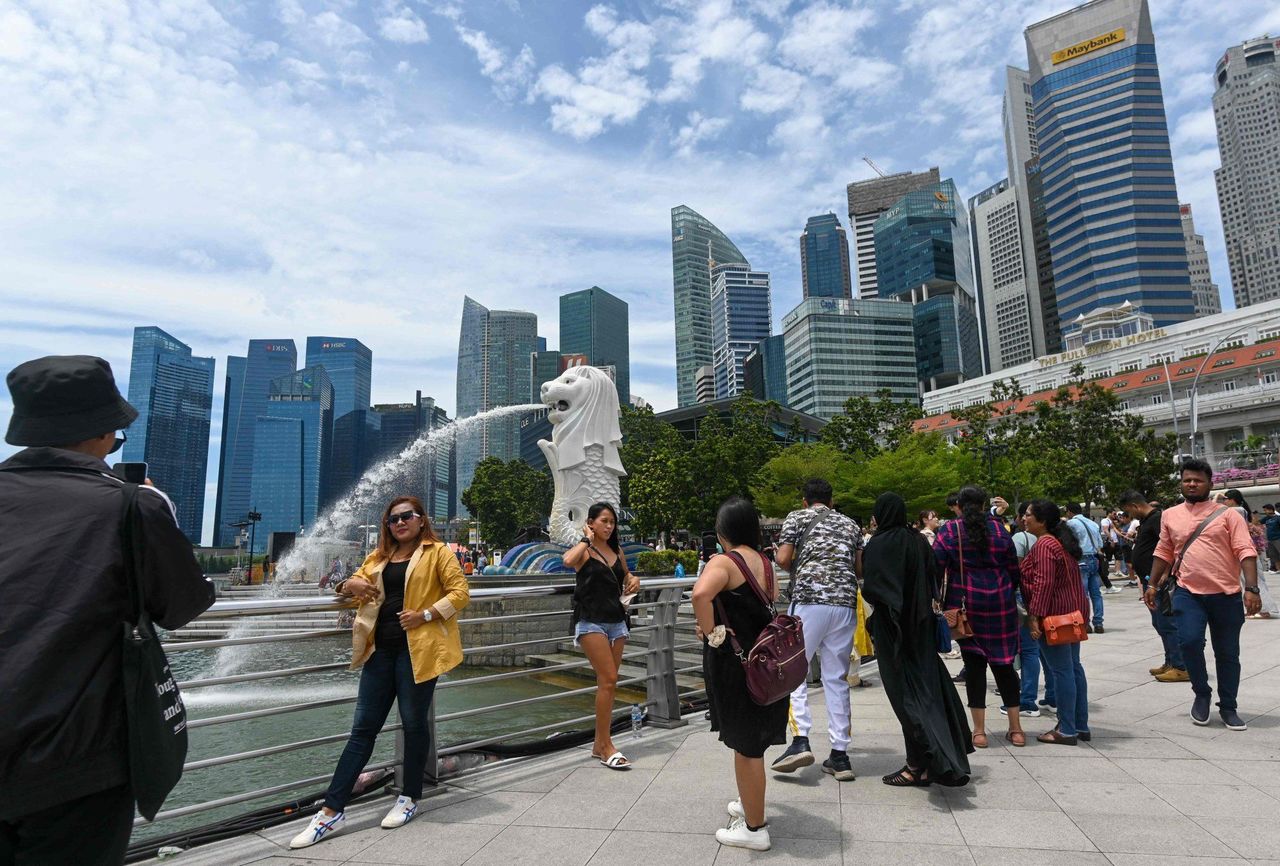 People gather next to the Merlion statue in Singapore.

The secretary said participants would still need to abide by the "0+3" scheme for travellers, under which overseas arrivals must undergo three days of home medical surveillance during which they cannot visit restaurants or bars.

Chief Executive John Lee Ka-chiu earlier vowed to host a "successful financial summit" for finance and tech experts in November amid coronavirus restrictions and despite the event coinciding with Singapore's own gathering.

Lee also pledged that more high-profile events catering to foreign investors and travellers would be held in the future, while measures to attract and retain talent from abroad, as well as build stronger connections with the mainland, would be announced in his maiden policy address on Wednesday.

Hui was also asked whether the government was worried Hong Kong would face sanction from the United States amid the Russia-Ukraine war if it allowed Russian enterprises linked with its government to invest in the city. He said only that Hong Kong was just abiding by the law.

"Hong Kong has always adhered to the law. We have positioned ourselves with better use of our financial advantages according to the changing international situation," he said. "The city has always been the best platform for investors to diversify the risks."

Last week, Hong Kong was caught in the middle of a diplomatic row when a HK$3.9 billion (US$497 million) superyacht believed to be owned by Alexei Mordashov, a steel and mining tycoon considered an ally of Russian President Vladimir Putin, was found docked in the city's waters.

The US warned that Hong Kong's status as a leading international financial centre depended on its "adherence to international laws and standards", after the city reiterated it would not implement unilateral sanctions imposed by other jurisdictions.

Beijing, meanwhile, accused the US of trying to "smear" the city's business environment, saying its reputation as a banking hub was globally recognised and "brook no vilification".