One 51-year-old mother living alone at Kwai Chung Estate says she dare not meet her son at her flat after her building emerged from a seven-day lockdown.
Lunar New Year is a chance for family members to reunite, but many residents in Hong Kong are celebrating the festival with caution due to the Omicron outbreak, with some forced to spend the time in hospital while their loved ones are in quarantine.

At Kwai Tsing district's Kwai Chung Estate, where more than 400 cases have been reported, residents still have a lingering fear of the highly transmissive variant.

Tsang Siu-chui, a 51-year-old resident of Ying Kwai House, finished her seven-day lockdown on Saturday and said she had no time to prepare for the festival.

"I couldn't get the Lunar New Year puddings from the shop I used to go to because they sold out while I was locked up," she said. "I haven't bought any flowers either. I saw hundreds of people flock to Mong Kok's flower market as well, but I did not dare go there."

Tsang, who lives alone in her flat, said she was thrilled to spend the first day of Lunar New Year with her 21-year-old son before he left for an exchange programme in Lithuania later this week.

"He is leaving on Wednesday," she said. "My new year wish was to meet my son before he left and luckily the lockdown did not get extended. But I won't invite my son to my flat or have him come to this estate. I don't want him to take any risks. We will have lunch in a restaurant."

Tsang said she sent her new year blessings to her friends through video calls on Tuesday morning and after meeting her son would spend the rest of the festival at home.

The festival was also a muted affair for a 48-year-old resident at Yat Kwai House, surnamed Wan, who must spend it alone in North Lantau Hospital, separated from her husband and sons, after testing positive during the lockdown.

Wan said her youngest son, 12, was also inflected and admitted to the same hospital but they were not allowed to meet.

"The hospital said they couldn't arrange us in the same room. We had a video call this morning and I was crying cause I miss my boy so much. I saw that his hand was bruised due to the blood drawing and I wasn't able to be around him even though we are in the same place," she said, crying.

Wan's husband is with their two other sons, 15 and 13, at the government-run quarantine camp in Penny's Bay. The family, spread across three different locations, were able to come together via a video call together in the morning.

"One of my sons said he's sad that they can't receive red packets this year," she said. "All I hope for is to get well soon and reunite with my family. This is the first Lunar New Year that I am not with my boys."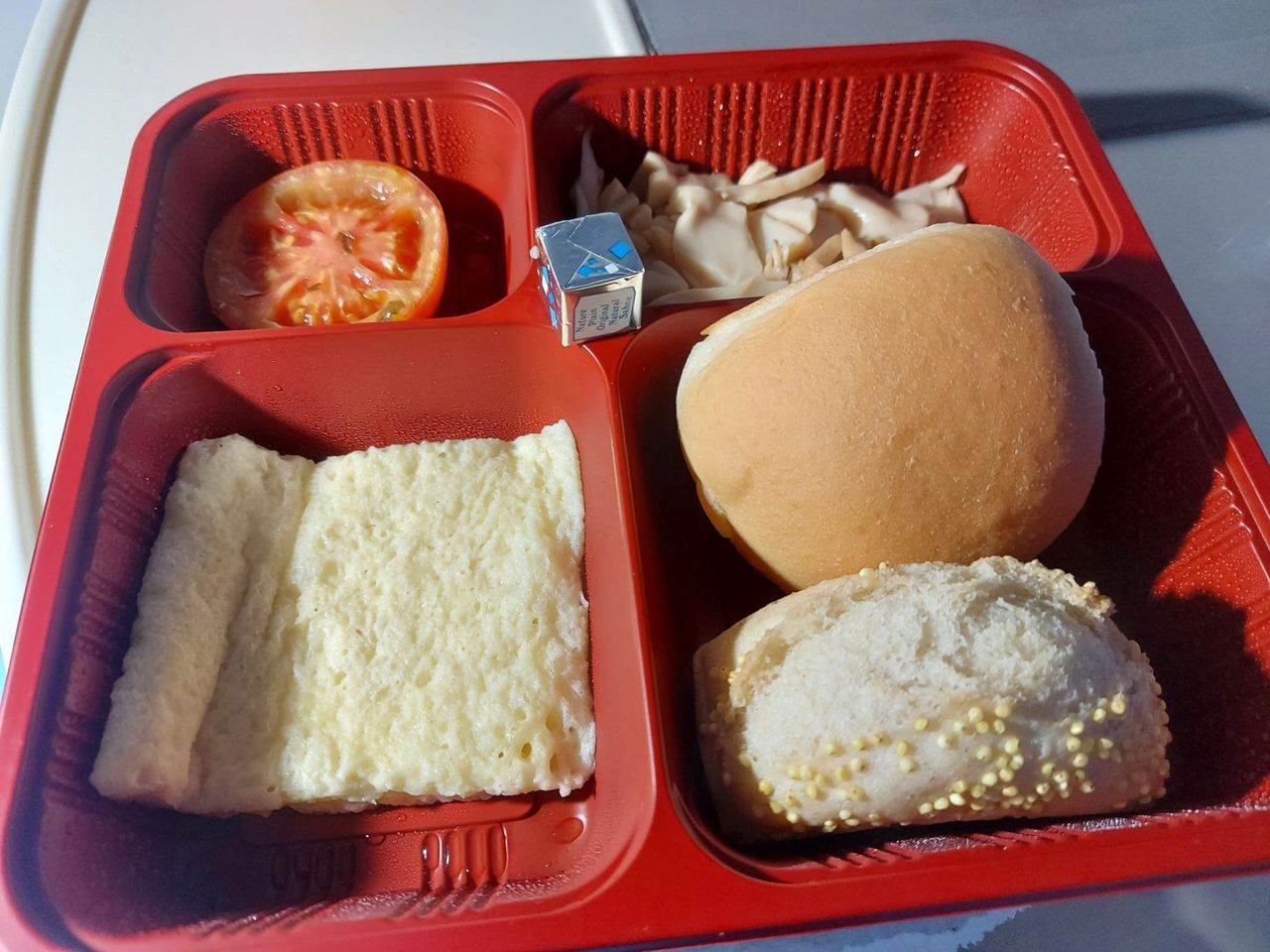 A mother surnamed Wan who is spending Lunar New Year alone in hospital says no special meal arrangements have been made.

Luna*, a 22-year-old marketing industry professional, returned to Hong Kong from Italy on January 16 and had to spend the first four days of Lunar New Year in her quarantine hotel, but she did not forget the traditions to bring luck in the Year of Tiger.

"My family gave me some pomelo leaves so I can take a pomelo leaf bath," she said. "They also brought me turnip cake, nian gao [a type of cake] and some leftovers from the poon choi [a multilayer meal] they had."

According to traditional beliefs, bathing with pomelo leaves before a new year can wash away bad luck, while eating poon choi symbolises good fortune.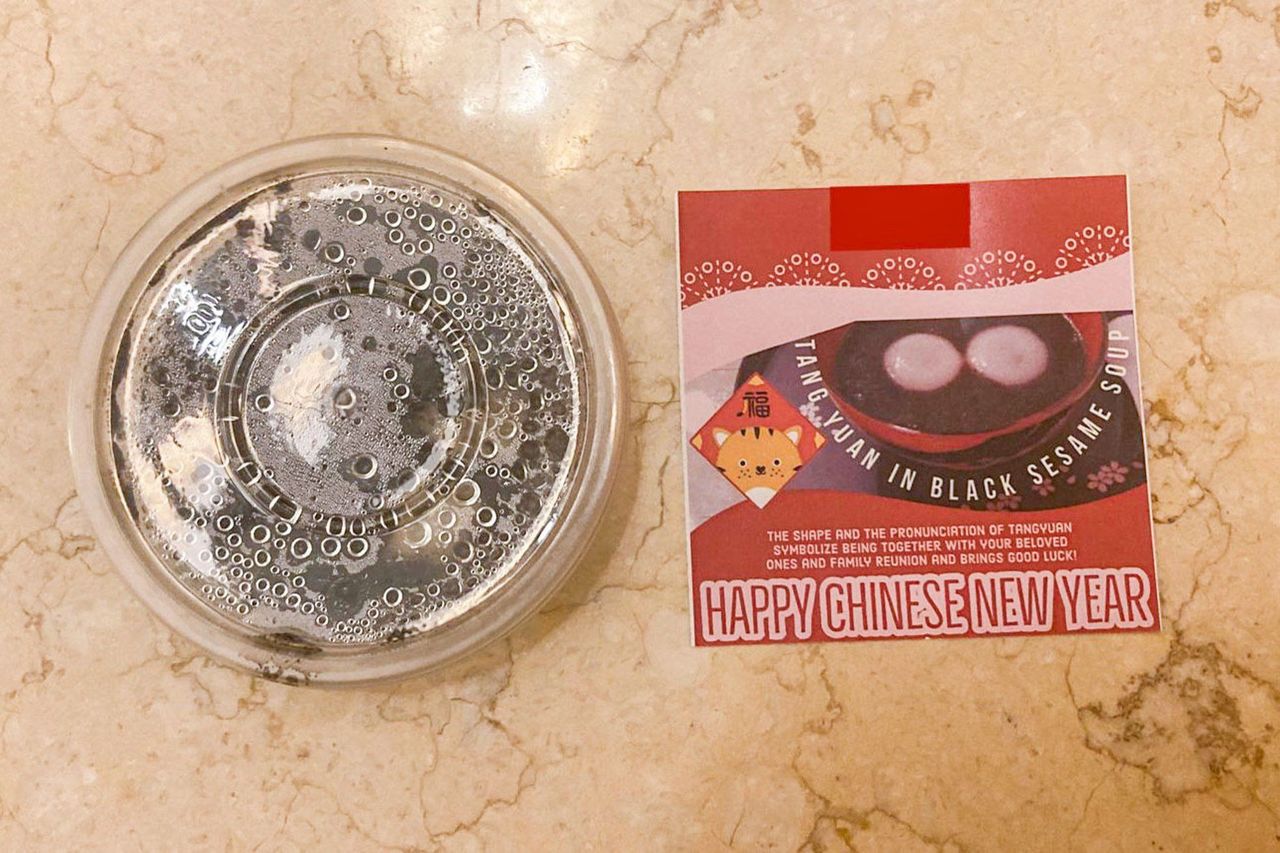 The hotel, where Luna is spending her quarantine, gave her traditional tang yuan with its new year greetings.

Luna added that she would send her new year greetings to her family through text messages.

Meanwhile, police said that at around 12.24am they received multiple calls about fireworks at three locations at Kwai Chung Estate – Hop Kwai House, Kwai Fuk Court and Tai Wo Hau Road.

An online video shows a small fireworks display being set off and sparks raining down on the road and at least six bangs can be heard as cars pass by.

They also said there was a report made of fireworks being set off at Yau Ma Tei fruit market at 11pm on Monday. Another firework display was also reported at Sam Ka Tsuen in Yau Tong around 1.30am on Tuesday.

The force said officers were sent to investigate at the various sites but no one involved was found.

Some Hongkongers, especially the elderly, believe setting off fireworks will bring them good luck, health and wealth while firecrackers were traditionally used to "ring out" the old year.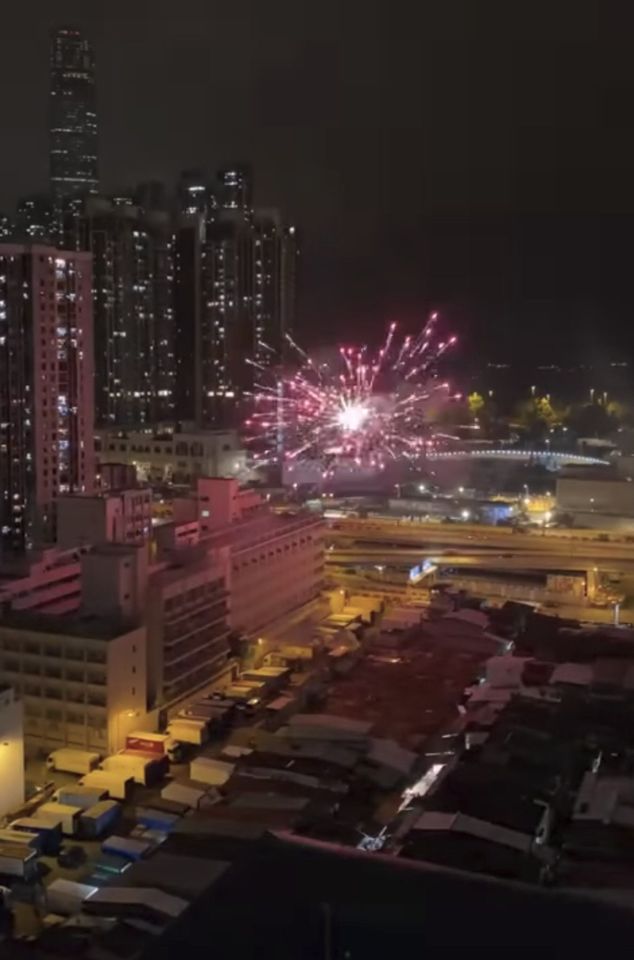 A small firework display near Yau Ma Tei fruit market.

Illegal possession or discharge of fireworks and firecrackers carries a maximum penalty of six months in jail and a HK$25,000 fine under the Dangerous Goods Ordinance.

The city's traditional Lunar New Year fireworks display has been cancelled for the third consecutive year. The event is usually held at Victoria Harbour on the second day of Lunar New Year.

The display was called off in 2020 due to social unrest while last year's event was cancelled because of the Covid-19 pandemic.