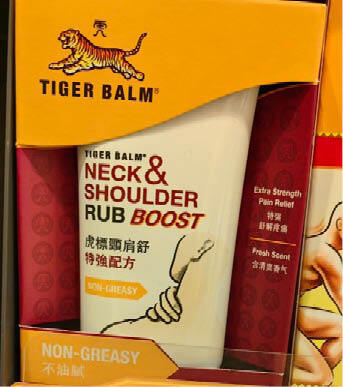 Muscle cream price change draws moans
The price of a medical cream fluctuated between HK$55 and HK$128 at a Mong Kok pharmacy within six days, Sing Tao Probe has found, after a Putonghua-speaking tourist complained she was charged three times the normal price.
The pharmacy attributed the price changes to fluctuation in import prices.

A mainland tourist, Jiang, said during her visit to Hong Kong in the middle of last month she bought two tubes of 50 gram muscle relief cream from a pharmacy in Mong Kok.

Her friend paid at the cashier and she did not look at the receipt closely until after returning to the mainland. But to her surprise, she was charged HK$128 for each tube, which was three times the normal price of between HK$40 and HK$45 at chained drug stores.

"I immediately realized I was made a fool," Jiang said. "But there's nothing I can do, other than posting this receipt online and reminding others to be careful when shopping in this pharmacy."

She admitted she was careless for not having checked the prices on the spot. "But I trusted Hong Kong pharmacies would stick to their set prices."

"Now I think they could have done that to me because I spoke Putonghua," she said.

A check by Sing Tao Probe at the pharmacy found a Cantonese-speaking reporter was asked to pay HK$55 for the same cream four days after Jiang's purchase.

But on the same day, a Putonghua-speaking reporter was told the price was HK$58.

One day later, another Cantonese-speaking reporter bought the cream from the pharmacy for HK$68 a tube.

That means prices changed four times in less than a week, jumping from HK$128 to HK$66, HK$58 and HK$68.

Asked why prices differ on a day-to-day basis, a salesman at the pharmacy said it is a result of fluctuating wholesale prices.

"It's normal for it to go up and down," he said. "We treat everyone in the same way."

But he refused to respond to Jiang's case and only asked the Sing Tao Probe reporter to check prices at chain drug stores.

A check at a nearby chain pharmacy in Mong Kok found the same cream sold at a discounted price at HK$39.9.

The Consumer Council advised retailers to refrain from charging different prices for customers speaking different languages.

The watchdog said action would be taken upon receiving complaints.