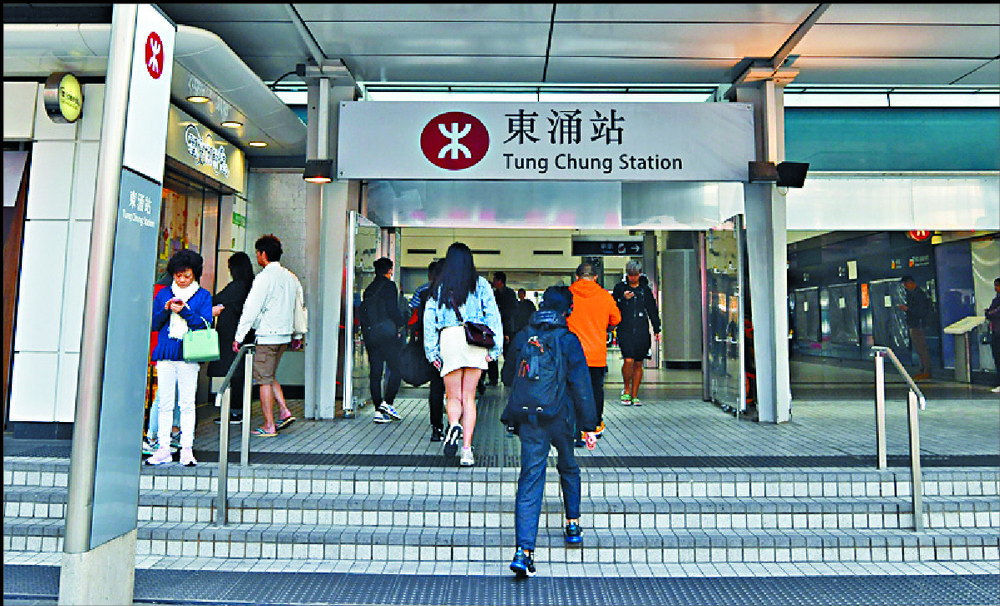 MTR to extend reach around Tung Chung
Tung Chung residents will be able to travel between the district's east and west by rail as early as 2029 in the wake of approval by the Executive Council yesterday for construction of an extension.
Construction of the MTR extension, expected to be approximately 2.5 kilometers long, will begin this year.

Two stations will be added - Tung Chung east between the existing Sunny Bay and Tung Chung stations followed by Tung Chung west, which will become the new terminal on the line.

Compared with road-based transport, travel times from Tung Chung west via Tung Chung east to Tsim Sha Tsui or Central by rail are expected to be reduced by approximately 12 minutes and 21 minutes upon commissioning of the extension.

MTR Corp welcomed the approval, with chief executive Jacob Kam Chak-pui saying: "With a mission to provide quality railway service the corporation also staunchly supports the building of communities around rail stations in line with the government's strategy of making railways the backbone of public transport.

"The Tung Chung line extension will cater for the new town development in the Tung Chung east new reclamation area and Tung Chung west, enhancing the connectivity of Lantau north and support the long term, sustainable growth in population and employment opportunities in the area."

Under the project the Tung Chung line will extend westward by about 1.3 km, with a new terminus to be built in Tung Chung west and a new intermediate station at the Tung Chung east new reclamation area between Sunny Bay and Tung Chung stations.

The works will involve the diversion of a 1.2 km section of the operating tracks at Tung Chung east.

Work on the Tung Chung line extension is expected to commence this year with completion scheduled for 2029.

The extension will offer direct rail access to Tung Chung New Town - a medium-to-long term source of land supply in Hong Kong to meet housing, economic and social needs.

The original and amended schematics for the extension were gazetted on December 10, 2021, and June 24 last year.

In collaboration with the MTRC, government officials have studied the grounds of objections received and have explained to stakeholders the plan and also supposedly addressed the concerns.

The objections have also been sent to the Executive Council for consideration.

"During implementation of the Tung Chung extension community liaison groups comprising representatives of the concerned and affected local parties such as owners' committees, management offices and local organizations will be established," a government spokesman said.