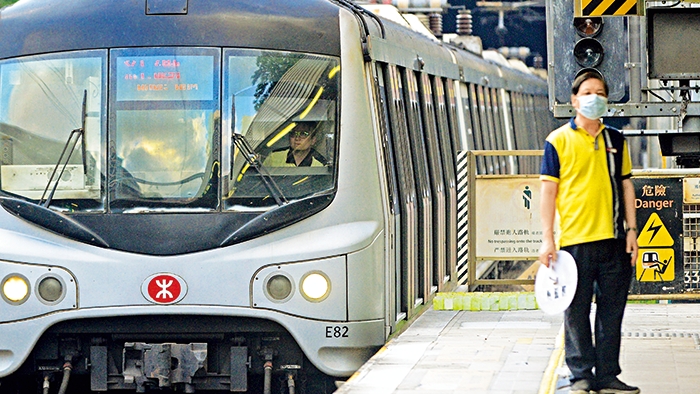 MTR rakes in HK$9.8b net profit last year, allocates HK$200m in rewards to passengers
MTR Corporation announced on Thursday that the yearly net profit of the rail giant reached HK$9.83 billion in 2022, with a year-on-year increase of 2.9 percent, and that HK$200 million would be granted to passengers as rebates.
In a press conference today, MTR's chief executive Jacob Kam Chak-pui said the traffic capacity for cross-boundary railway trips in February has returned to 50 percent compared to pre-pandemic levels, and the figure of local passenger capacity has risen to more than 90 percent of pre-pandemic.

"The fifth wave of the pandemic affected MTR's vehicle operations, business partnerships, and property leasing," said Kam, "with the local passenger traffic falling to its lowest level last February and March."

The company has seen the revenue for passenger services for the whole of last year recorded at HK$16.48 billion, up less than 1 percent year-on-year, and its loss widened by 39 percent to HK$2.64 billion.

Total passenger trips were recorded at 1.33 billion last year, down 6 percent compared to 2021.

However, Kam said, the traffic performance has rebounded to over 90 percent of its pre-pandemic level, and the average daily capacity of cross-boundary rail services, including the Hong Kong section of the high-speed rail train, has returned to about 50 percent this February compared to pre-pandemic levels.

"The company would plow HK$200 million in rewards for fares to benefit passengers under the Profit-Sharing Mechanism," Kam said.

Besides, he noted the rail giant is planning to review the current ticket price and will release the results in the first half of this year.

He added the corporation will put in an average of HK$10 billion per year in the next three years and HK$100 billion in a decade to promote new projects for railway construction.