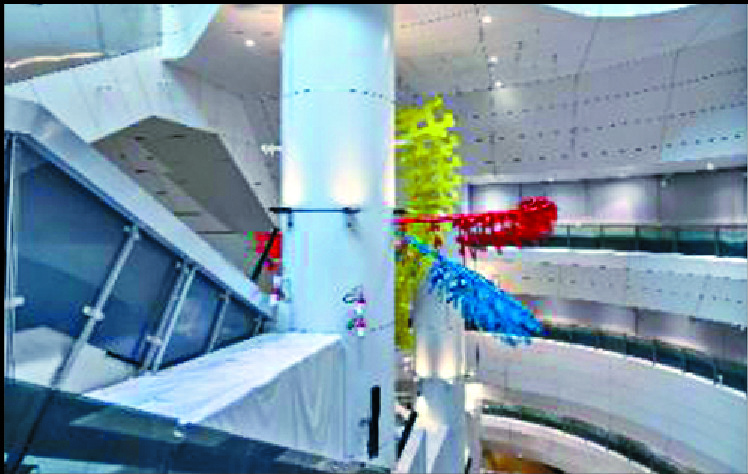 MTR gives peek at East Rail extension
The new Exhibition Centre Station of the East Rail line extension is a three-level underground station and will connect with the Wan Chai footbridge network, MTR Corp revealed in a website for the extension that is expected to commence in June or July.
Once operational, passengers on the East Rail Line can reach the Hong Kong Convention and Exhibition Centre and the business district in Wan Chai North and Admiralty without having to change lines.

The website showcases photos of the three stations that are part of the extension - Hung Hom, Exhibition Centre in Wan Chai north and Admiralty stations.

The wall of Hung Hom station's new platform is covered with tiny red and white bricks. Artwork under the theme of "Lost and Found" by Jaffa Lam Laam are placed at the station, such as stone sculptures that look like pieces of luggage from different decades.

The platform is located underneath the existing Tuen Ma line platform. "Tuen Ma line passengers will be able to take the East Rail line to cross the harbor at Hung Hom station, enjoying a more direct and convenient connection," the MTRC said.

Exhibition Centre is a three-level underground station, with two entrances connecting to commercial buildings Great Eagle and Harbour centers.

"The two entrances are located on the ground level, with lifts connecting the Wan Chai footbridge network," the website said.

The Wan Chai ferry pier public transport interchange is connected with the station for passengers to change to other forms of public transports "easily."

Admiralty station will open a new extension, including the modified entrance E at Rodney Street when the East Rail line extension starts to operate.

"A unique multilevel atrium design is adopted at the extension, with a large skylight directing natural light into the station to provide a more comfortable traveling environment," the MTRC said.

Photos show an all-white design for indoor areas at Admiralty station's new extension as well as a dome-shaped exterior.

When the East Rail extension is operating, Admiralty will be "the only mega interchange station" in the MTR network with interchanges to four lines.

Passengers arriving at Admiralty can change to Tsuen Wan, Island and South Island lines without exiting the paid area.

New facilities at Admiralty include two new sets of escalators connecting the East Rail line platform level to the Island line, and Tsuen Wan line platform levels have been put into service since October.

The extended East Rail Line is approximately 46 kilometers long with 16 stations, from Lo Wu or Lok Ma Chau stations to Admiralty station.