Tong Ying-kit – the first person charged under the Beijing-imposed legislation – is on trial for secession and terrorism, stands accused of riding his motorcycle into officers.
The first person charged under Hong Kong's national security law and accused of ramming his motorcycle into police at a protest last year had done so unintentionally, according to his lawyer.

A senior counsel for Tong Ying-kit suggested at the High Court on Friday that the 24-year-old defendant, who faces secession and terrorism charges, had either been hit by a police shield or distracted by an officer swinging his shield at him before he lost control of his vehicle on July 1 last year.

The officer denied attacking Tong with his protective gear, saying instead he had loosened his grip while trying to block the charging motorcyclist who was travelling at high speed and ignoring warnings to stop.

Tong is standing trial before three judges chosen by city leader Carrie Lam Cheng Yuet-ngor for allegedly inciting separatism and causing serious harm to society on the second day the Beijing-imposed legislation took effect.

He is accused of ramming his motorcycle into three police constables while carrying a flag bearing the popular protest chant: "Liberate Hong Kong; revolution of our times".

The prosecution contended that the slogan, first popularised by jailed activist Edward Leung Tin-kei in 2016, was a rallying call for those advocating independence for Hong Kong.

The court heard that at around 3.30pm that day, Tong travelled eastward along Hennessy Road and sped past a police cordon at the junction of Luard Road, before skipping another cordon 300 metres away on Fleming Road.

He then made a U-turn and drove 300 meters along the westbound carriageway of Lockhart Road, before switching to Luard Road where he confronted a third roadblock. An officer there fired two pepper rounds at the motorcyclist but missed.

Tong then headed towards a fourth cordon at the junction of Jaffe and O'Brien roads, where he ran into three officers who attempted to intercept him.

Officers who were in Wan Chai that afternoon said Tong drew cheers and applause from pedestrians along the route, while protesters who witnessed the crash threw objects at police who restrained the defendant.

The prosecution argued such responses showed the general public had been incited.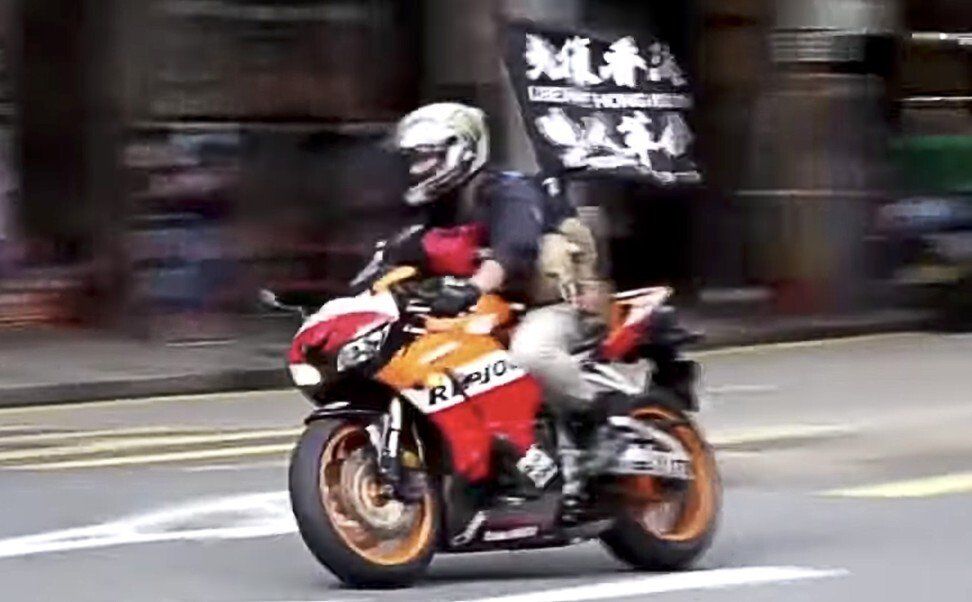 Tong Ying-kit was riding a motorcycle in Wan Chai at the time of the alleged offences.

Detective Constable Ng Tai-shing, who used the shield on Tong, said he had intended to block the defendant's path and grab him, but realised immediately it was impossible as Tong had no intention to stop.

"So what I did was to try to avoid him. I thought the shield could somehow ward him off, but I lost my grip on it," Ng said. "I really feared he would run into me so I reckon it was a natural reaction."

A video clip capturing the collision showed Tong tumbling to the ground upon the impact. He was then subdued. Two officers were seen swinging their batons at Tong, before he was dragged away from camera view.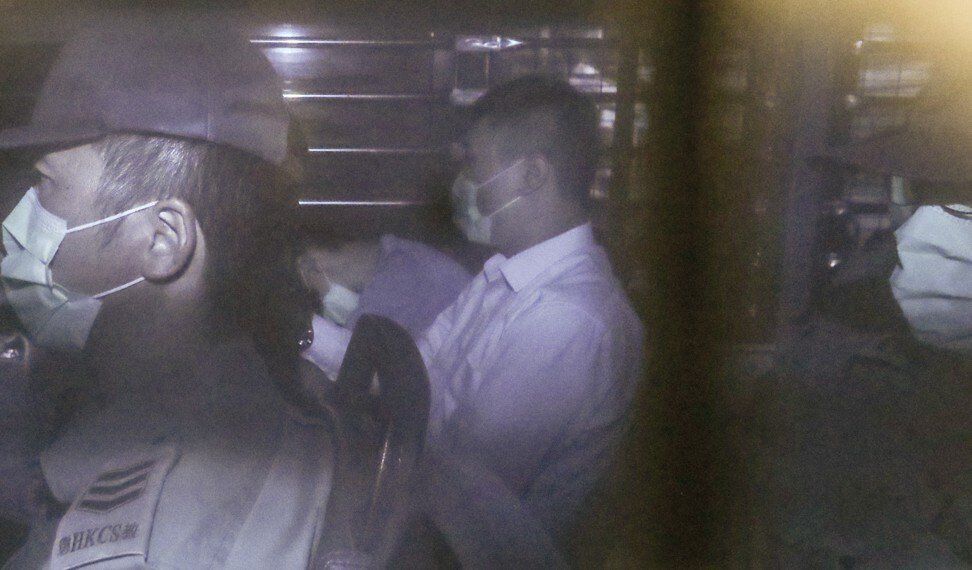 Tong Ying-kit arrives at the High Court for a hearing last August.

Chief inspector Armen Ho Tsz-yiu, a witness to the incident, said he did not see his colleagues using their weapons on Tong, adding the defendant had sped up his motorcycle shortly before impact.

Tong's lawyer Clive Grossman SC said his client could have been struck by Ng's shield before crashing. He suggested to the inspector: "Either the shield hit him or distracted him. It would be an accident, wouldn't it?"

Ho replied: "I am not going to speculate on the reason for the crash."

The trial resumes on Monday.