Shenzhen has issued series of tough measures to restrict cross-border truck operations, including evicting more than 100 of the city's drivers there.
More than 80 per cent of Hong Kong's 8,000 cross-border truck drivers could be out of a job after neighbouring Shenzhen tightened Covid-19 restrictions amid a week-long lockdown, a transport group has warned.

In response to increasing infections among the Hong Kong truck drivers, the Shenzhen Government Port of Entry and Exit Office has, since Sunday, issued a series of tough measures on cross-border truck operations, including evicting more than 100 truckers fro the financial capital.

It said on Monday that all trucks carrying cross-boundary goods could only enter and leave mainland China via the connection points in Huanggang, Man Kam To, Liantang and Shenzhen Bay checkpoints, for "better centralised management".

Liantang was removed from the list on Tuesday, leaving only three checkpoints handling cross-border trucks.

Hong Kong drivers are now barred from heading to mainland destinations to pick up consignments. Their trucks will have to be handed over to the mainland shuttle drivers at the designated border connection points.

Hong Kong Land Transport Council chairman Stanley Chiang Chi-wai said more than 80 per cent of the city's 8,000 cross-border truck drivers would be out of work for an indefinite period as only about 1,000 of them were allowed to head to the border connection points to hand over their trucks.

"I am now drafting a letter to the government in a bid to call for subsidies for them to ride out the difficulties," he said.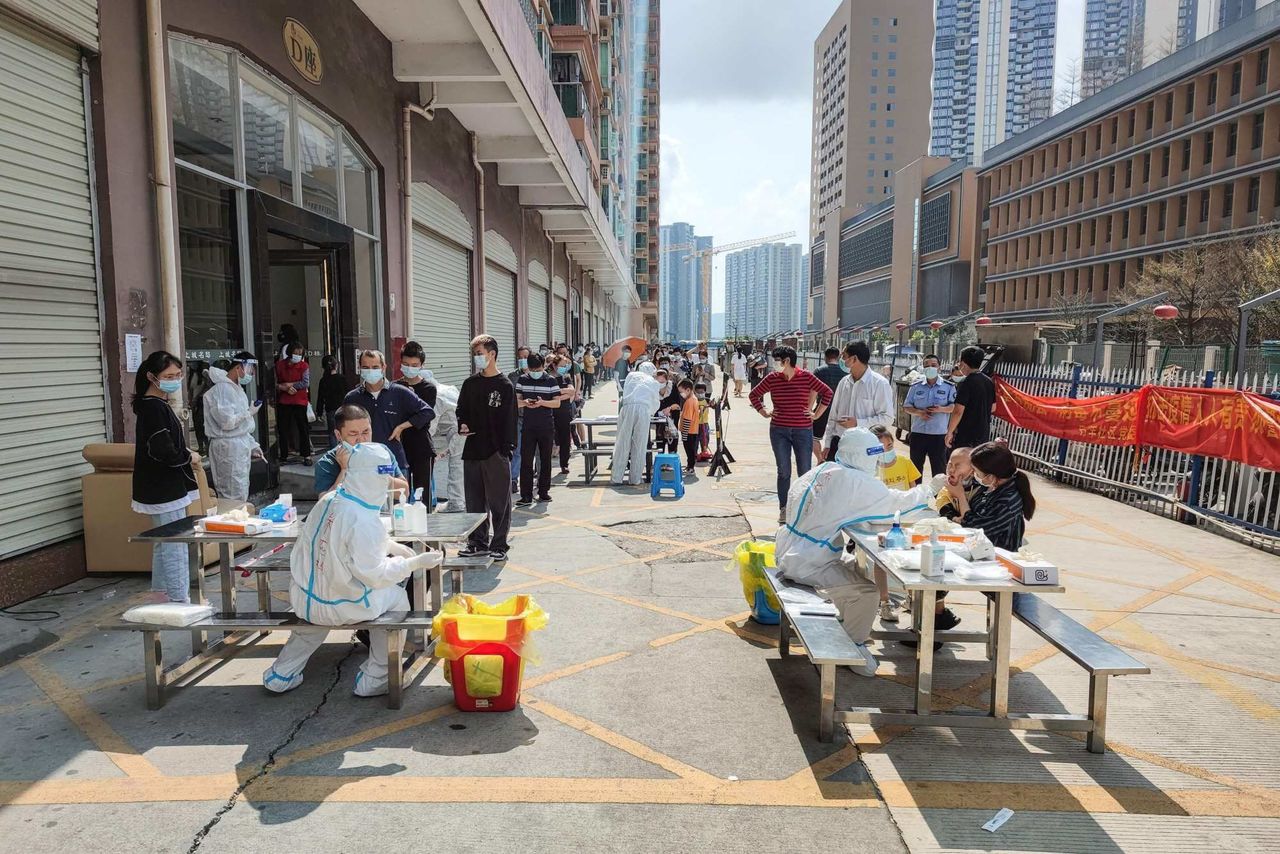 Residents queue to undergo nucleic acid tests for Covid-19 in Shenzhen on Monday.

The tightened restrictions came as Shenzhen announced on Sunday night the week-long citywide lockdown for its residents after reporting 66 new infections. Another 75 new infections were recorded on Monday.

Shenzhen authorities have also started to evict Hong Kong truck drivers there, according to Liu Kwun-ming who has been transporting goods from the mainland to Hong Kong for more than two decades.

Xin Da Zhou Hotel, the only designated hotel in Shenzhen for mandatorily housing Hong Kong's cross-border truckers under a closed-loop operation, had requested more than 100 drivers to move out from its premises from Wednesday midnight, he said.

"The hotel didn't give us an explanation. I believe they want to free up space to accommodate the mainland truck drivers," said Liu, who had been living in the hotel for about two years since the pandemic erupted in early 2020.

Liu said Hong Kong's truck drivers were in a dilemma as they did not know when they could resume work now that Shenzhen's tightened restrictions had drastically reduced the number of trucks coming to the connection points between the two cities.

The Hong Kong government said it would continue to promote the temporary cargo transfer arrangements at the air cargo facilities at the Hong Kong International Airport, Kwai Tsing Container Terminals and Tuen Mun River Trade Terminal, with the Guangdong and Shenzhen authorities to ensure smooth cross-boundary land transport.

It said water transport capacity would also be enhanced for the supply of fresh food and other essentials. At present, three such routes in Shenzhen and six others in various Guangdong cities are open, providing a daily capacity of more than 10,000 tonnes.

Liu called on Hong Kong authorities to liaise with their Shenzhen counterparts to allow the city's cross-border truck drivers to continue transporting goods to and from the mainland.

He said the Hong Kong truckers were only left with three options: apply to be transferred as drivers at the connection points, which was highly difficult; withdraw from the profession or simply return to Hong Kong where they would be out of a job.

"Now the Shenzhen authorities only allow about 1,000 Hong Kong cross-border trucks to pick up goods from there, and about 500 of them are for transporting fresh food," he said.

"At present there are also more than 500 Hong Kong trucks being held up by Shenzhen authorities for no reason. Hong Kong truck drivers are in limbo and clueless as to when they can resume operations."

Liu, who ran a small transport company with four trucks, said he had decided to shut down his business soon as he could no longer find ways to survive under the harsh restrictions in Shenzhen.

"There's nothing we can do now. I really can't survive. The Shenzhen authorities have imposed various restrictions on truck drivers without consulting us in advance or giving us any reprieve channel," he lamented. "I was once held up at the Huanggang port for two nights' inspection before I was allowed to drive my truck to the mainland."

Liu said the new restrictions had affected his earnings, with his HK$400,000 (US$51,100) monthly income now slashed to zero.

Previously, Hong Kong cross-border truck drivers were allowed through the border to pick up cargo directly in Shenzhen because there were not enough mainland drivers to take over the trucks.

A truck driver surnamed Chan said drivers used to be able to earn more from a long-distance journey into the mainland – for example, a round trip from Hong Kong to Dongguan could fetch HK$1,000. But now drivers could only make about HK$300 per trip driving to and from the checkpoint.