Among participating Hong Kong enterprises this year, 47 are led by the Hong Kong Trade Development Council, the government's official exhibition organiser.
More than 200 Hong Kong firms have geared up for an import trade fair in mainland China, harbouring hopes of expanding into the vast market there after more than two years of economic disruptions on both sides amid the Covid-19 pandemic.

Joining as many as 3,000 exhibitors, up 3.4 per cent in attendance from last year, the local firms were on Saturday touting products and services at the fifth edition of the China International Import Expo, an annual fair held at the National Exhibition and Convention Centre in Shanghai from Saturday to November 10.

Hong Kong Chief Executive John Lee Ka-chiu and Secretary for Commerce and Economic Development Algernon Yau Ying-wah attended the opening ceremony of the expo online on Friday, where Chinese President Xi Jinping delivered a televised speech pledging to further open the country's markets, amid a slowing domestic economy battered by strict pandemic controls and tensions with the United States.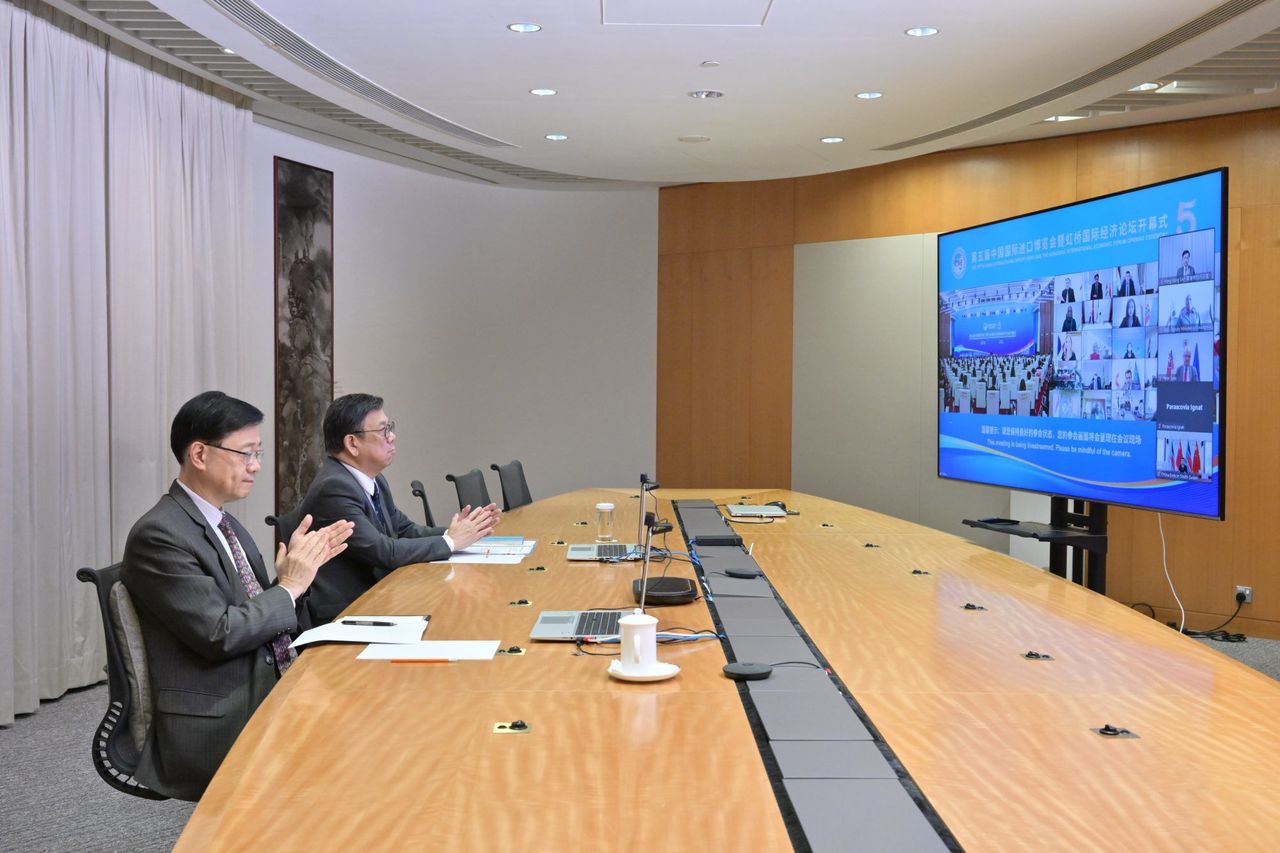 Hong Kong leader John Lee (left) and Commerce minister Algernon Yau attend the opening of the fair online.

Among participating Hong Kong enterprises this year, 47 are led by the Hong Kong Trade Development Council, the government's official exhibition organiser, which set up two pavilions at the fair to promote a wide array of products and services in areas such as food, financial services, infrastructure and construction, information and communication technologies, and innovative technologies.

One of them is Future Salad, a local food-tech company established in 2020 and dedicated to producing health food products.

Angus Au Hiu-fung, co-founder and chief marketing officer of the start-up, said it was the first time the company was joining the fair, with a three-member team sent to showcase their flagship product – a drinkable salad made by using natural raw materials and cutting-edge aerospace technology.

He said as the firm's development in Hong Kong and Taiwan had increasingly matured, with annual business revenue of about HK$40 million (US$5.1 million) last year, the company intended to expand to the mainland market where there was an emerging demand for health food products.

"The mainland market has a huge potential as more residents there attach importance to healthy diets," he said. "We hope to meet more potential mainland buyers through the expo."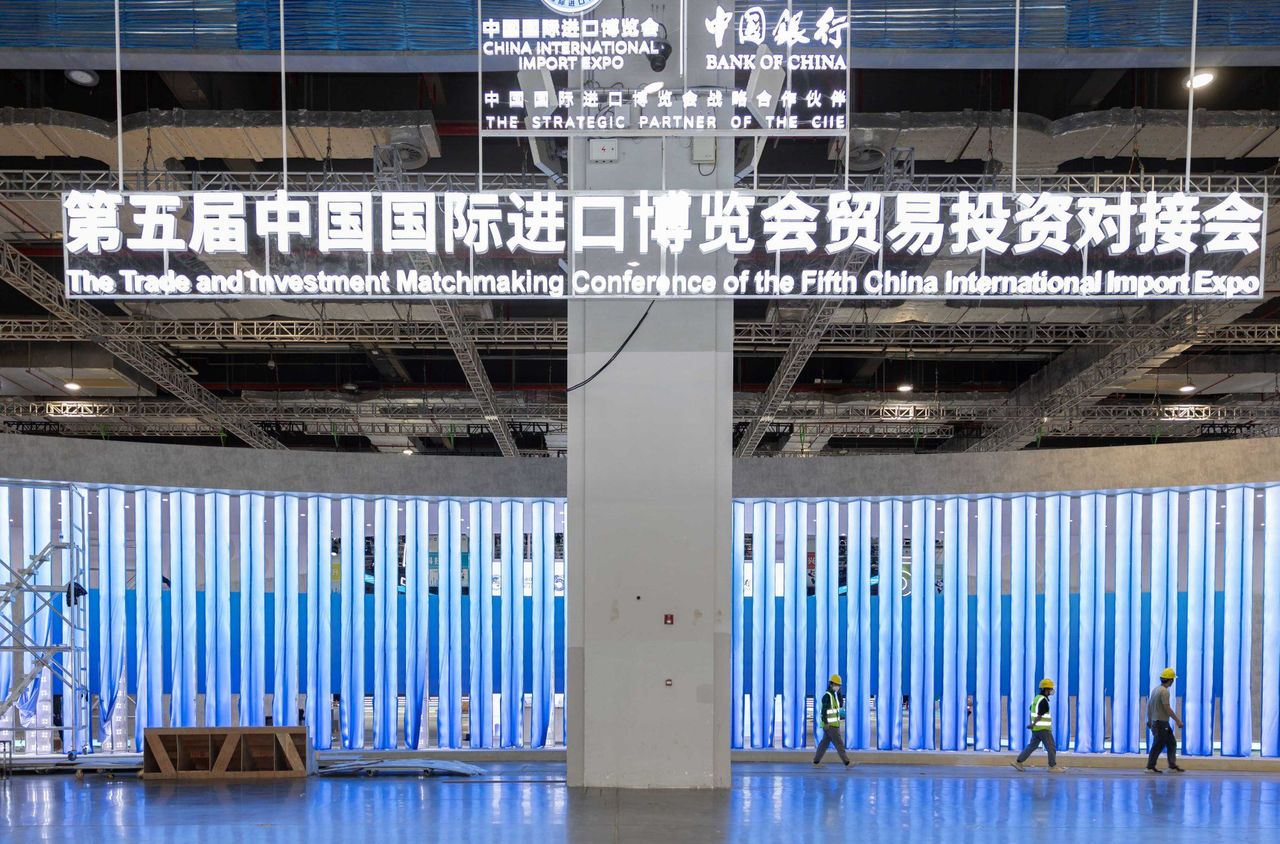 The fifth edition of the trade expo in Shanghai will run till November 10.

Au said he had high hopes for the market across the border, with his company armed with a strong advantage of being a Hong Kong brand offering locally manufactured products. He pointed to Hong Kong's reputation for well-rounded food production regulations.

"Being a Hong Kong brand is an advantage in the mainland market as it is associated with high standards in food technologies and production," he said, shrugging off the impact of the pandemic, including more than two years of cross-border travel restrictions. He noted that product quality was a top consumer consideration.

Another fair participant, Allinpay International Investment Group Holdings Company Limited, showed up for the fifth time this year to attract potential clients for its financial services.

Leo Leung Lok, chief operating officer of the company established in Hong Kong in December 2011, said the firm sent a team of five to the expo to present its cross-border trade settlement services, designed to enable mainland e-commerce sellers to receive international payments.

He added the company joined the expo every year to facilitate communication with mainland clients and also attract new ones at the national-level fair, with buyers from different provinces and cities converging there.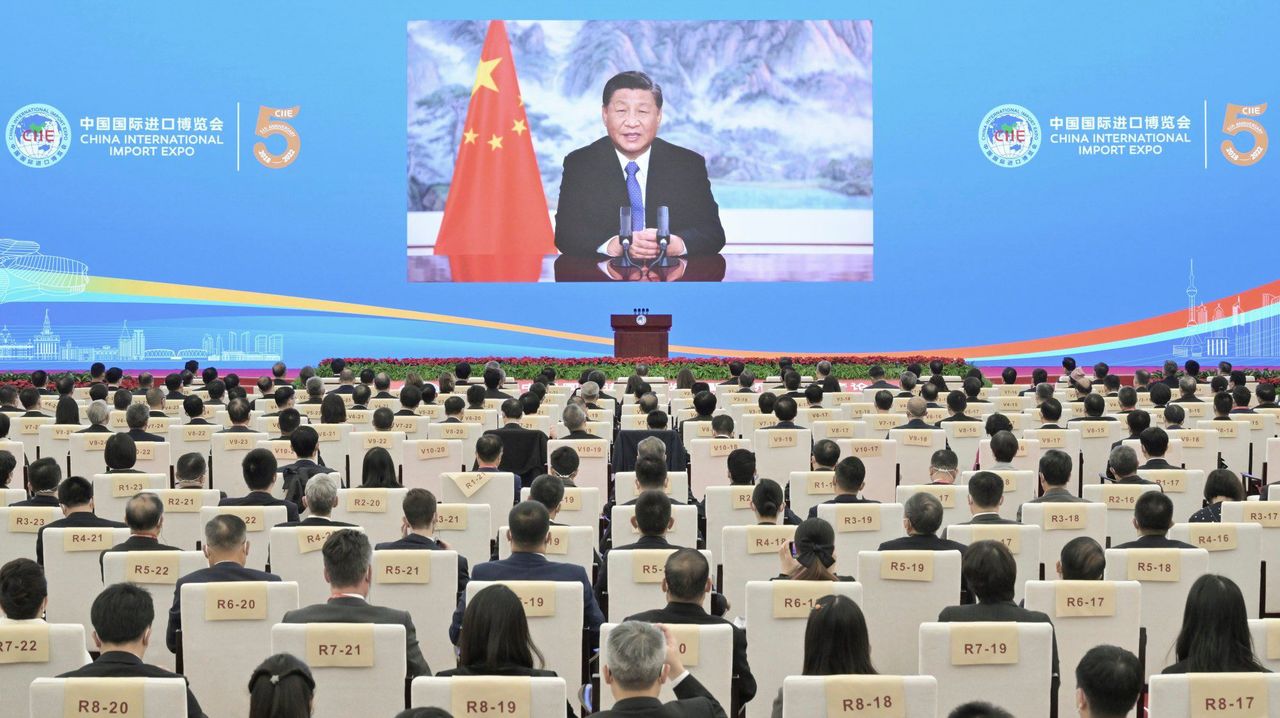 President Xi Jinping delivers a speech on video at the expo.

"The expo serves as a good 'name card' for us to demonstrate our services to our clients … and meet different businesses and potential new clients through this platform," he said.

Despite pandemic-related disruptions on cross-border exchanges, Leung said he was confident in his company's continued expansion across the border, thanks to its connection to parent company Allinpay, a Chinese financial technology services enterprise, as well as its Hong Kong roots, with the city reputed for its regulatory systems and economic flexibility.

According to the Hong Kong Trade Development Council, its product-centred pavilion this year features various well-known local brands such as leading canned food label Sun Yik Food, and food company Lee Kum Kee.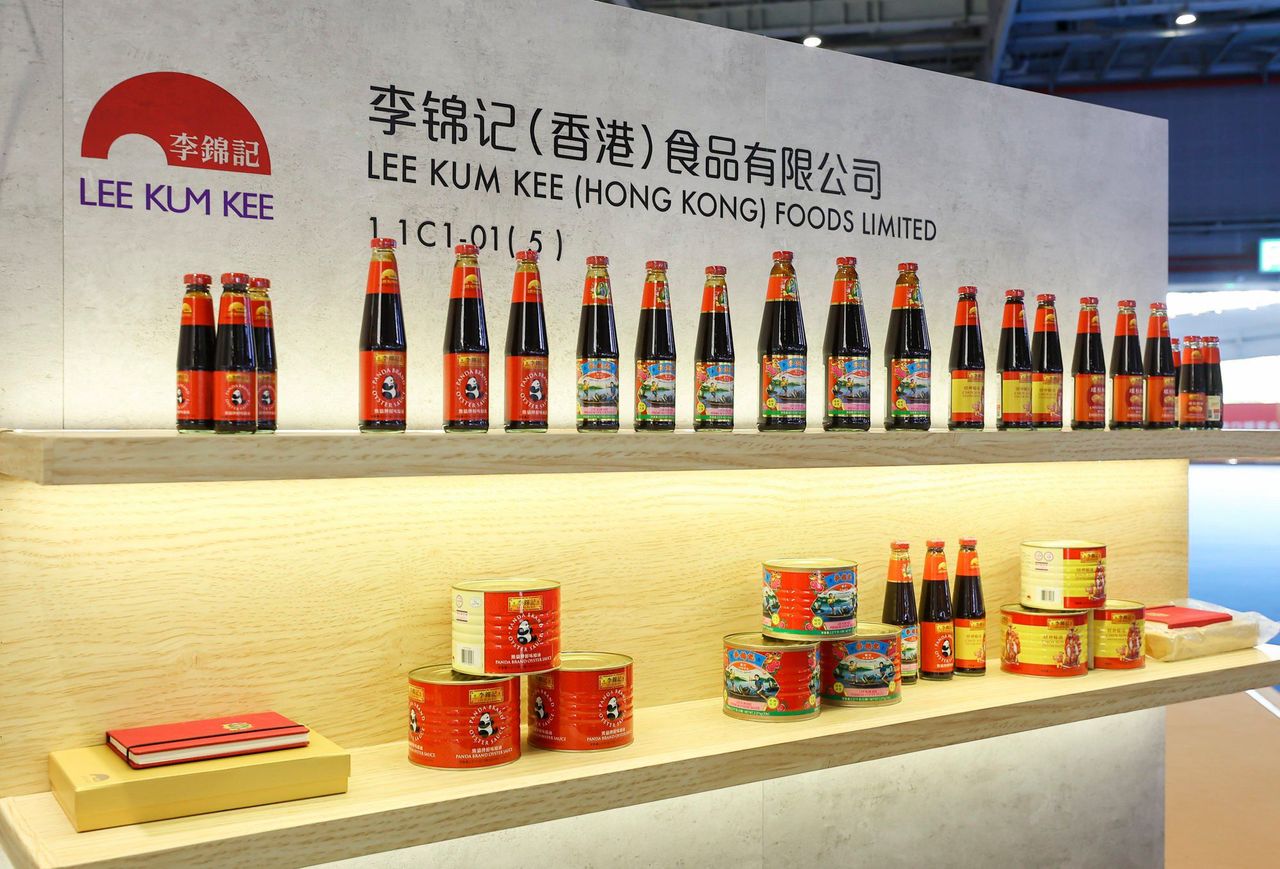 Products by Hong Kong food company Lee Kum Kee on display at the expo.

A performance stage has also been set up to showcase Hong Kong's unique food culture, with cha chaan teng chefs dishing out local snacks such as egg waffle and cheong fun or rice noodle rolls. Many exhibitors will also demonstrate their culinary skills and carry out interactive games there.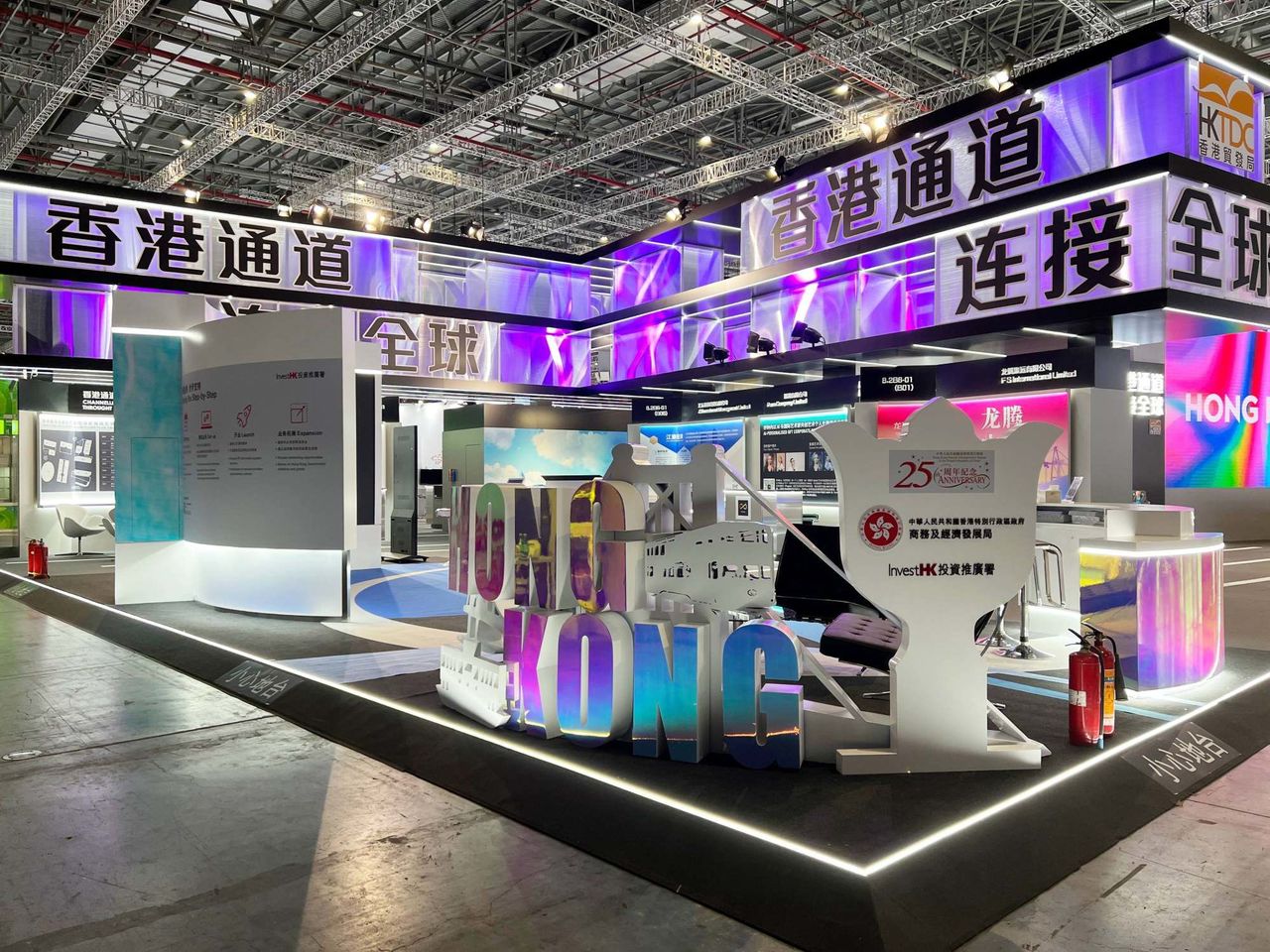 A fair pavilion featuring Hong Kong brands.

Another pavilion features Hong Kong's services in areas such as brand and marketing promotion, brand licensing, product design, architectural design, financial services, information and communication technologies, smart supply chain, healthcare technologies, and government services.

Hong Kong firms have taken part in the annual trade fair since it was launched in 2018. The number of participating companies from the city increased from more than 160 in the first edition to about 240 last year.