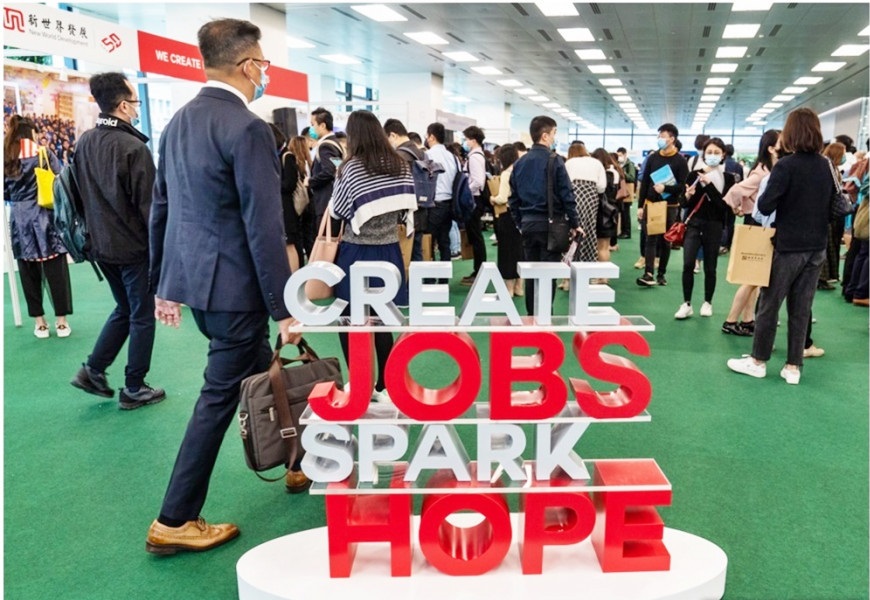 More than 10,000 registered for New World Development job fair
More than 10,000 people have registered for New World Development's job fair providing 1,000 jobs, with new hires to start working as soon as next month.
The job fair was held at K11 ATELIER King's Road, Quarry bay yesterday. The positions were offered by NWD and at least ten of its subsidiaries, including New World Property Management, K11 Group, Gleneagles Hospital Hong Kong and Hip Hing Construction.

Around 30 percent of applicants stated they are unemployed, according to NWD. Applicants have shown most interest in jobs related to tourism, customer service and digital marketing.

Adrian Cheng Chi-kong, executive vice-chairman and chief executive officer of NWD, said "The overwhelming response indicates that the Hong Kong economy requires new energy… and we hope that the new jobs we have created will help drive the post-pandemic recovery."

Booths set up by each company introduced various positions created, such as digital media strategists, engineers, human resources specialists and property management specialists.

Jobs arising from new economy trends were offered as well. Those included mask marketers, product developers and State Theater conservation ambassadors.

NWD spoke of the K11 customer service representatives as an example. One duty of the job is to explore photo-taking hot spots for customers to upload to social media and for tenants to promote their brands and products.

The role of travel development strategist was also created, to support developing 11 SKIES into a one-stop landmark destination, with retail, dining and entertainment combined.

Only 2,000 applicants were allowed to participate in the job fair onsite in order to avoid large gatherings. Although there were no interview sessions, applicants can still submit online applications from March 14 to 31.

Jenny Chiu Wai-han, executive director and senior director -- human resources of NWD, said, "This job fair provides hope to job-seekers and gives us the chance to bring on board more talent."

She believed that a new work force can be leveraged to foster the development of NWD and the new normal environment in Hong Kong.

Enquiries can be emailed to jobfair@nwd.com.hk. The deadline for registration is 5pm on March 31.