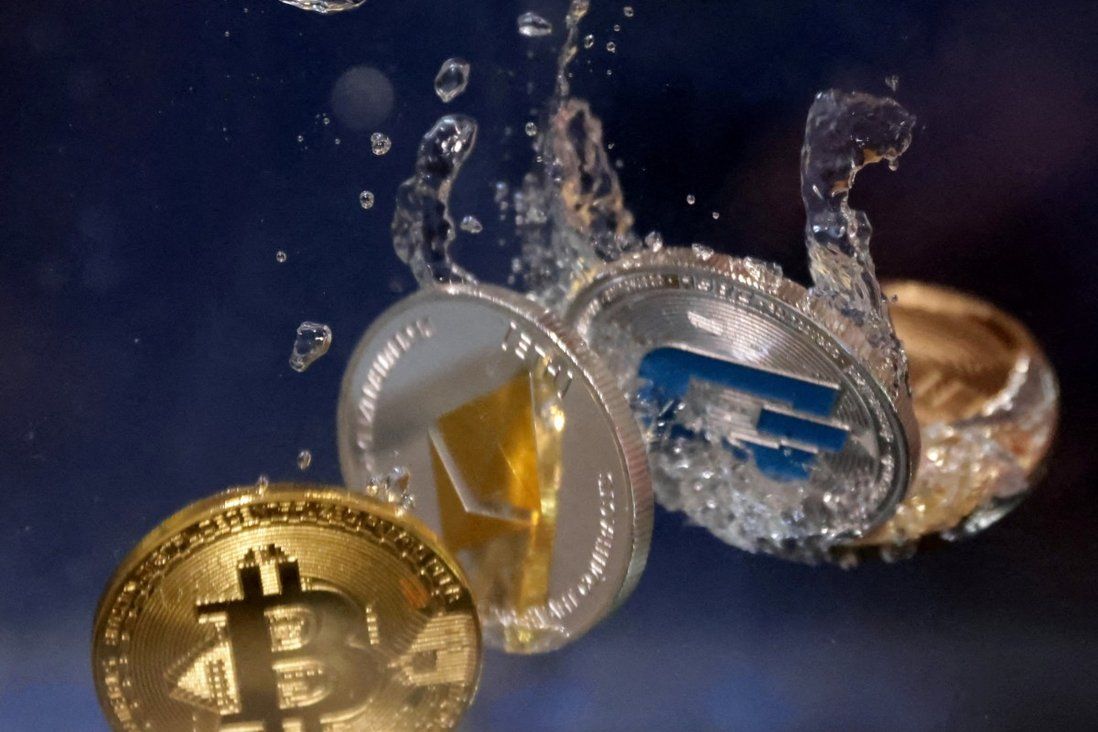 More Hong Kong institutional investors cut crypto offerings amid slump
A rising number of Hong Kong institutional investors surveyed by Bitstamp said they would reduce or remove cryptocurrency options in their investment plans.
Institutional investors in Hong Kong have been planning to reduce their portfolios' exposure to cryptocurrency fluctuations, as the asset class continues to reel from a market rout earlier this year.

In the second quarter, around 9 per cent of Hong Kong institutional investors surveyed by London-headquartered cryptocurrency exchange Bitstamp said they were going to reduce cryptocurrency options in their investment plans, or remove them altogether – up from just 3 per cent in the previous quarter.

Around 29 per cent of the 253 Hong Kong institutional investors polled said they would increase their cryptocurrency investment, down from 29 per cent in the first quarter.

The number of investors surveyed in the two quarters were roughly the same, Bitstamp said.

"It is true that retail investors and the institutions who serve them are less active in crypto and perhaps looking for other assets in the short term," said James Quinn, managing partner of Hong Kong-headquartered Q9 Capital, a crypto investment platform for institutions and high-net-worth individuals.

"The 'easy money' is not so easy at the moment," he said.

Amid a global economic slowdown and monetary policy tightening by major central banks, the cryptocurrency market has struggled to recover from a crash in May that wiped out hundreds of billions of dollars from the value of popular tokens.

On Tuesday, bitcoin dipped below US$20,000 again after Federal Reserve Chairman Jerome Powell pledged last week to continue raising interest rates to rein in inflation.

Other blockchain-based virtual assets that exploded in popularity late last year have also slumped in recent months, as investors move away from riskier segments.

OpenSea, the world's largest marketplace for non-fungible tokens (NFTs), recorded US$488 million in trading volume in August, a fraction of the US$4.8 billion sales registered in January, according to Dune Analytics.

The value of virtual land plots in blockchain games also took a beating, as public interest in metaverse real estate waned.

Despite the headwinds, 76 per cent of Hong Kong institutional investors surveyed said they would "actively recommend" cryptocurrency investment to their clients, up from 68 per cent in the first quarter. Around 71 per cent of them also deemed cryptocurrencies "trustworthy", up from 68 per cent previously.

Q9 Capital's Quinn also said he has seen more institutions, especially those in traditional finance, come up with investment plans for digital assets.

"The interest level remains high in further building the ecosystem, especially as it relates to proper investment products and solutions," Quinn said. "[Institutions] are not changing course."

Still, some Hong Kong institutional investors surveyed by Bitstamp remained hesitant to adopt cryptocurrencies, with 30 per cent citing insufficient regulations and 29 per cent citing frequent theft and losses in digital assets.

Between January and June, Hong Kong saw nearly 800 cryptocurrency-related scams, a 105 per cent increase from the same period in 2021. They involved HK$387.9 million (US$49.43 million), a 130 per cent increase from the more than HK$170 million stolen in the first half of last year.