Pandemic spurs demand for robots that help record temperature, connect residents with family members.
The staff of a Hong Kong care home for the elderly went on a hunt the day their four robots went missing.

Usually used for video chats and playing music, they were tracked down to the bedside of some residents.

"It turned out the residents had 'summoned' them to play mahjong," said Lim Long-hei, founder and chief executive officer of Robocore, the Hong Kong distributor of Israeli-made Temi robots.

Although the squat 100cm machines were not programmed to play games, the residents had found a way to download mahjong onto them.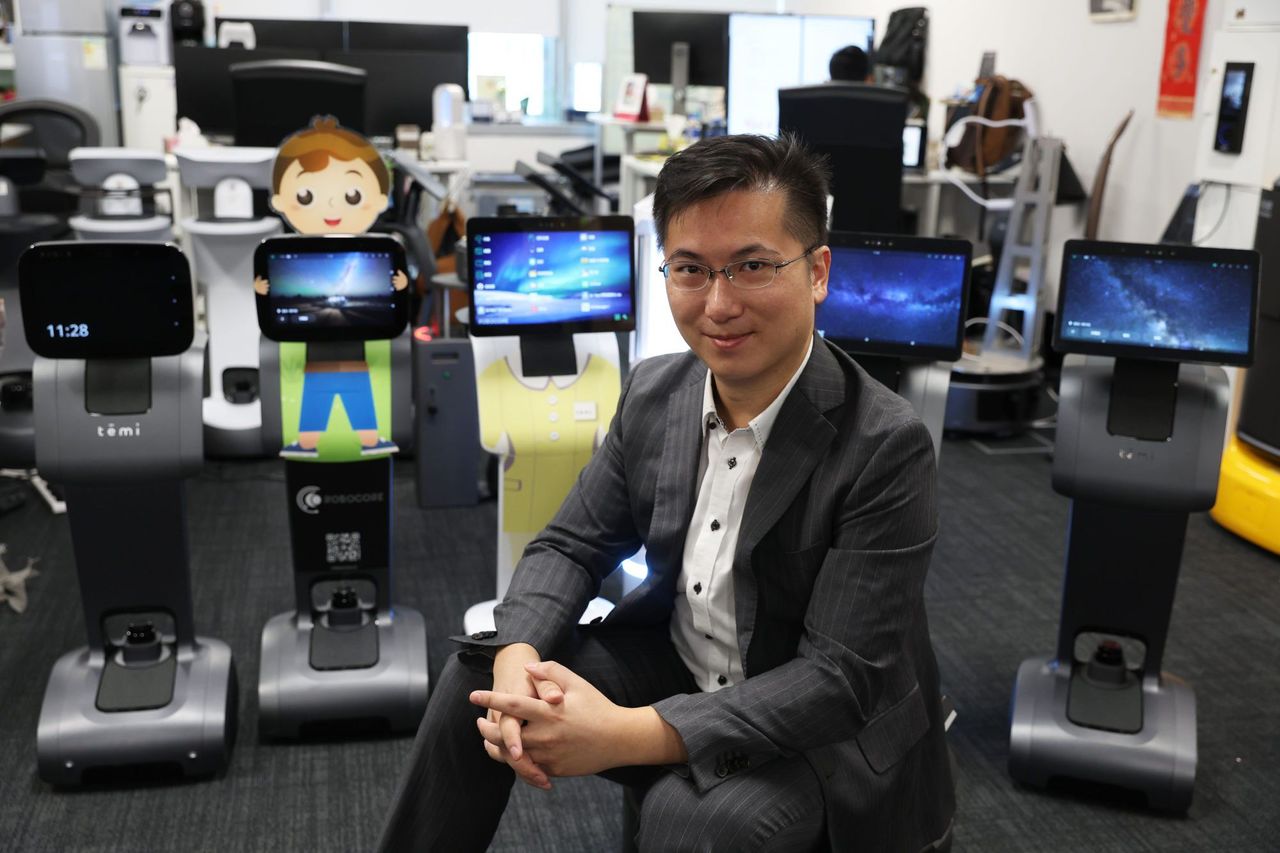 Lim Long-hei, founder and CEO of Robocore.

The home ended up buying 10 more robots to not only help with repetitive tasks, but also entertain residents, he said.

As robots have become increasingly common at Hong Kong shopping centres and MTR stations and during the Covid-19 pandemic, care homes have found them to be useful assistants for disinfecting the premises, recording residents' temperatures and connecting them with family members.

Lim's company, set up in 2019, is one of the main suppliers of robots to the homes. It sold about 500 robots in 2019 and 2020, and twice as many since last year, with the latest model priced at HK$79,800 (US$10,165).

Robotic solutions are designed to perform tasks that are repetitive, time consuming and even dangerous. Artificial intelligence drives what robots can do, and more functions may be added by using various applications.

For example, Lim's team developed a smell-sensing app to detect the odor of faeces and urine, alerting staff of the home to change diapers or bedsheets.

Temi robots are among the innovations featured at this year's four-day International ICT Expo which was opened on Thursday by Secretary for Innovation, Technology and Industry Sun Dong.

Organised by the Trade Development Council, it features more than 1,100 exhibitors, including the Office of the Government Chief Information Officer, showcasing the use of information and communication technology for "smart city" innovations such as those used to improve search and rescue operations and the safety of hikers.

Lim said public and private hospitals were using robots in isolation wards to record patients' vital signs such as blood pressure and oxygen levels.

"Doctors can then speak to patients remotely, reducing infection risks," he added.

He said more homes for the elderly had begun buying robots since the Social Welfare Department extended its innovation and technology fund in September to include NGOs and private organisations that received subsidies.

The fund was set up in December 2018 to help eligible elderly and rehabilitation services buy, rent and try out tech products that improved their services and eased the burden on staff and carers.

Among the groups that began using robots during the pandemic was the Asia Women's League, which bought robots for its three elderly homes.

A spokeswoman said they were used mainly for video calls between residents and their families when visitors were not allowed.

"Residents could speak with their loved ones via video without physically moving around," she said. "They sometimes also sing along to the music the robots play."

Dignity Kitchen, a social enterprise which runs a restaurant in Mong Kok serving Singaporean food such as Hainanese chicken rice and bak kut teh (pork bone tea), bought robots in April last year that allow 10 employees with physically disabilities to work from home.

Training administrator Nicholas Lai Chi-lok, said: "We trained them to control the robot at home so that they can see what happens in the restaurant, and engage customers by recommending signature dishes and taking orders."