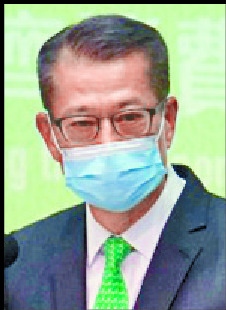 More centers to tackle voucher fiasco
Three additional service centers will open today to handle the resubmission of applications before the September 15 deadline for the government's electronic consumption voucher scheme, says Financial Secretary Paul Chan Mo-po.
In his blog yesterday, Chan apologized for the long waiting time and the efforts of elderly people who had to travel a long way to a Mong Kok office to complete the procedures.

"It reflects there are inadequacies in the government's implementation, preparation and arrangement for the voucher scheme and there is room for improvement," he said.

Chan said authorities had made improvements after seeing long queues outside the secretariat last week. More manpower was deployed and service hours of the secretariat were extended to Saturdays to handle the cases.

"In the past three days, the number of cases received by the secretariat has decreased from around 2,000 cases each for the first two days to about 1,000 cases on Saturday," he said.

Chan also admitted the authorities have faced many challenges with the first-time scheme, like how to help the elderly adapt to digital platforms.

About 300,000 of 6.9 million applications received were filled in with inaccurate information, such as wrong account numbers of the stored value facility, or a failure to attach copies of identity cards.

More than 280,000 applicants resubmitted their information before August 14 - the end of the registration period.

But Chan said there were still about 10,000 registrations that could not be processed due to incorrect or incomplete information.

To allow these applicants to resubmit their information, three centers will be set up at Hong Kong General Post Office in Central, Wan Tau Tong Neighborhood Community Centre in Tai Po and Leung King Estate Community Centre at Tuen Mun.

They will open from 9am to 6pm from Monday to Saturday until September 15.

Those who were unsuccessful in submitting their applications during the registration period can give completed paper registration forms and identity card copies to the secretariat in person or authorize others to do so before September 15.

Resubmitted registrations before the deadline will be processed and eligible applicants will receive their first HK$2,000 vouchers on October 1.