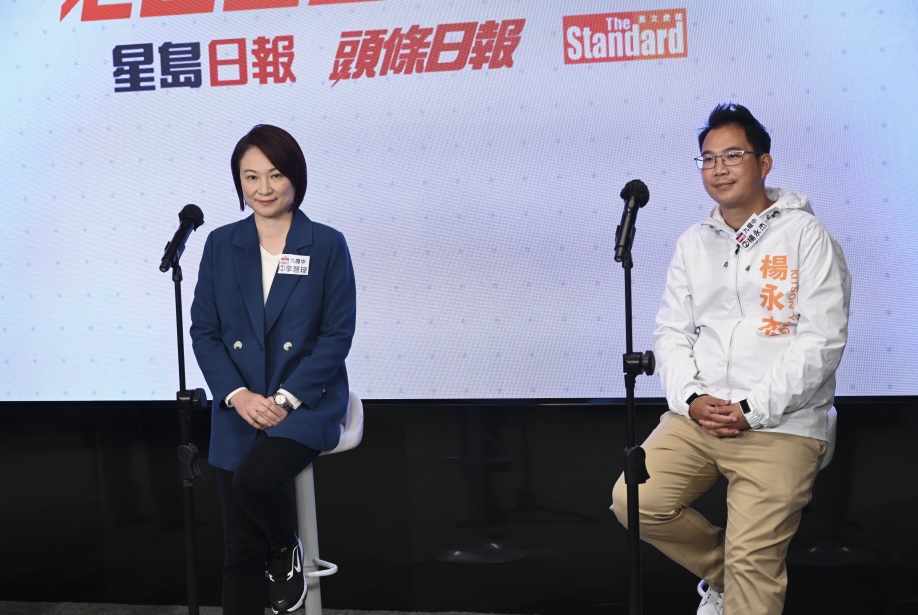 More A&E service should be introduced in central Kowloon
Accident and emergency services should be kept in the existing Queen Elizabeth Hospital even after the hospital has been moved to Kai Tak, Kowloon Central geographical constituency candidate Starry Lee Wai-king said.
Then chief Executive Leung Chun-ying has announced in his 2014 Policy Address to move the Queen Elizabeth Hospital in Jordan to Kai Tak, while the existing land plot will be used for an ambulatory care center and a specialty hospital with 800 beds.

Speaking in a forum -- co-organized by Sing Tao Daily, Headline Daily and The Standard -- for Kowloon Central geographical constituency candidates, Lee said solely moving the Queen Elizabeth Hospital to Kai Tak will not be sufficient to cut down on waiting time for medical services in Kowloon Central.

"We are experiencing an ageing problem in Kowloon Central, with elderlies taking up 20 percent of the population in Kowloon City and Wong Tai Sin," said Lee, chairwoman of Democratic Alliance for the Betterment and Progress of Hong Kong.

"Therefore solely moving Queen Elizabeth Hospital to Kai Tak is not sufficient, therefore I propose keeping the accident and emergency services and specialty departments with a long waiting time at the existing land plot," she added.

Lee also said bringing in doctors overseas is not solving the core of the problem, as she proposed increasing capacity for the SAR to train more paramedics. On the other hand, Kowloon City district council chairman Yang Wing-kit proposed to add accident and emergency services to the Our Lady of Maryknoll Hospital in Wong Tai Sin after the hospital is expected to finish its redevelopment in 2024.

The distance between Wong Tai Sin and both hospitals in the Kowloon Central cluster -- Queen Elizabeth Hospital or Kwong Wah Hospital -- are too far away, according to Yang.

"It will not get any better even if Queen Elizabeth Hospital is being moved to Kai Tak, as it is equally as far from Wong Tai Sin district," Yang said, adding that it is very inconvenient for elderlies in the district. Yang also said Chief Executive Carrie Lam Cheng Yuet-ngor should take the blame for the slow progress in redeveloping projects of old urban areas.

"The chief executive is just not tough enough, if she orders the Urban Renewal Authority to speed up, everything will be done," he said. "Therefore the crux is that the chief executive has to speak out, and be daring enough to speed up the redevelopment of old urban areas. If the chief executive can do so, redevelopment of all old urban areas will be just around the corner," Yang added.

Also running in the same constituency is independent Mandy Tam Heung-man.