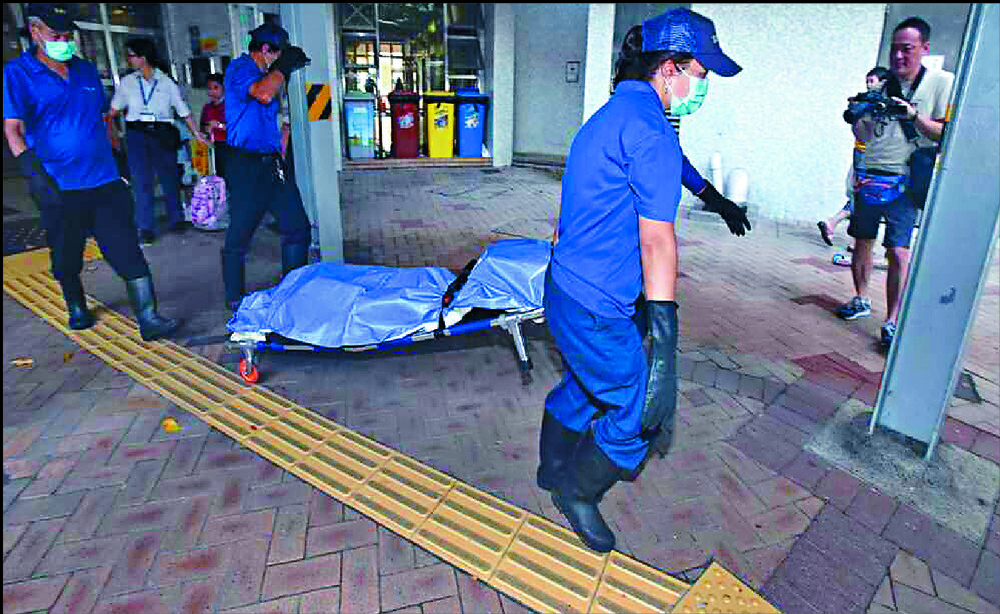 Mom admits killing teen daughter
A 54-year-old mother admitted to manslaughter yesterday for killing her 16-year-old daughter in their Tin Shui Wai home in 2019.
Kwok Lin-choi appeared before high court judge Andrew Chan Hing-wai yesterday. She pleaded not guilty to murder but admitted to manslaughter for killing her daughter Tsui Lok-yee at their home in Tin Heng Estate on October 10, 2019.

Chan described the incident as a tragedy and adjourned the case to May 17 to wait for background and probation reports on Kwok.

The court heard that the crime was discovered after Kwok's neighbors found her about to jump off a window ledge at 6am that same day.

Police broke into her flat at 9am and found Tsui covered by a blanket on the bed, with no pulse and a four-centimeter slash on her right wrist.

A 20cm fruit knife stained with blood was also found by the bedside.

When Kwok, who also had injuries on her left wrist, was sent to hospital, she was talking to herself: "I killed my daughter, I want to die with her The cut must have hurt so bad, she was definitely in so much pain. Why did I do that?"

Kwok said to the police after she was arrested, "I think my daughter has changed, so I put some sleeping pills in her drink and killed her with a fruit knife. I killed her so I don't want to live anymore. I also cut myself."

She said she put 50 sleeping pills, anti-depression drugs and red wine into hot water for her daughter. She then choked her daughter and cut her wrist using the fruit knife.

Kwok also said her daughter wanted to have luncheon meat, so she went and cooked some but found her daughter dead when she returned.

Kwok was diagnosed with depression in 2004 and attempted to kill herself several times before the incident.

In mitigation, the defense said losing her daughter was already the biggest punishment for Kwok, adding that her mental health was affected by the social unrest in 2019.

Meanwhile, 24-year-old mother Lau Ka-ki was charged with murder of killing her 19-month-old daughter in a North Point flat on Saturday, but she did not appear before principal magistrate Ada Yim Shun-yee at an Eastern court yesterday as she was in hospital.

Lau was remanded and the case was adjourned to Friday.