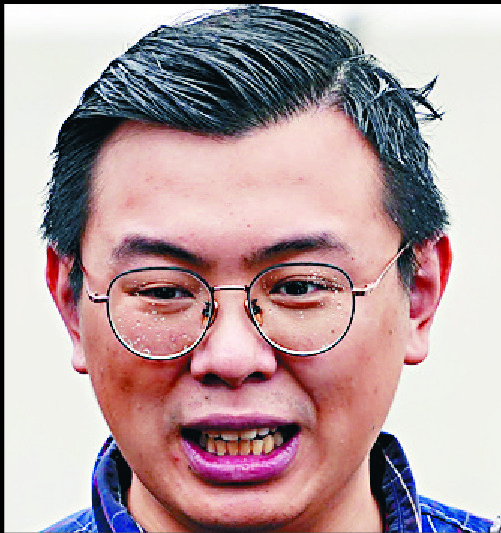 Moan over tagged protesters being herded by the police
It was "unnecessary and extremely insulting" for police to have made protesters at a Tseung Kwan O rally on Sunday to wear number tags, the rally's organizer said.
The rally saw around 80 Tseung Kwan O homeowners march along a cordoned-off route from Tiu Keng Leng to Tseung Kwan O south in protest over reclamation plans.

Only 100 participants were permitted to join, and all of them had to wear a number tag but were barred from wearing masks due to the anti-mask law.

Protest organizer and convener of the Concern Group for Tseung Kwan O People's Livelihood Cyrus Chan Chin-chun said yesterday the "unnecessary and extremely insulting" restrictions deterred residents from joining the march against more reclamation and building a concrete making plant and a garbage facility.

The use of number tags made people feel they were being "labeled," Chan said.

It would be difficult for Hongkongers to organize protests again if such restrictions were in place, Chan said.

"The number tags were like badges worn by Jews [during World War II]. I accepted the requirement this time to let residents express their demands and also show the absurdity of the restrictions.

"This is performance art to show the world that's how Hongkongers protest now."

Police also made protesters march within a cordon so no one else could join. But Chan said other marches have seen people joining along the way to express their demands, and he does not understand why the police had to forbid it this time.

"It was normal to have 800 to 1,000 protesters joining," he noted of previous rallies, and now there is a worry officials will say "only a few people" are opposing reclamation plans after the number of protesters was limited to no more than 100.

Chan added that police should not worry about lawbreakers joining because the national security law has been imposed and violent clashes that happened in the 2019 unrest will not be seen again.

Chan also said police had examined every banner, notice and social media post of the rally in advance, and much responsibility was laid on the protest organizer.

For example, police required the organizer set up cordons to separate protesters from the media, warning they would terminate the march at once if any reporters got too close.

However, Chan said, such work was a police media liaison officer's job.

Clement Chan Kam-wing, a member of the Independent Police Complaints Council, said officers have a right to impose restrictions when granting a letter of no objection to rallies.

It is understandable for police consider there might be "further developments" during a march and take extra precautions, he added.