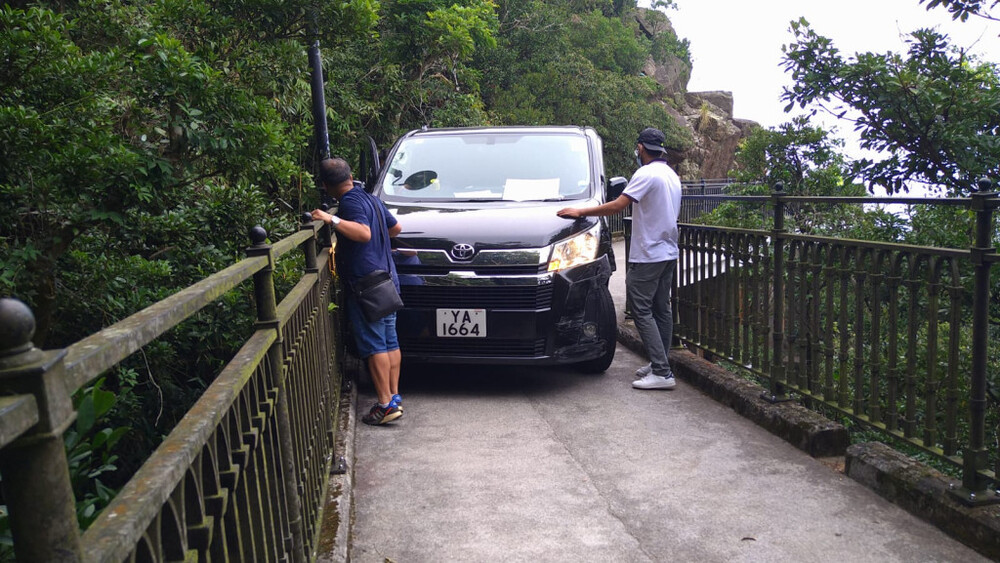 Misleading map leads to van stuck for 24 hours
A van was stuck on a mountain path for 24 hours after being misdirected by a navigation map and only got out this afternoon.
Police received a request for assistance at around 2pm yesterday afternoon from a driver claiming he was stuck on Lugard Road of the Victoria Peak and could not move due to the narrow path.

Officers came to the scene and found the vehicle stuck between the iron fences on both sides of the road, which led to it being unable to drive away.

The driver managed to get out of the van under the direction of the police, while the van remained trapped until 2pm this afternoon.

Officers of the Highways Department arrived today to remove part of the fences, allowing the driver to turn the vehicle around inch by inch to get it out. The van was spotted heavily scarred by scrapes when being towed by a truck from the scene.

The incident was due to the fact that he was unfamiliar with the road situation, according to the driver, and was misguided by a navigation map app when he was driving to deliver goods.

Another incident of a vehicle getting stuck at the exact location occurred last year in September, during which a taxi was stuck on a sharp turn leading the driver to be trapped and rescued by police afterward.