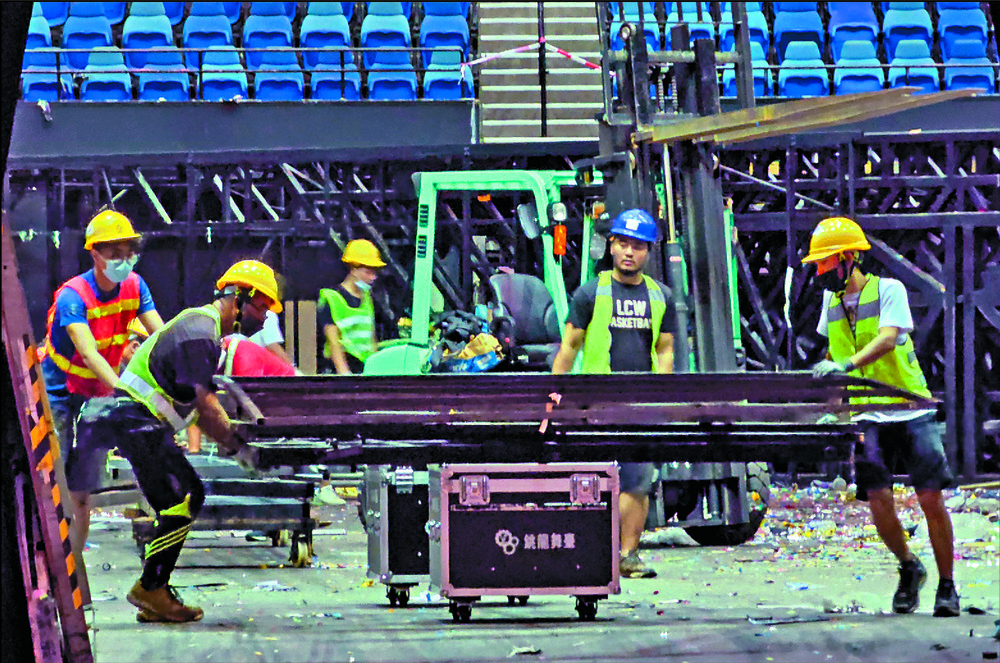 Mirror probe lends weight to mixup fears
Miscommunication among contractors or staff handling different work aspects could be one of the causes of the Mirror concert accident in which a large video screen fell and injured two dancers, a government investigation task force member said as he revealed yesterday the screen weighed 500 kilograms, double the weight claimed by the concert organizer.
Louis Szeto Ka-sing of the Hong Kong Institution of Engineers said "the six screens on stage each weighed 500 to 520 kilograms, while the concert organizer is said to have declared it weighed 500 pounds [226 kilograms]."

"We have to find the certificate for the screen to find out whether the organizer actually declared the screen only weighed 500 pounds. However, the certificate was seized by the police for investigation and they cannot provide us with the relevant documents," he said.

But Szeto said the weight of the video screen may not be the cause of the accident.

He said the suspension cable that snapped and caused the screen to fall could handle 1,100 kilograms - less than the 1,400 kg bearing capacity of normal cables - and that should make it still capable of holding the video screen.

The task force said on Wednesday that two cables were used to hold the screen up mid-air but that one of them snapped. One of the screws used in conjunction with the other cable was found to be broken.

Szeto said the task force will investigate how the screw, taken away by police, broke.

"Using an electron microscope, we found cutting marks on the screw, and we need to find out whether it was broken due to the cuts by running more tests at the laboratory," he said.

The task force's investigation showed that frequent raising and lowering of the screen is one of the causes of metal fatigue in the cable that snapped, Szeto said.

He also said a "rope guard" that was used to secure the position of the cable clamped the wire too tightly and put pressure on the cable's metal surface, speeding up metal fatigue.

The concert's main contractor, Engineering Impact, assigned many firms to handle the procurement, stage design and screen installation works and there was miscommunication among staff handling different preparatory work.

Szeto said Hong Kong usually uses pounds as a unit of weight while the mainland uses kilograms, and there might have been a misunderstanding during the installation of the screen.

For him, it's difficult to say whether Engineering Impact is primarily responsible as all documents and contracts are with the police.