The high-profile trip to boost business links with Saudi Arabia and the UAE emphasised above all that Hong Kong is back. This will be the first of many overseas visits this year to renew friendships and wide-ranging ties, to promote the city's strengths and expand opportunities.
On Saturday, I returned home from a week-long visit to the Middle East. That day, the South China Morning Post ran an editorial with the headline, "More work to be done as Hong Kong leader's Mideast trip hints at better times ahead."

I couldn't agree more. The government's work has just begun. And, yes, the week-long visit to Saudi Arabia and the United Arab Emirates "hints at better times ahead".

But, more than "hints" at it, I'm confident it "heralds" better times for the economy, and the people, of Hong Kong.

A high-profile, Hong Kong business delegation accompanied me in Riyadh, Saudi Arabia, and in Abu Dhabi and Dubai, in the UAE. Morning, afternoon and well into every night, we met senior government officials, corporate heads, and local political and business leaders.

It was my first overseas visit in this promising Year of the Rabbit. It will be the first of many this year – by me, the principal officials and other senior Hong Kong Inc. players. The visits will renew our friendships and wide-ranging ties with traditional partners, to promote Hong Kong's unparalleled strengths and to expand business and investment opportunities for all concerned.

In the Middle East, we told the good stories of Hong Kong to everyone we talked to. Our key message, of course, was that Hong Kong was fully back in business. Given the deepening economic integration with our country, and the boundless prospects it offers us all, it is encouraging, we added, that the border between Hong Kong and the mainland is fully open for business and travel.

We emphasised, too, that they were welcome to see for themselves Hong Kong's business dynamism and cultural vitality, open wide and welcoming to the world.

We told them about "Hello Hong Kong" and the 500,000 free air tickets we are giving away to eager travellers from around the world. "Hello Hong Kong" also involves inviting prominent international opinion leaders to Hong Kong, to see for themselves where the future is being built.

Saudi Arabia and the UAE are key players in our country's Belt and Road Initiative. I was pleased to see, first-hand, some of their belt and road developments. I also had the welcome opportunity to explain how Hong Kong, a pivotal player in the initiative, can advance the progress of Saudi Arabia, the UAE and the companies behind their ambitious belt and road projects.

They know, of course, that Hong Kong is a leading global financial centre. They also heard that we are the world's largest offshore renminbi business hub. Hong Kong, I said, can support the offshore renminbi transactions and other financial demands related to their belt and road projects.
My takeaway message was clear and compelling: Hong Kong is their one-stop belt and road centre for capital formation and for all the professional services they need to plan, build and manage their belt and road future.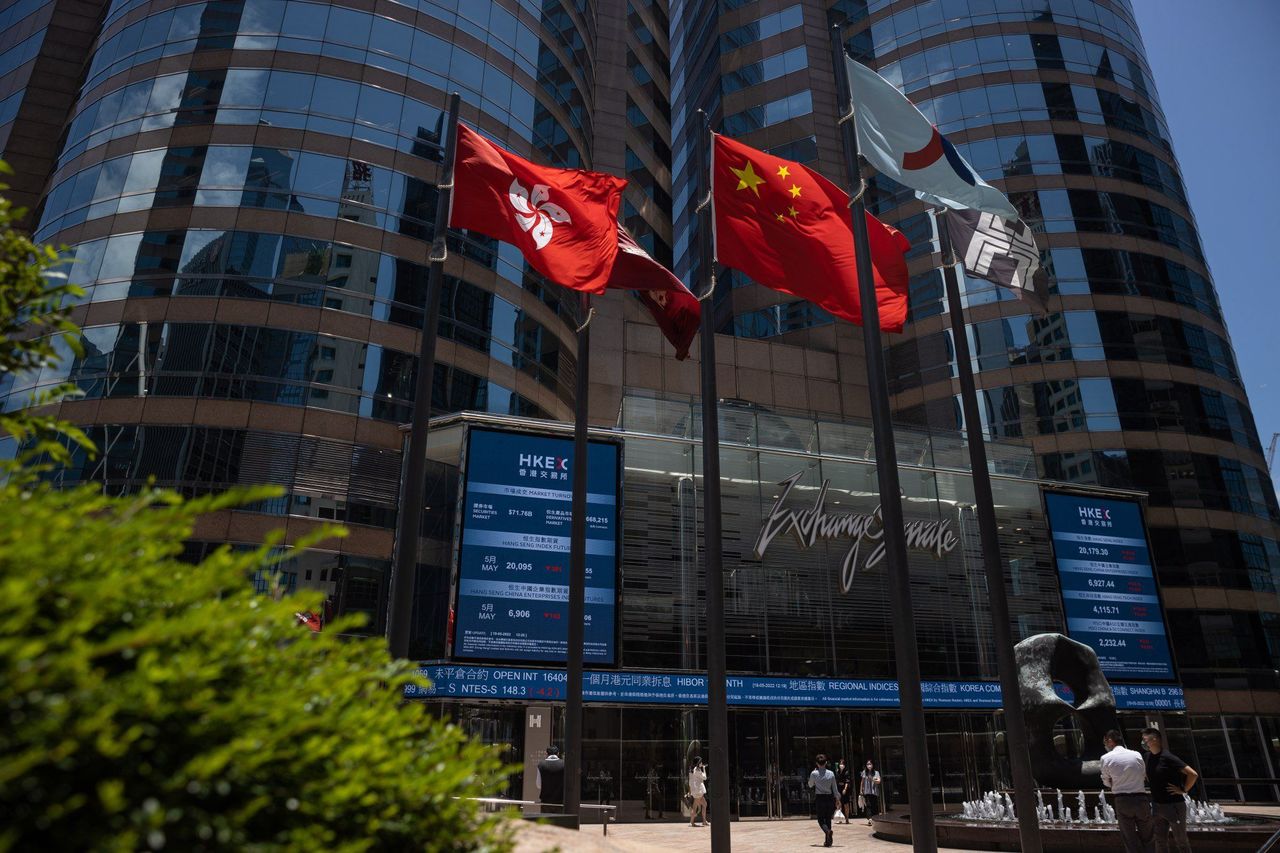 A board displays stock transactions outside Exchange Square, in Hong Kong, on May 19, 2022.
I also communicated Hong Kong's financial and professional services strengths, and our unique "one country, two systems" principle, with the senior leaders of the sovereign wealth funds in both countries. Our discussion was encouraging and will continue.
Saudi Arabia, through its Vision 2030, and the UAE, under its "We the UAE 2031", are pursuing dynamic blueprints for their respective economies and communities. Their futures will be shaped by innovation and technology, sustainability and diversity. Hong Kong shares their long-term vision.
That was the welcome catalyst to the signing of 13 memorandums of understanding (MOU) with Saudi Arabia and the UAE. The agreements cover everything from finance and innovation and technology, to business, energy and transport.
In addition, Hong Kong and Saudi Arabia are negotiating an Investment Promotion and Protection Agreement. The agreement will encourage business on both sides, while strengthening investor confidence and increasing bilateral investment flows. Hong Kong and the UAE are exploring an MOU on cooperation in green and sustainable finance.
Businesses in Saudi Arabia and the UAE were also eager to learn more about the Greater Bay Area and Hong Kong's place in the city-cluster development of some 86 million people. I told them about our leadership role in driving financial and professional services. I explained, as well, that Hong Kong is the multilevel bridge between the Greater Bay Area and the world at large, including the Middle East.
The good news is that a number of Middle East companies and funds are looking for investment opportunities in the Greater Bay Area. Hong Kong can make that happen. We can connect Saudi and UAE investment and wealth funds with the right partners – which is why I'm already planning to visit the Greater Bay Area very soon, and many more visits will follow.
The Hong Kong Monetary Authority plans to lead a high-level financial delegation to a number of Middle East countries later this year to build on our fast-growing investment ties with the region.
We also highlighted Hong Kong's long-standing trade and business partners in the Asian region, and the connections they could offer Middle East businesses and investors.
I noted, in particular, the free-trade agreement and related investment agreement, in effect for two years now, between Hong Kong and Asean, the Association of Southeast Asian Nations.
The 10 nations of Asean are also founding members of the Regional Comprehensive Economic Partnership (RCEP), now the world's largest free-trade agreement. Hong Kong formally requested accession to the RCEP a year ago in January.
Hong Kong's accession will add significant value to RCEP. RCEP, in turn, will boost Hong Kong's economy, and the business and investment opportunities of the economies and companies that work with Hong Kong. That very much includes Saudi Arabia and the United Arab Emirates.
And that can only herald better times ahead for us all.