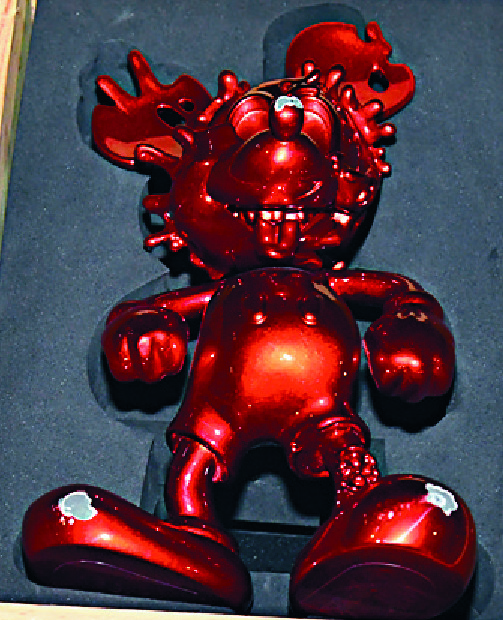 Mickey Mouse robbers flee with only one sculpture
A man was robbed of a Mickey Mouse sculpture worth HK$50,000 in Tsuen Wan on Monday night.
Police received a report at around 10.30pm of a man, said to be the owner of a toy store, was robbed while making a delivery on Hoi Shing Road.

According to the 31-year-old victim, Wong, he had received messages from someone online who expressed an interest in purchasing four limited-edition Mickey Mouse collectibles, and they made an appointment for the delivery and transaction to be carried out at night.

Wong was ambushed when he arrived by four men who emerged from a taxi and attempted to grab the collectibles from his car.

However, they managed to get away with only one of them, with the other three strewn on the pavement.

The "Deconstructed Mickeys" were four of a limited-edition 50 figures created by designer Matt Gondek in 2018, when he came to prominence. The Los Angeles-based artist called the collection his "favorite project of 2018."

The stolen figurine is made of cast copper, measuring around 28.5 centimeters tall, 15cm wide, and 17cm long. It has an online resale value of around HK$50,000.

Deconstructed Mickeys juxtapose the cast copper medium of the sculpture with the liquefied expression of the pop culture icon Mickey Mouse, invoking a playful rage that has come to be recognized as Gondek's signature.

The limited edition collectibles are accompanied by versions of the same image in the form of screen prints and paintings.

Born in Pittsburgh, deconstructive pop artist Gondek is known for works featuring characters from popular comic books, cartoons and video games.

Gondek, 40, often uses elements of pop culture as vehicles to express his love of clean lines, bold bright colors, and his deconstructive style.

Gondek also paints and designs costumes, and holds international exhibitions.

He has visited different cities to paint street murals, and his work can be found on the roofs of tenement buildings in Central and Sheung Wan.

His works have attracted international collectors, and he exhibits in London, Los Angeles California, Hong Kong, Paris, New York and Bangkok.