Sai Wan Ho resident says it hailed at around 3pm for about two minutes, which Observatory called 'consistent' with weather patterns at that time.
Some medical services were disrupted on Saturday amid Hong Kong's first amber rainstorm warning of the year and reports of hail, last recorded in 2021.

Hong Kong Observatory said videos circulating on social media were "likely" to have shown hail. The city's weather forecaster issued four hail warnings between 12.30pm and 5.35pm, urging residents to seek shelter and avoid staying outdoors.

Affected by a band of intense thundery showers moving across the Pearl River estuary, the weather in Hong Kong worsened at around noon. Heavy rain and thunderstorms also triggered the first amber rainstorm warning this year.

Flooding hit some areas as heavy rain lashed the city. A public hospital in Tuen Mun was forced to suspend its emergency room services for more than two hours because of the downpour.

A Sai Wan Ho resident told the Post that he saw hail falling in the area at around 3pm, which lasted about two minutes.

"I'm used to having hail where I'm from in France, but I was surprised to see it here in Hong Kong," said Maxime Poiret, adding that he was only able to show his children a brief glimpse of it before it ended.

"It was very intense, but quite short," said Poiret, who lives in Grand Promenade.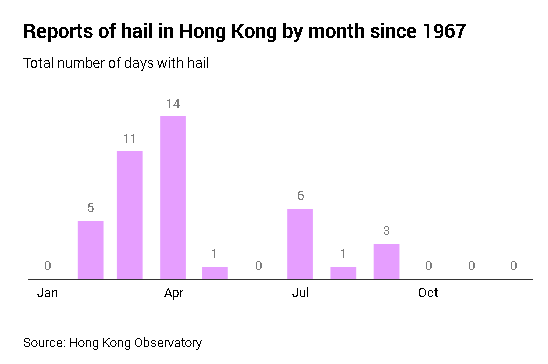 Responding to a Post inquiry, the Observatory said data from its radar and imaging systems was "consistent" with weather patterns shown in the video at that time, adding it was "likely" to have been hail.

The weather forecaster added it would continue to gather information to provide a confirmation.

The last time it hailed in Hong Kong was on September 16, 2021, while 2014 was the last time it fell in March.

Hong Kong has reported hail 41 times since records began in 1967, most frequently in the months of April and March, where 14 and 11 incidents were recorded respectively.

Leung Wing-mo, a former assistant director of the Observatory, said while hail was uncommon in Hong Kong, it usually happened around this time of the year as cold air advanced on the city from the north and met warm, moist air rising from the South China Sea.

"The conditions today are exactly like this," he said.

Leung said when cool and warm air converged, it created convection, which forced the warmer air to rise quickly and violently. The stronger the convection, and the more aggressively the warm air rose, the more likely hail was to fall, he added.

Overall, atmospheric conditions in Hong Kong were not as conducive to creating hail compared with other parts of the world, such as the central and southern plains of the United States, he said.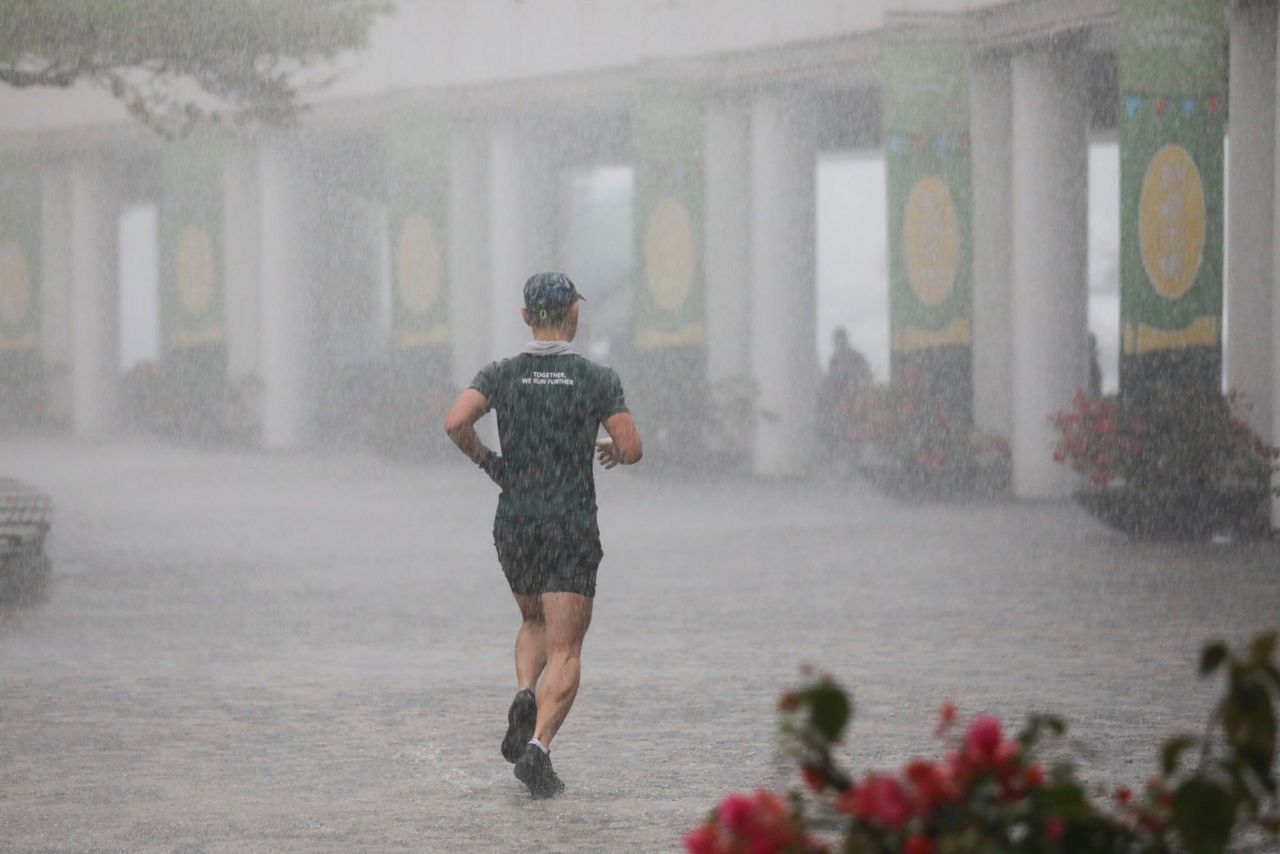 Running through the rain in Tsim Sha Tsui.

The Observatory also issued the city's first amber rainstorm warning of the year at 12.20pm. It was cancelled at 3.20pm.

The alert indicates heavy rain exceeding 30mm has fallen in an hour.

The downpour caused flooding at Tuen Mun Hospital's accident and emergency department, resulting in ambulances being temporarily diverted elsewhere. Services at the department resumed at 4pm.

Local media also reported the intense weather system caused scaffolding to collapse at a construction site near Kai Fuk Road in Kowloon Bay.

Up to 52mm of rain fell in Tuen Mun between 12.45pm and 1.45pm, according to preliminary data from the forecaster. Yuen Long experienced the next highest with up to 47mm of rainfall.

The areas worst hit by rain included parts of Tseung Kwan O, Sai Kung and Tuen Mun, as well as areas around Lau Fau Shan close to the Shenzhen Bay Bridge.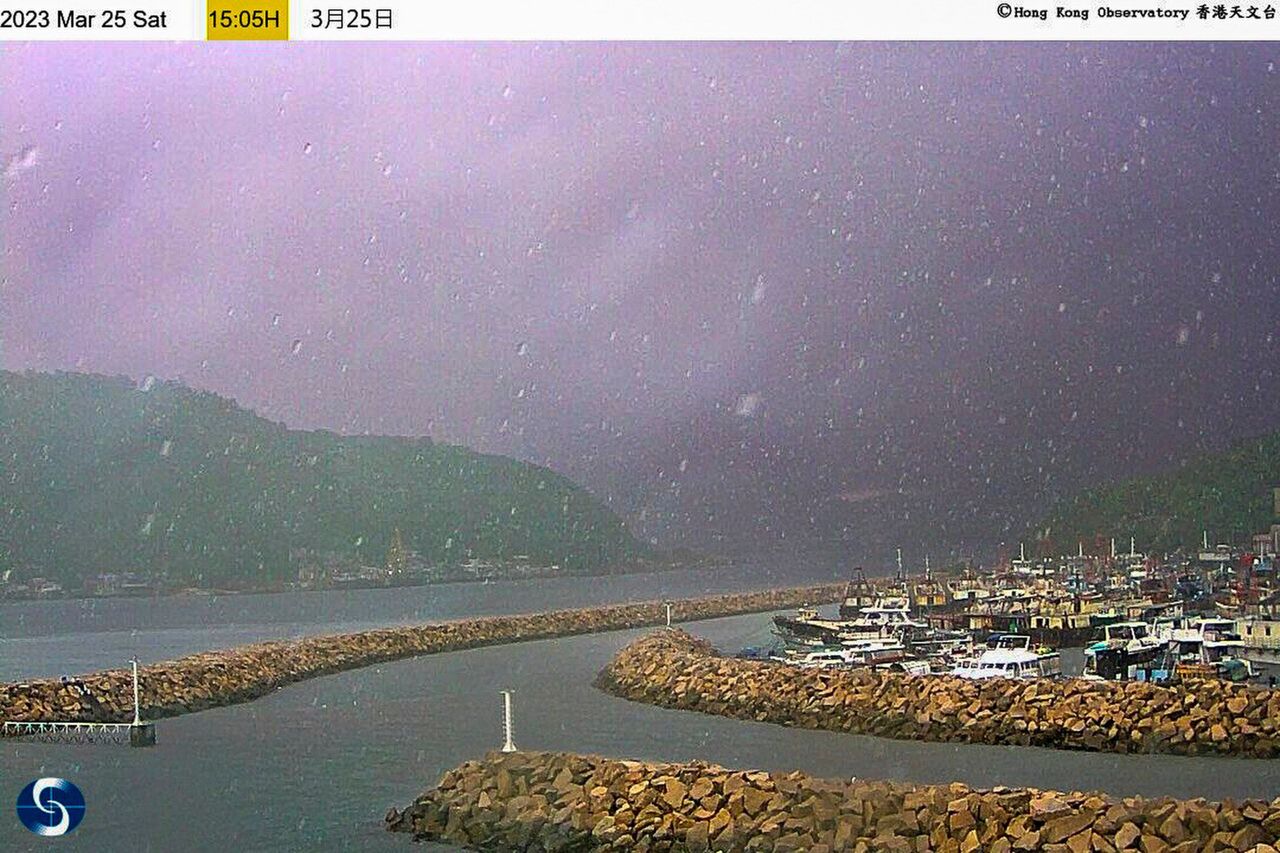 Images from the Observatory at around 3pm showed scenes similar to the ones in Sai Wan Ho where hail was spotted.

Wind gusts of up to 73km/h affected Hong Kong at the weather system's peak around 1.15pm.

Rain and thunderstorms are expected to continue into Sunday as a cold front moves across Guangdong province. Temperatures are predicted to be cooler, ranging from 18 to 22 degrees Celsius. The northeastern monsoon is expected to wane by the middle of the week, which will bring warmer temperatures.