StudioMET Architects and Britt Design Group took notes from WELL Building Standards-and their physician client-to craft the breezy, functional McClendon Residence in Houston.
When thyroid cancer specialist Dr. Maria Cabanillas and her partner, Kris Griffith, were midway through constructing their new home in Houston's Museum District, Maria came across a piece of research that floored her. "The study found that people with high levels of fire retardants in their homes-which are in everything from electronics to your sofa and bed-were over two times more likely to develop papillary thyroid cancer," she says.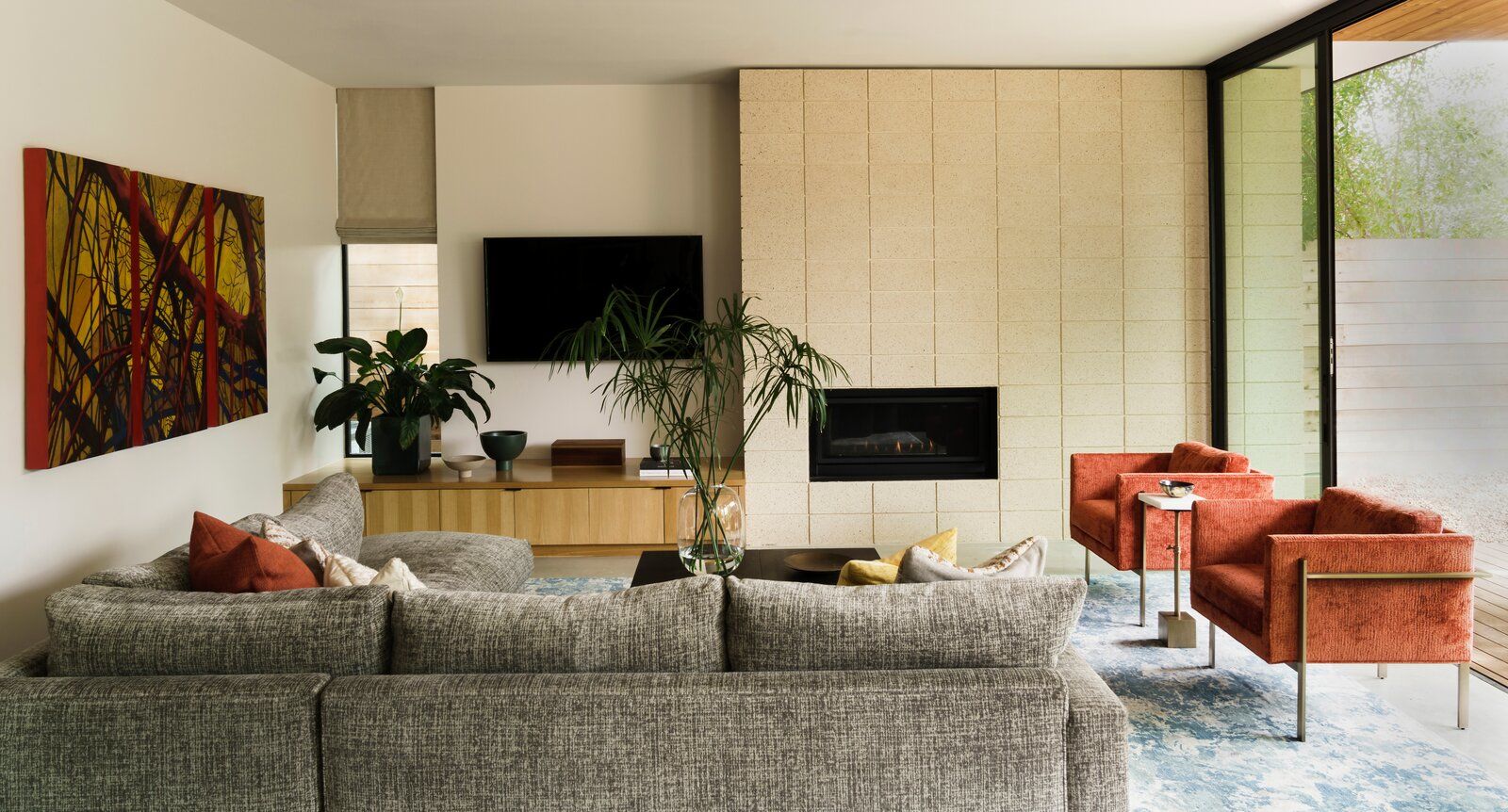 Interior designer Laura Britt followed WELL Building Standards to source the home's non-toxic furnishings and finishes, which include living room chairs and a sofa from Thayer Coggin that use flame retardant– and formaldehyde-free cushions.

Suddenly, Maria's cancer treatment and prevention work became highly personal. "It really got me thinking about our own home and using materials that were environmentally friendly and wouldn't be toxic to us," she explains.

Unsure where to start, Maria and Kris turned to Austin-based interior designer Laura Britt of Britt Design Group, who specializes in creating health-first spaces that are guided by WELL Building Standards. "It was wonderful working with a client who was so well informed," Britt says. "Usually I'm educating clients, but Maria was sending me articles about these chemicals. Having struggled with upper respiratory issues myself, I've learned there is a true link between what we are inhaling in our homes and how our [bodies are] processing those toxins."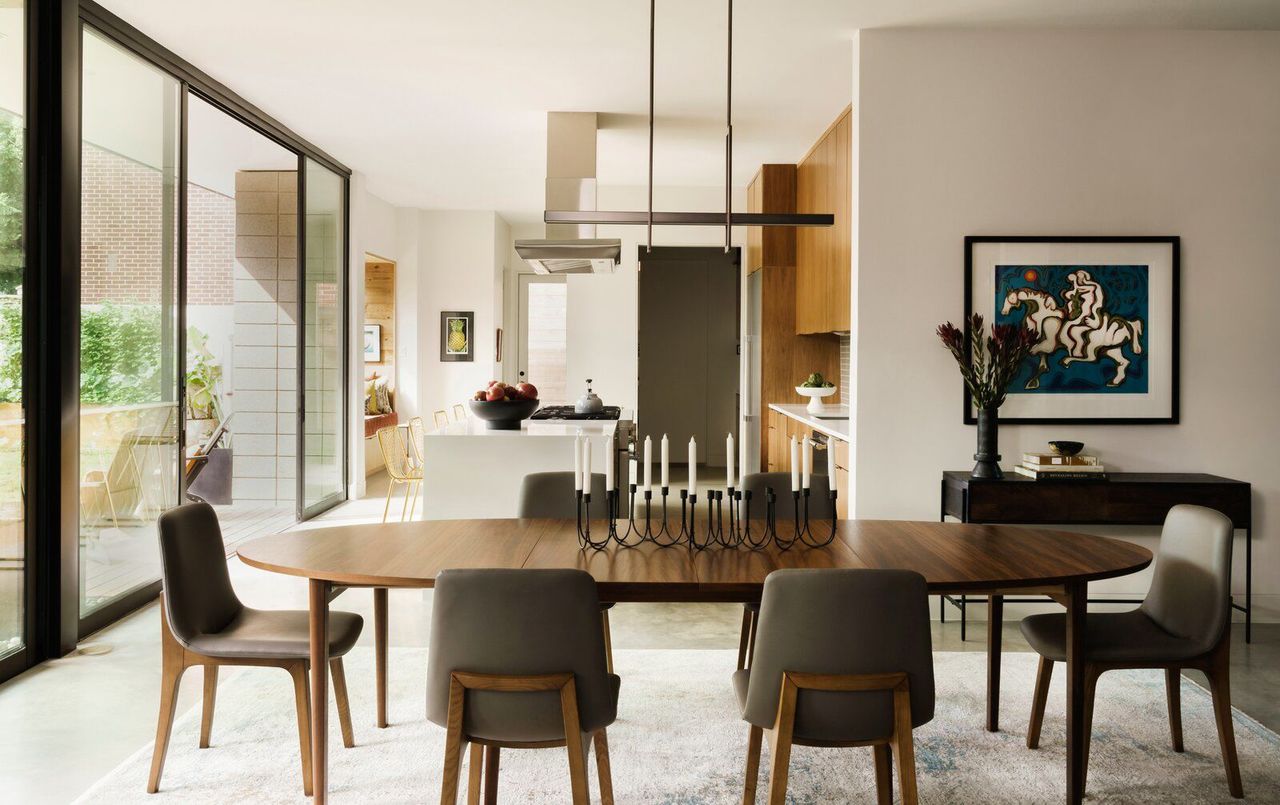 The open-concept living areas offer ample space for the close-knit family to gather and entertain. In the dining room, a Design Within Reach table can expand or contract to accommodate various group sizes. The leather chairs were carefully sourced to avoid heavy metal dyes, and the overhead pendant by Nuvo utilizes energy-efficient LEDs.

With a primary focus on indoor air quality, Britt worked alongside the owners to select furnishings that would lighten the home's toxic load as much as possible, while also complementing the couple's laid-back, modern style and their love for outdoor living.

Throughout the 3,635-square-foot residence, the interior palette introduces pops of rich color against a neutral, earthy backdrop. Britt took decor inspiration from the couple's eclectic art collection-much of which Maria sourced from her native Puerto Rico. In the living room, a colorful painting by Jorge Acevedo depicts a mangrove, which is a common coastal vegetation in the tropic and subtropic regions.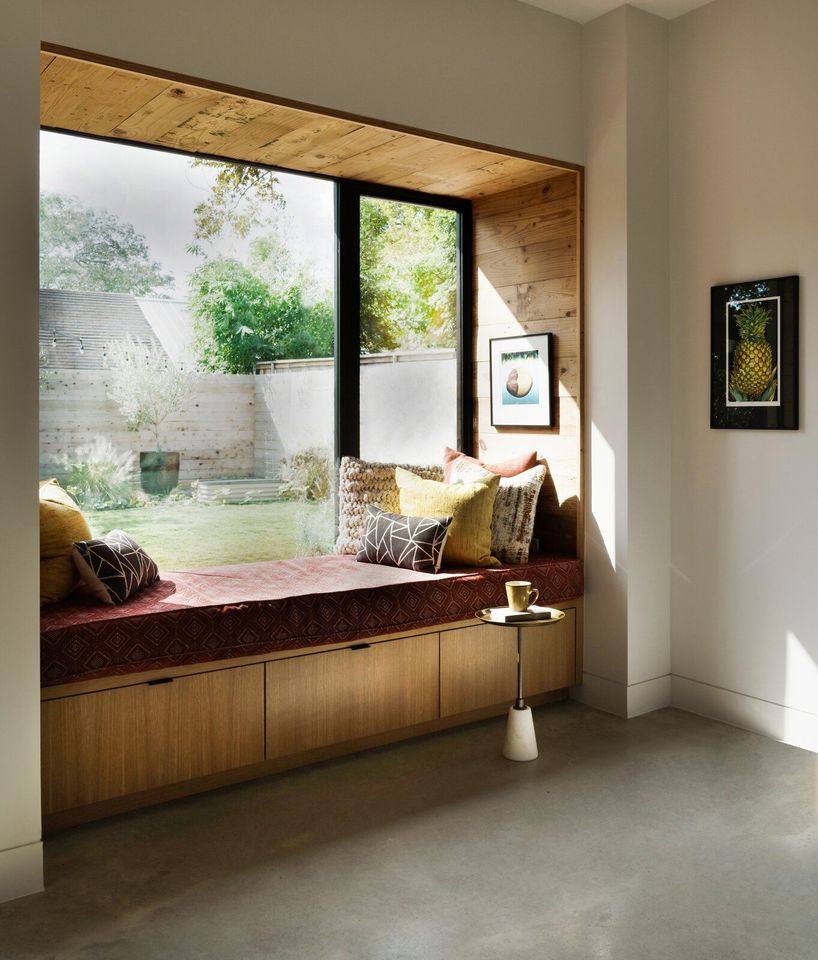 A reading nook near the kitchen offers a quiet space to take in verdant garden views. Architect Stephen Andrews constructed the accent wall using salvaged shiplap from the 1930s, while Britt crafted a custom cushion that contains minimal fire retardants, which are carcinogenic.

To further realize the owners' overall goal for the McClendon Residence, Britt utilized formaldehyde-free finishes and glues, as well as low-VOC paints, which contain reduced amounts of volatile organic compounds. "Our priority was to avoid the most harmful toxic elements," Britt explains. The interior designer's wellness-focused approach also prioritized the home's natural ventilation, which was already a central aspect of its design, thanks to StudioMET architect Stephen Andrews.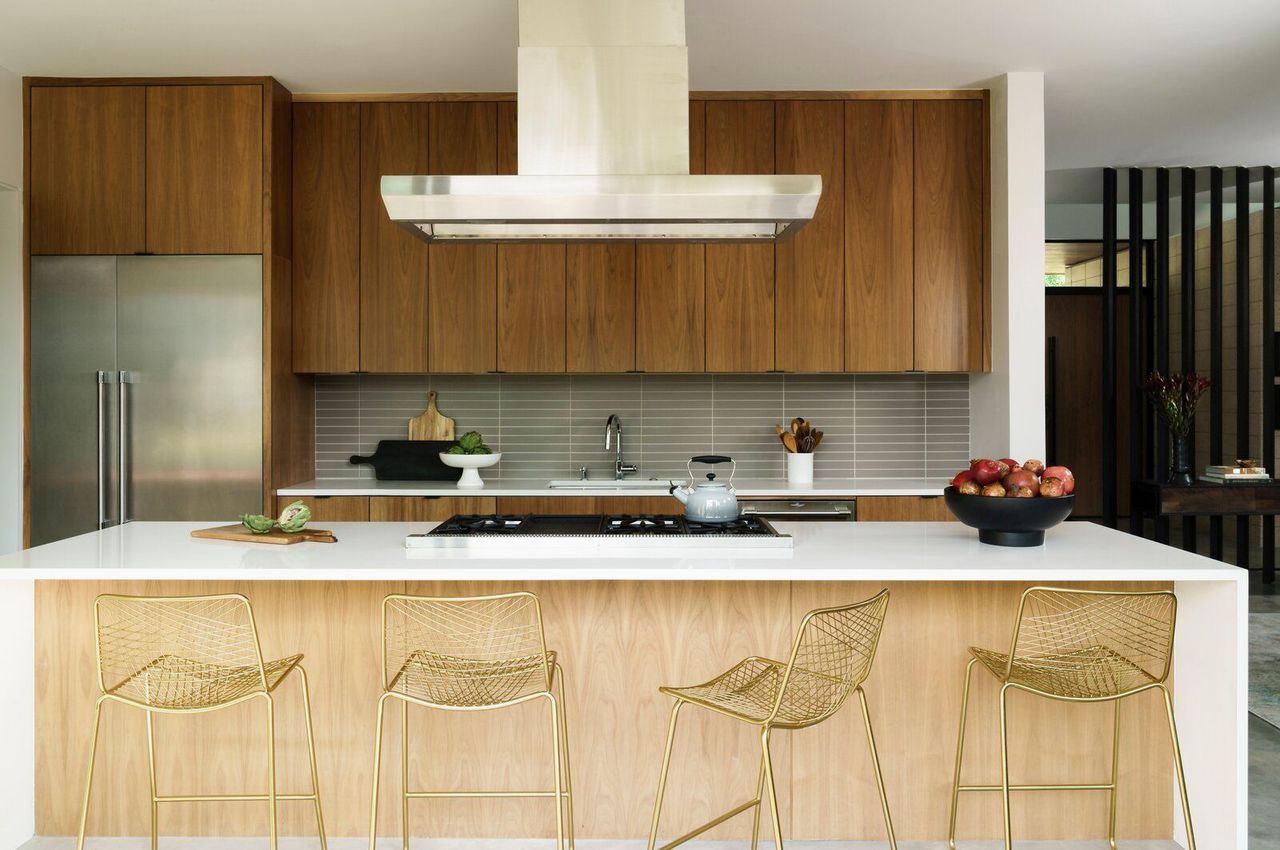 Low-VOC finishes on the walnut cabinets help improve the home's indoor air quality. "Our suggestion is always to use water-based rather than oil-based or petroleum finishes," Britt says. Quartz countertops and a ceramic-tile backsplash continue the focus on natural materials.

On the south end of the home, three sets of floor-to-ceiling glass sliders face an outdoor area with raised vegetable gardens and a detached shack–turned–home brewery, which Maria and Kris lovingly refer to as "BrewShedda." The sliding doors open directly to a covered deck, which extends the livable areas in the home during temperate weather. "We're big into the outdoors and gardening, and we wanted our home to be in symbiosis with nature," says Kris.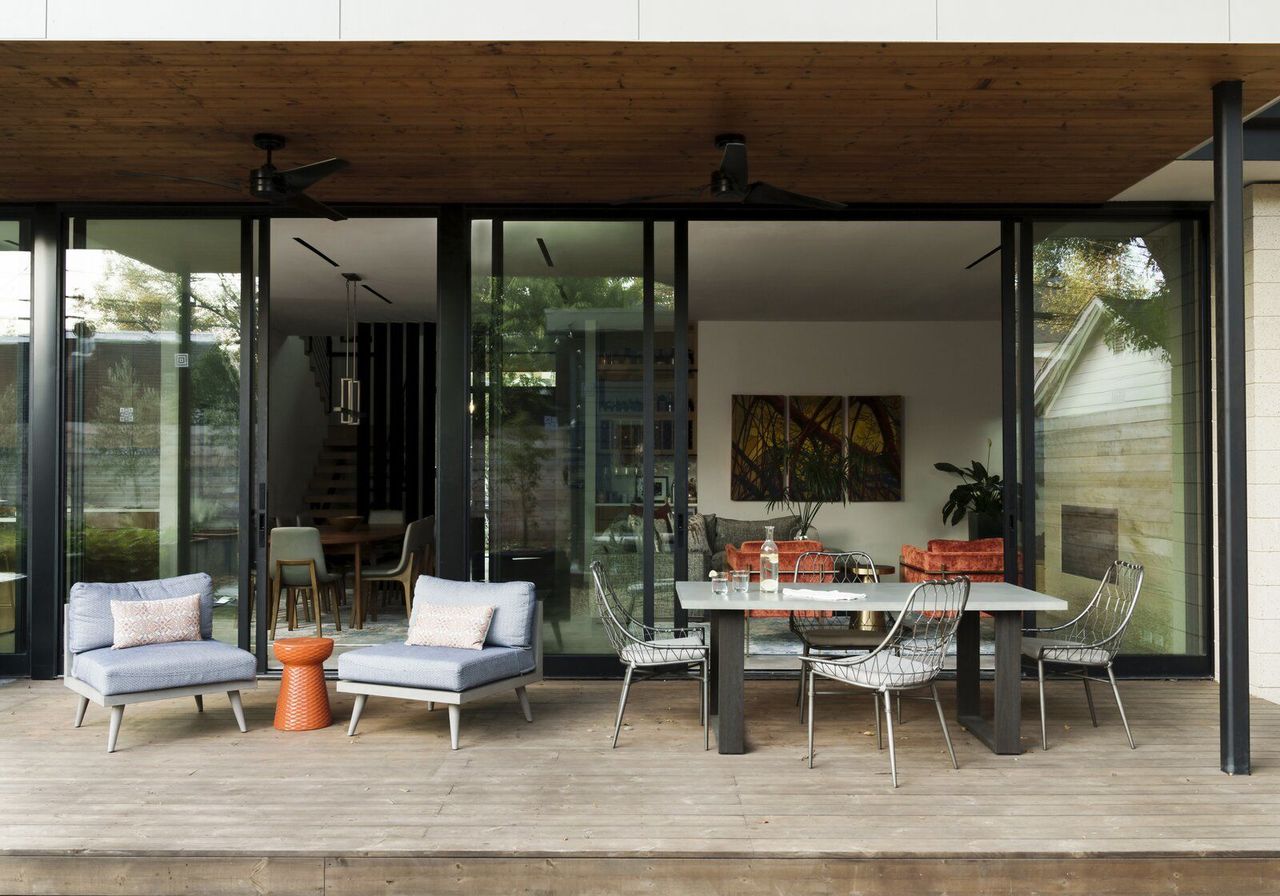 "The seamless connection between the interior living spaces and the covered patio blurs the divide between indoors and outdoors," says Britt. The pine deck includes an area for al fresco dining around a concrete table by West Elm with metal chairs by Four Hands.

However, after living through multiple hurricanes, floods, and power outages over the years, the couple desired a safe haven for their family. (Maria and Kris have three children who live with them part-time.) "Rather than a museum house, we wanted a functional home that would be a refuge during horrible weather," says Maria.

"From the very beginning, sustainability and resiliency were important to Maria and Kris because Houston is prone to natural disasters," adds Andrews. So, the architect focused on these specific aspects throughout the 2019 construction.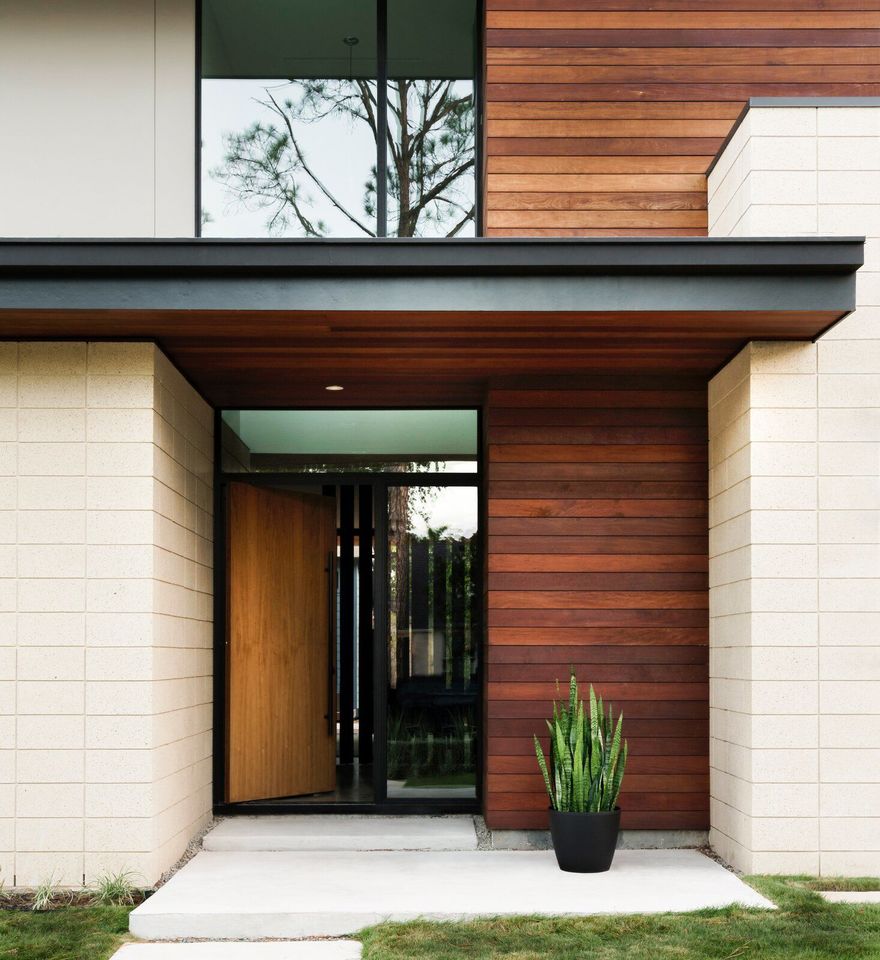 At the McClendon Residence's entrance, ipe wood siding and soffits contrast with light concrete-block walls. "We used natural materials and colors for a modern aesthetic that would fit in with the neighborhood," explains Andrews. "As you approach, the house is subtle and quiet rather than being ostentatious and loud."

A solar PV system with battery backup means the home can function during intermittent power outages, while the property's two 500-gallon rainwater tanks provide irrigation for the garden. These cisterns came in handy during Texas's recent cold snap. "Water has typically been our enemy in Houston, but during the recent winter storm and boil water advisories, we were going all over the neighborhood sharing our water," says Kris.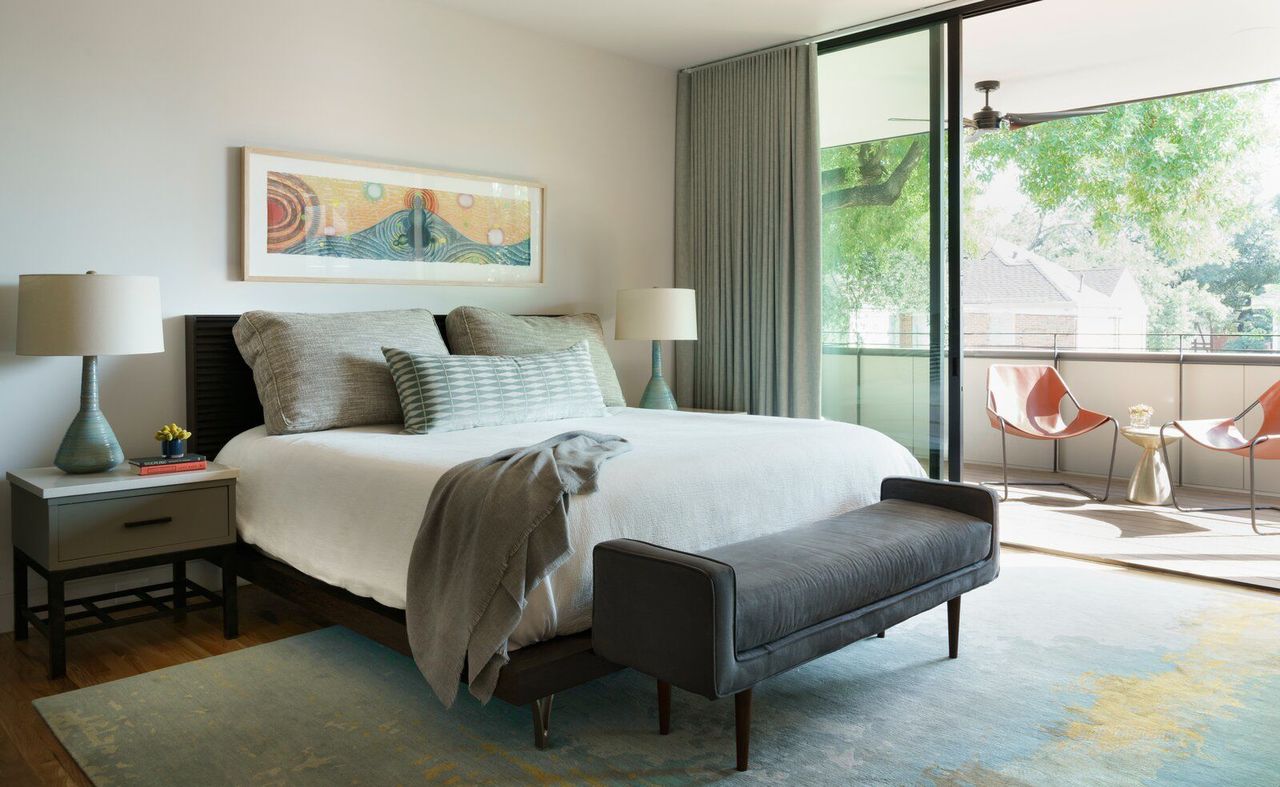 The primary bedroom is located upstairs and opens to a small deck that overlooks the backyard. Britt incorporated rugs made with natural fibers and vegetable-based dyes.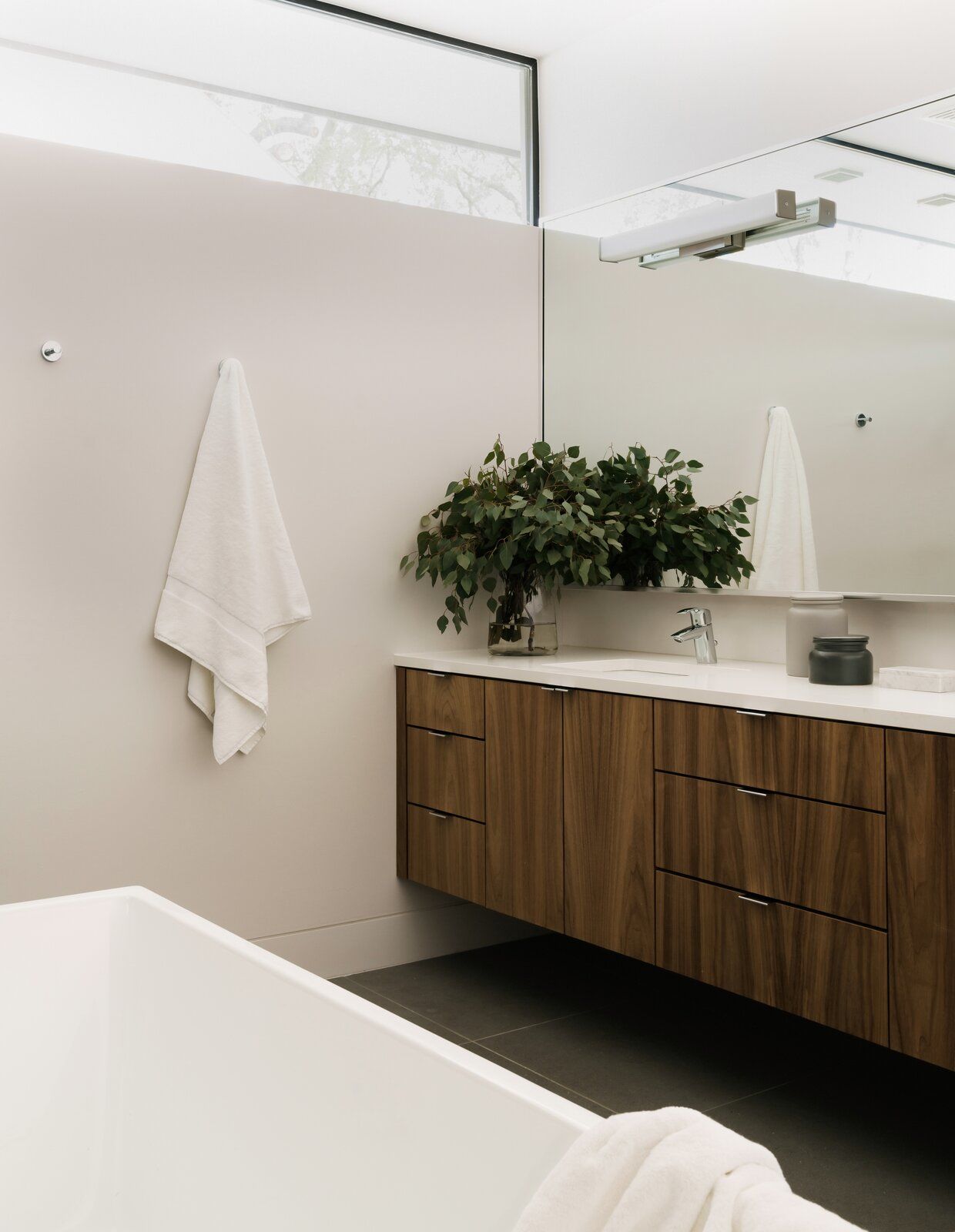 Walnut cabinets and quartz counters in the primary bathroom incorporate non-toxic, water-based finishes.

The resulting residence offers a holistic take on wellness and also reflects a true collaboration between the homeowners and designers. "It was a learning experience for all of us," says Britt. "A mutually beneficial creative endeavor."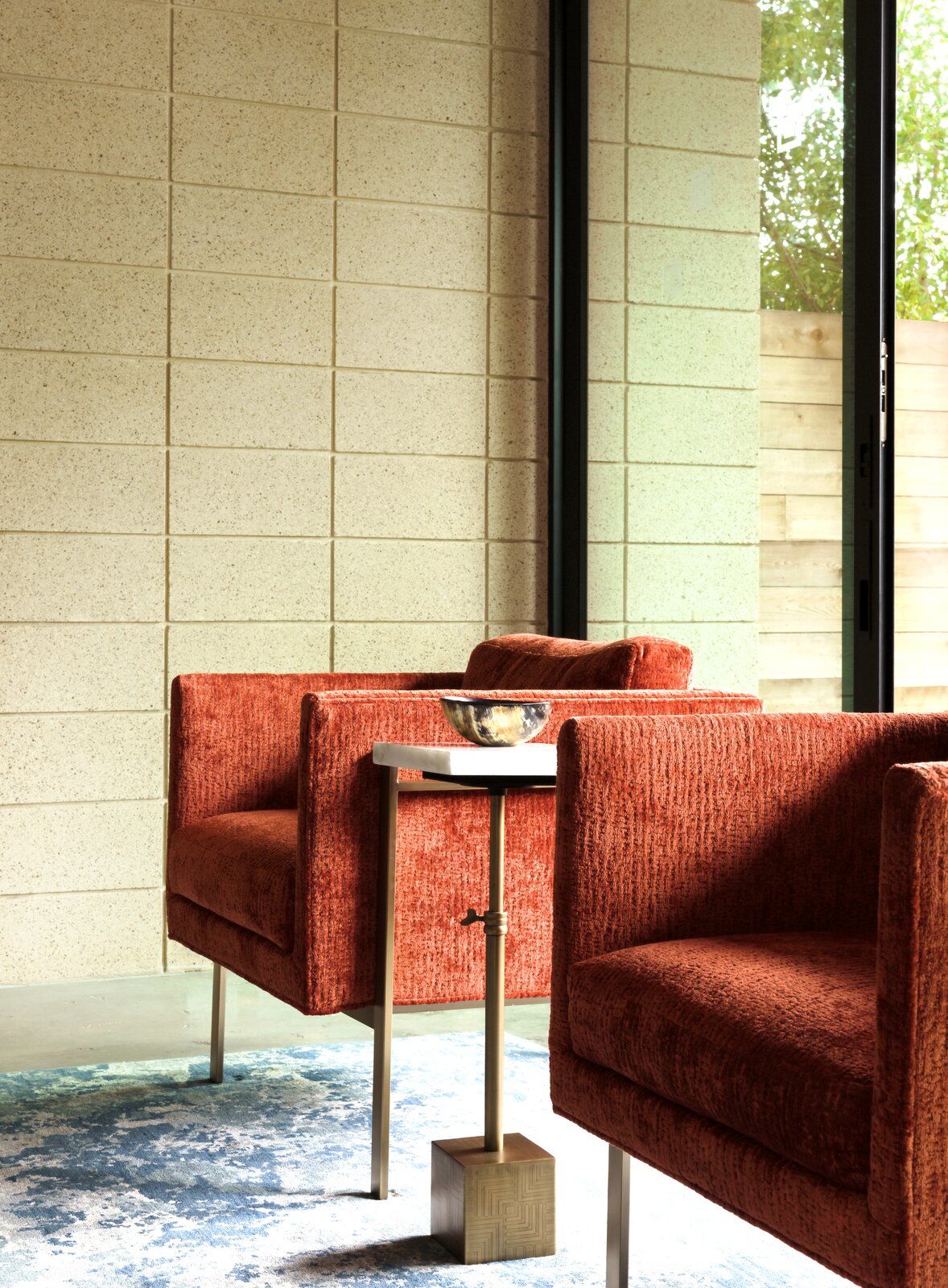 A set of rust-colored chairs contrast with the neutral-toned concrete wall in the living room.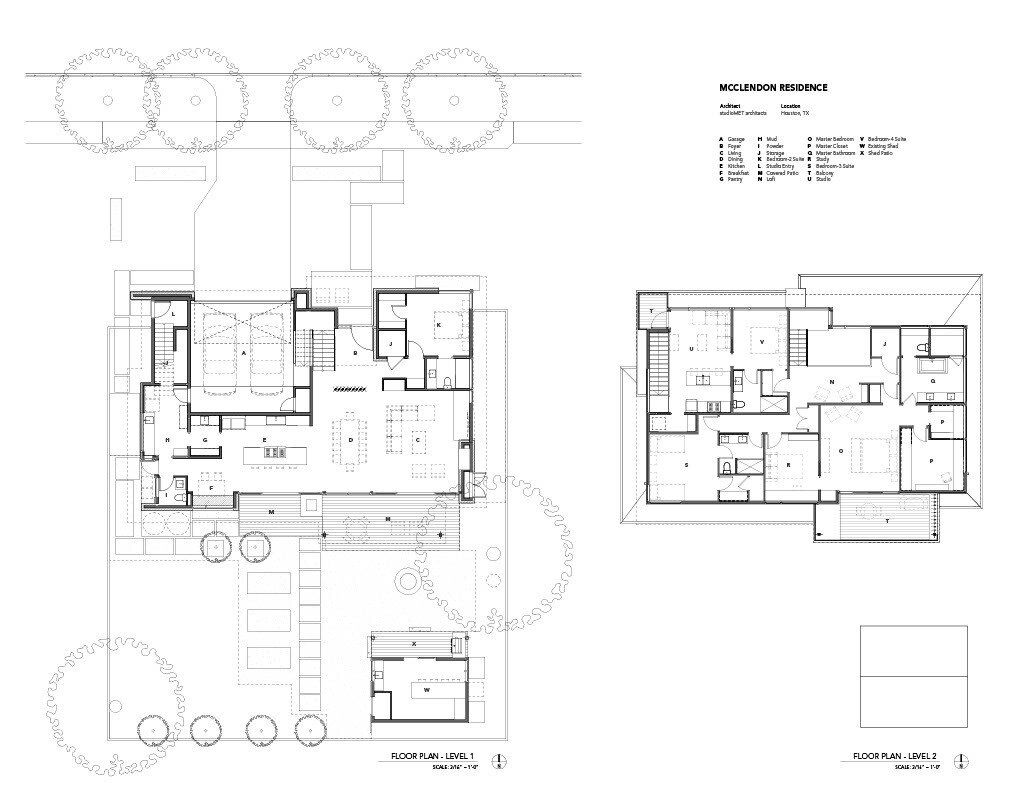 A peek at the McClendon Residence floor plans by StudioMET Architects.