Pro-establishment lawmakers at centre of appeals urging authorities to run universal community screening to uncover hidden chains of transmission.
Medical experts have dismissed calls for Hong Kong to launch universal community testing against the fifth wave of Covid-19, labelling the exercise unworkable given resource limitations and difficulties in imposing the full lockdown required for it to be effective.

Pro-establishment lawmakers are among those appealing for citywide screening to cut off any hidden chains of transmission in the community, a strategy routinely deployed in mainland China since the health crisis emerged two years ago.

But local pandemic experts said Hong Kong would struggle to follow the mainland's lead, with one government adviser pointing to testing capacity limitations in the city and the challenges associated with requiring everybody to stay at home during the exercise.

"The city's daily testing capacity is about 100,000," Professor David Hui Shu-cheong said. "If we want to implement universal testing, we may have to invite the mainland to assist."

He added that large-scale testing would only be worthwhile if people did not leave their homes for the duration of the programme.

"If you allow citizens to move freely in the community, one-off testing is meaningless – getting tested negative today doesn't mean they won't get infected the other day," Hui told a radio programme on Monday.

Hui said a citywide stay-at-home order would press the pause button on Hong Kong life for two weeks – a "technically infeasible" measure.

With the help of screening professionals from the mainland, Hong Kong conducted its first universal community testing exercise back in September 2020, when the city was approaching the end of a third Covid-19 wave. About 1.78 million people were tested on a voluntary basis in that two-week programme, in which 42 new infections were identified.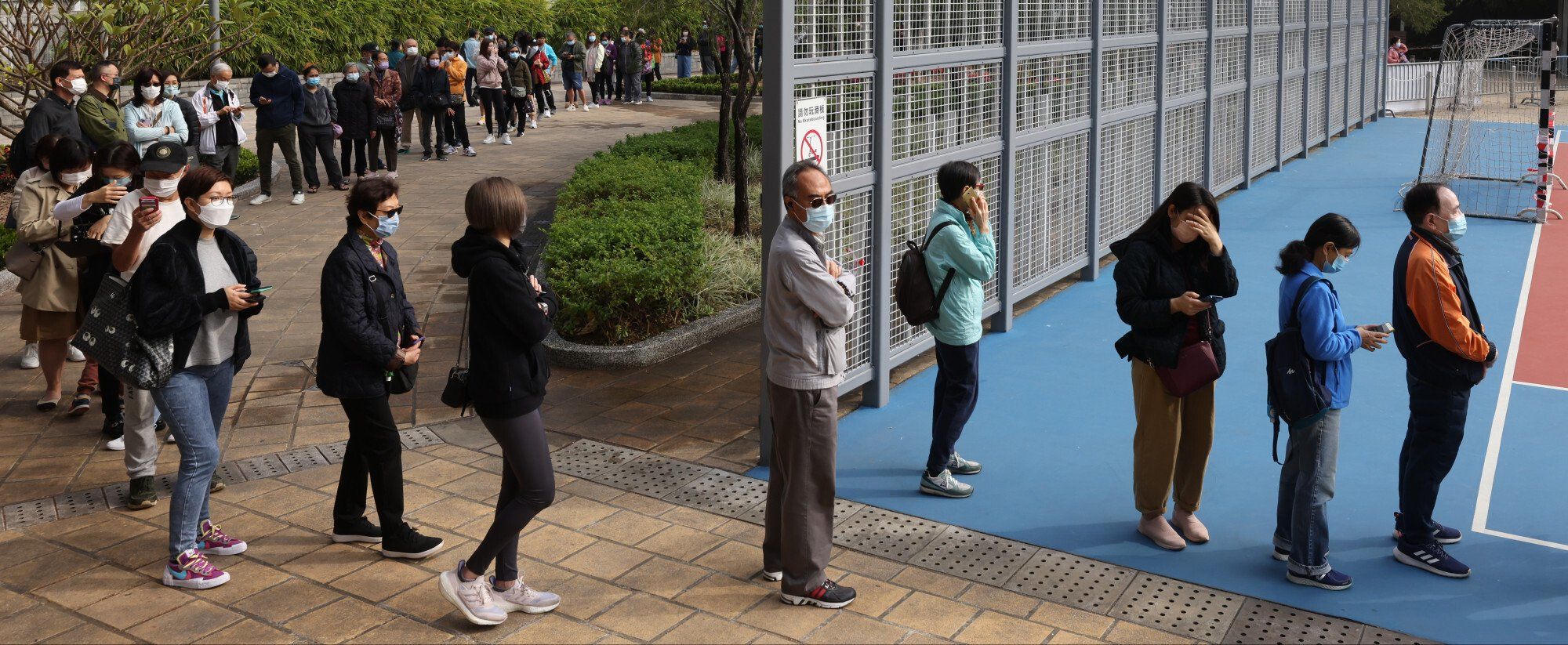 Members of the public subject to compulsory Covid-19 testing queue up at Victoria Park, Causeway Bay.

A citywide approach to universal testing was recently adopted in the mainland cities of Xian and Zhengzhou, while Shenzhen has also launched wide-scale screening across multiple districts.

But Hui said mass testing was not an effective or efficient way of identifying cases in Hong Kong.

"What we should do is conduct targeted testing on patients' close contacts, their workplaces and residential buildings, or places where sewage surveillance returns abnormal findings," he said.

"This would be a more cost-effective approach," Hui added, noting the city must use its resources carefully given its testing capacity limitations.

A Guangdong health source said mainland experts had advised Hong Kong to prepare for universal testing in the event of a surge of infections, notwithstanding their appreciation of the city's limitations in community infrastructure to support such an initiative.

The source said the experts, who raised the point during a four-day trip to the city in November, said mass testing was "costly but effective" if outbreaks were scattered and not all contacts could be traced.

"But if you have acted fast to identify infected cases and quarantine all their close contacts, you can be more focused to conduct … mass testing focusing on areas where the cases lived and stayed," the source said.

Respiratory medicine expert Dr Leung Chi-chiu questioned the city's ability to launch effective universal testing on its own.

Unlike the mainland, Hong Kong does not have community-based organisations in every neighbourhood to help coordinate mass testing and ensure people stay at home.

"Repeated mass testing can be effective in controlling the spread of the epidemic, but that is only on the basis it is supported by social and community systems," he said, noting that universal testing was performed every one to three days on the mainland, depending on the size of the affected area.

"If we cannot do a proper community lockdown, testing alone will not be quicker than the spread of the virus," Leung said.

Legislator Alice Mak Mei-kuen had called for universal testing in a Facebook video posted on Saturday.

"Officials keep on telling us that there might be hidden transmission chains in the community and urging us to reduce gatherings … but would those hidden transmission chains be gone if I just stop eating out?

"Please find those [hidden transmissions] and do a universal community testing," she said in the video.

The Post understands the Executive Council, the Hong Kong leader's de facto cabinet, has not recently discussed the feasibility of citywide Covid-19 testing.

One of Chief Executive Carrie Lam Cheng Yuet-ngor's advisers in Exco, Regina Ip Lau Suk-yee, said she regarded mass testing as "a reliable way" to uncover infections in the community, but added the main hindrance was the city's daily screening capacity.

"As the 'Leave Home Safe' app has no tracking function, the government should grasp the opportunity amid the new outbreak to boost the daily testing capacity so that citywide tests are possible one day," she said.

But senior counsel Ronny Tong Ka-wah, also an executive councillor, questioned its efficacy when people were still free to travel around the city.

"Is it worth spending the resources on a citywide scheme which is quite disturbing to ordinary residents, and is not proven effective if it's not completed within a day?" he asked.

Both called on health officials to instead channel their efforts into boosting the city's vaccination rate.