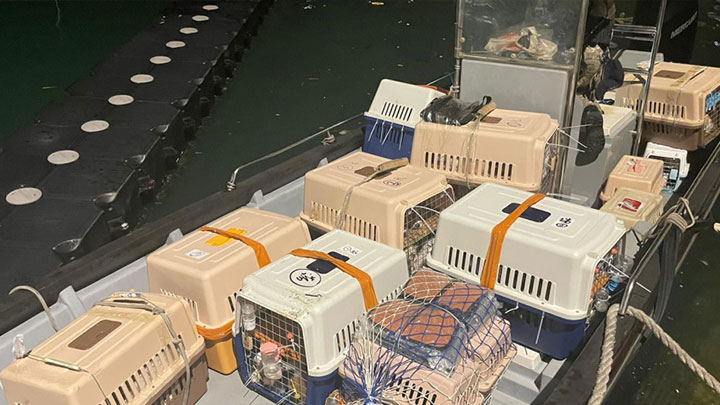 Marine police seized 75 smuggled pets worth HK$1.2m
Marine officers intercepted a speedboat in the early morning on Thursday, suspected of smuggling 75 pets from the mainland to Hong Kong.
Officers launched an anti-smuggle operation at around 1:30 am today at Hau Hoi Wan and spotted a suspicious vessel entering the Hong Kong waters from the direction of the mainland waters.

The speedboat was found approaching off the shore of Nim Wan with a van waiting. A man got off the van and then moved a batch of goods from the speedboat to the truck.

Officers launched a raid immediately but the man jumped into the speedboat and fled, leaving the van with 17 cages of smuggled animals.

The animals - including 62 cats and 13 dogs - were found placed in portable cages and were estimated to be worth HK$1.2 million, said the police.

The case will be determined as the offence of importing unmanifested cargo and cruelty to animals, said the police.

In August this year, a similar criminal case of smuggling pets was detected by marine police in the same place, involving a man suspected to be a member of a criminal syndicate smuggling pets from China to sell in pet shops in the same place in Hong Kong.

A total of 125 cats and dogs with a market value of about HK$3.8 million were saved during that case.