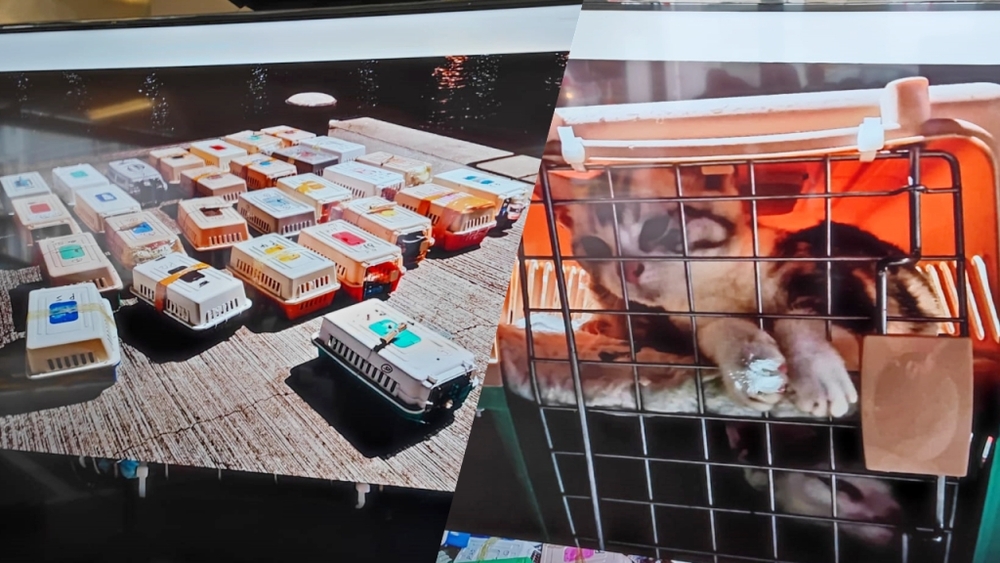 Marine police seized 126 smuggled pets worth HK$3.8m
The marine police intercepted a sampan suspected of being smuggling and seized 126 cats and dogs with an estimated market value of about HK$3.8 million on Sunday in Deep Bay, or Hau Hoi Wan.
Officers found a suspicious vessel entering the Hong Kong area from mainland water around 11:30pm last night, and launched an interception when the sampan sailed towards Ha Pak Nai. However, a man inside the sampan docked and fled afterward, leaving the sampan with over 100 smuggled animals.

The animals - including 84 cats and 42 dogs - were found placed in portable cages and were considered to suffer abuse, showing symptoms of dehydration due to the poor circumstances, said the police.

It is estimated that the animals came from China by smuggling syndicates to be on sale in pet shops in Hong Kong, according to the police.

Police confirmed the animals were transferred to Agriculture, Fisheries and Conservation Department for being taken care of, and the case was followed up by Crime Marine Region for further investigation since no arrest was made so far.

Any person who convicted of cruelty to animals shall be liable to a fine of HK$200,000 and to imprisonment for three years according to the Prevention of Cruelty to Animals Ordinance; while a fine of HK$2 million and imprisonment for seven years according to the Import and Export Ordinance for exporting of unmanifested cargo.