Lee delivers remarks at public forum jointly organised by seven television and radio stations, just nine days before the city's leadership election.
Hong Kong chief executive candidate John Lee Ka -chiu has revealed he would give low priority to constitutional reform if elected, as there are many other economic and social issues to tackle.

Lee also said he did not plan to interfere much in the private property market, as his aim would be to see the market stabilise, while he declined to be pinned down on whether he would reintroduce a controversial vacancy tax.

"I do not hope to interfere in home prices too much, I just aim at stabilising them," he said on Saturday at a public forum jointly organised by seven television and radio stations, just nine days before the city's leadership election.

With Lee the sole candidate this year, the traditional flagship debate pitting contestants against each other was turned into a question and answer session. Lee took questions from journalists and residents, who asked him about housing, the economy and how to retain and attract talent.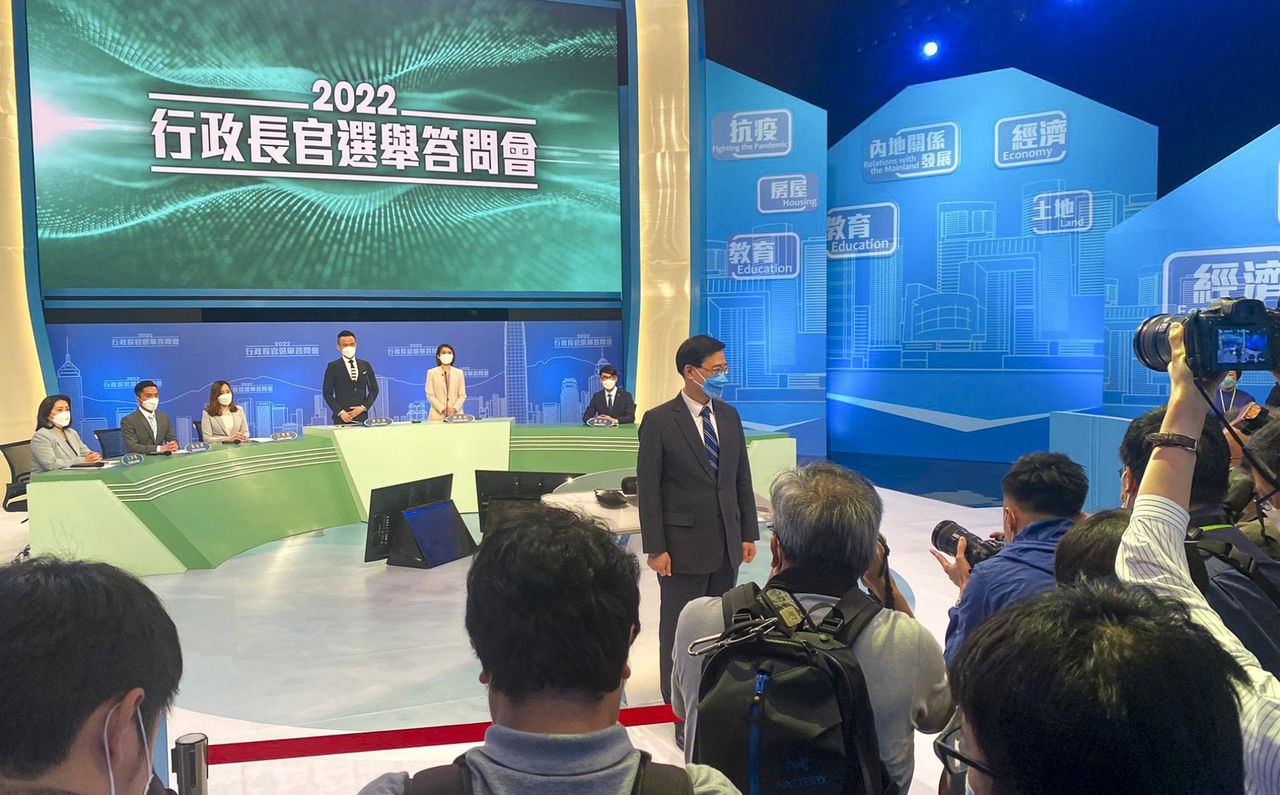 John Lee at TVB City in Tseung Kwan O on Saturday.

Asked to comment on the recent wave of emigration, Lee said losing talent was nothing unusual, while reiterating that Hong Kong remained a competitive place full of opportunities.

Lee also pledged to focus on raising people's incomes so they could more easily afford housing. But he refused to be drawn on whether he would introduce the vacancy tax, a policy viewed as effective in suppressing housing prices.

'Hong Kong welcomes you back'

In the last question of the session, Lee was asked again what he would say to those who had left Hong Kong.

Lee said the city was still a place for people to pursue their dreams, and Hong Kong would always be "everyone's home".

"I hope to form a government that would do work and has the ability to implement policies," Lee said. "I welcome all of you to come back to Hong Kong."

Press freedom

Addressing concerns over press freedom, Lee said it was a right Hong Kong already enjoyed – just like "the identity card that every citizen already has".

"But we have to be aware that some people may use press freedom as a disguise to do things that violate the law," he warned, accusing some of hijacking the issue for their own political agenda. "People will see those cases in court in due course."

He said that one had to "respect" the work of journalists but "right the wrongs" when needed.

Low priority on constitutional reform

Lee said his administration would not place a priority on constitutional reform, as there were many other issues that needed to be handled, including social, economic and development ones, so that Hong Kong would become a more attractive place.

"We are just in the middle of improving the electoral system. We have carried out all the elections as part of the reform, but we have to go through an implementation period to see the advantages of the revamped system, which is good governance, and a better relationship between the government and the Legislative Council so that there will be better policies," he said.

"The government and Legco have to work hard on that. We have to be pragmatic and constitutional reform would not be a priority of the sixth term of government."

Lee added the new administration would also discuss the future of district councils, but it was too early to say anything more on the topic.

The candidate also said he planned to set up care teams with a network of volunteers in all 18 districts, as the pandemic had made clear that such support was important.

Pilot scheme for 1,000 disadvantaged students

A day after Lee revealed he would launch a pilot mentorship scheme for 1,000 students living in subdivided flats, he was grilled over the novelty of the proposal by journalists.

He was asked if the scale of the scheme was sufficient. Lee explained the move was focused on that particularly vulnerable demographic, adding there could be other projects in the pipeline to support youngsters.

He said the pilot scheme would be reviewed yearly and could be expanded to more beneficiaries if successful.

Youth policies and political reform

Asked by a reporter how he intended to help young people pursue their dreams and what he would do if those aspirations were related to greater political reform, Lee said Hong Kong valued democracy and justice, but all residents had to abide by the law.

"We have to abide by the law even if people would like to stress their different views. It is as simple as that," he said. "There is no need to use an unlawful method to strive for that.

"There are often disagreements in a society, and other countries are also facing the same issue," he said. "We might try to narrow the gap by delivering results. When the young see that the government has been achieving something, they might have more confidence in the government."

Lee said that if teenagers were willing to take up responsibilities, the government would embrace and help them become pillars of society.

"I will persuade people with action. I would hope to achieve bit by bit to boost the public's confidence," he added.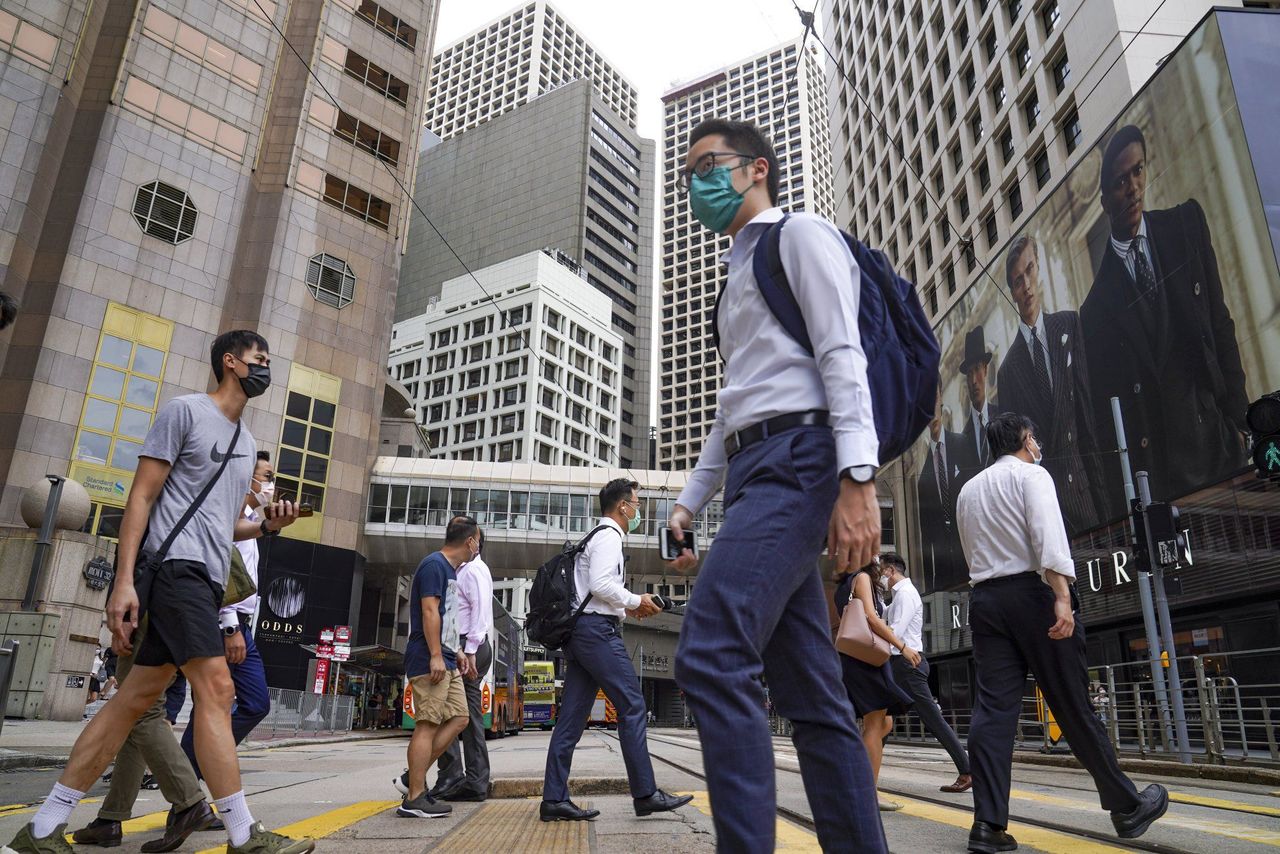 John Lee says Hong Kong is a "tolerant, inclusive and robust" society that can help people "achieve their dreams".
Brain drain and attracting talent

Lee noted the trend of people leaving but attributed it to a natural flow that had always been occurring throughout Hong Kong's history.

But he sounded an appeal to those who had left and were thinking about whether Hong Kong was still a suitable place for them.

"We are connected to the rest of the world. We also have the backing of our nation and its vast land," he said.

He painted Hong Kong as a "tolerant, inclusive and robust" society that would help people "achieve their dreams".

"I am confident that wherever people may be, they will see Hong Kong as a place where they can embrace after seeing the results I will deliver," he declared.

Covid-19 pandemic

A resident asked Lee whether he had a timeline for resuming cross-border travel with mainland China, and how authorities might respond if anti-government protests flared up again, a question which he declined to answer.

He said discussions with the mainland side on resuming cross-border travel would be his top priority if he was elected, as he understood that many members of the public cared deeply about the issue.

"I will try to remove all obstacles. We will also create favourable circumstances, including boosting vaccination, and also do better on risk-management," he said.

Asked by a reporter whether resuming cross-border travel with the mainland would take priority over further opening back up to international travels, Lee said there was no contradiction between the two.

"For example, maybe we could begin some quota-based travel with the mainland, while we will consider the pandemic situation when we decide whether to further lift travel restrictions," he said.

Land, housing and economic development

The first session began with three residents, via pre-recorded video, and the media asking Lee how he intended to boost the city's competitiveness and speed up the allocation of public housing flats. A reporter also asked the candidate whether he would reintroduce a controversial vacancy tax.

Lee noted that in his manifesto he highlighted a cut to the waiting time for public housing, allowing applicants to move into flats before supporting facilities and infrastructures was completed – an initiative to be headed by one of two new task forces proposed.

"The public can make their own choices," he said. "We hope to give them a selection."

Lee also said he hoped to keep prices stable for private residential flats and that he did not want to see fluctuations in the market.

"The government has to make this clear to the public, in which a market with stable prices is the most suitable for Hong Kong society," he said. "Only if the market is stable, and with economic development and more employment opportunities, can the public be able to earn more and maybe housing affordability will improve."

On the economic front, Lee said there was a need to boost spending locally, in order to revive growth.

"Hong Kong's competitiveness could be boosted by creating new initiatives, including putting efforts into developing the city as a cultural and technological hub," he said. "With competitiveness boosted, we can attract talent back to the city."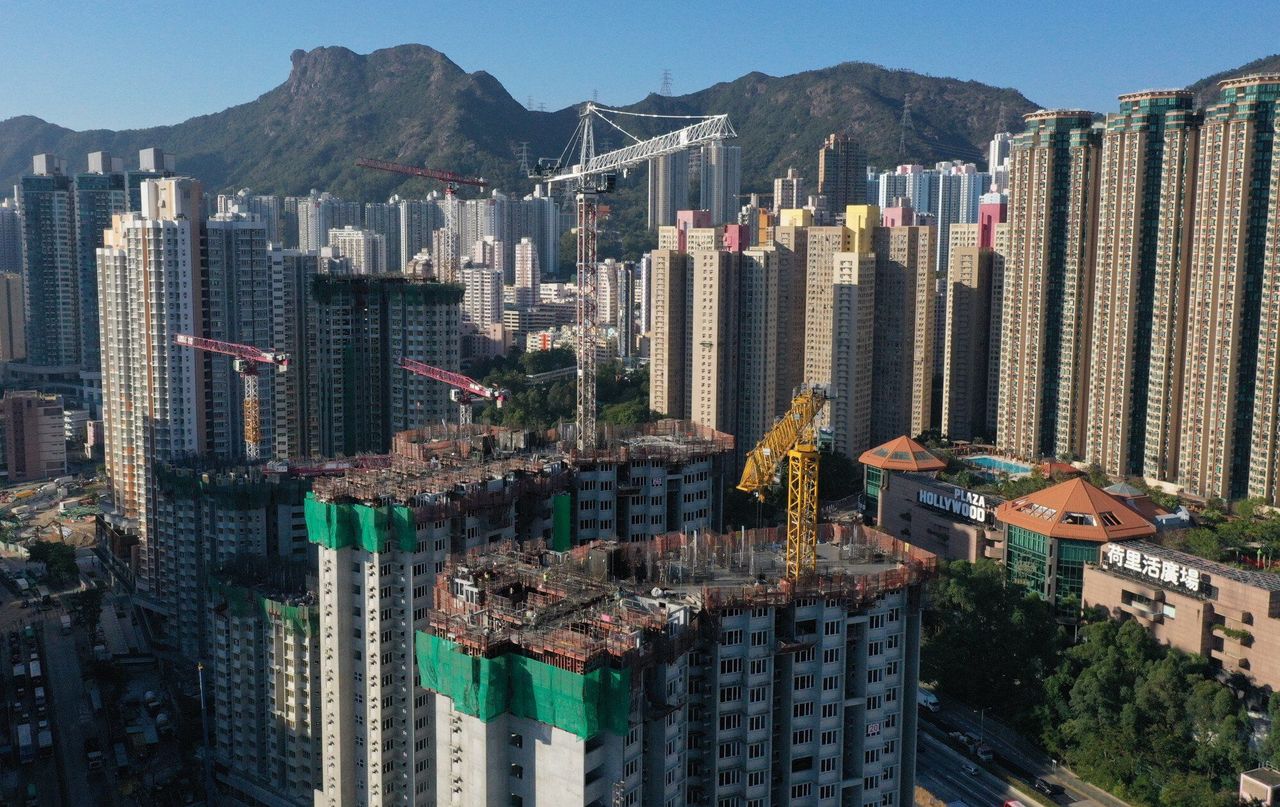 John Lee has said he will set up two new bodies dedicated to public housing and land supply.

The former policeman turned chief secretary, who quit to join the poll, is expected to win on May 8 after securing 786 nominations from the 1,461-strong Election Committee dominated by pro-establishment members. Beijing-backed Lee only needs 750 votes to claim the top job.

The 64-year-old unveiled his manifesto on Friday, laying out his plans for the city over the next five years, with a focus on tackling chronic housing problems, strengthening governance and building a caring society, while maintaining competitiveness.

He also set out four visions: strengthening governance and tackling pressing livelihood issues; streamlining procedures and providing more housing and better living conditions; enhancing overall competitiveness and pursuing sustainable development; and building a caring and inclusive society as well as enhancing upward mobility for youth.

In his manifesto, Lee also said the Task Force on Public Housing Projects would propose, within the first 100 days of the new administration, ways to speed up the design and construction of public housing.

The Steering Committee on Land and Housing Supply will coordinate all policy bureaus and departments, from transport and environment to social welfare and land administration, in coming up with policies aimed at unlocking the potential of private land.

Lee also said he would also continue with two major policies to be inherited from the current administration: the Northern Metropolis project along the border with mainland China that could provide hundreds of thousands of homes, and the Lantau Tomorrow Vision to create a new metropolis on man-made islands in waters off Lantau Island.

Lee proposed a new pilot scheme to tackle intergenerational poverty, focused on 1,000 junior secondary school students living in the city's notoriously tiny subdivided flats, while stressing the importance of promoting STEAM education – science, technology, engineering, arts and mathematics.

He vowed to set up a new emergency mobilisation protocol and strengthen community networks through local services and care groups across all 18 districts, in light of the Covid-19 pandemic.

He also said he would carry out legislation work for Article 23 of the Basic Law, a local security bill, in due course, while nurturing a "love China, love Hong Kong generation".

Lee expressed his ambition to strengthen Hong Kong's reputation as a global offshore renminbi business centre to boost internationalisation of the national currency, and seize new opportunities to take the city's economy to a "new level".