Manulife will take up space in its fifth office location in Hong Kong this year and grow its agency force to tap into insurance demand and rising wealth in the Greater Bay Area, CEO Damien Green says.
Manulife, the second-biggest insurer in Hong Kong, is making plans to entrench its market position by capturing new opportunities fuelled by rising affluence in the Greater Bay Area , said Damien Green, its chief executive for Hong Kong and Macau.

The Canadian insurer will open a 7,300-square foot centre at the Gateway in the Tsim Sha Tsui commercial district this month to cater to high networth individuals, tripling the size of its previous footprint. The move dovetails with its sizeable plan to move into its fifth office tower in the city later this year.

"We have a growing business in Hong Kong and we will hire more agents to sell our products in the following years," Green said in an interview with the Post. "We will need more space for training and for our salespersons to meet customers."

Manulife has generated more than one-third of the group's core earnings from Asia in 2020, with an annualised premium sales of US$2.9 billion. It has a 10,800-strong agency force in Hong Kong, or about 10 per cent of its strength across the region. It grew its assets under management in Asia by 16 per cent to US$108 billion.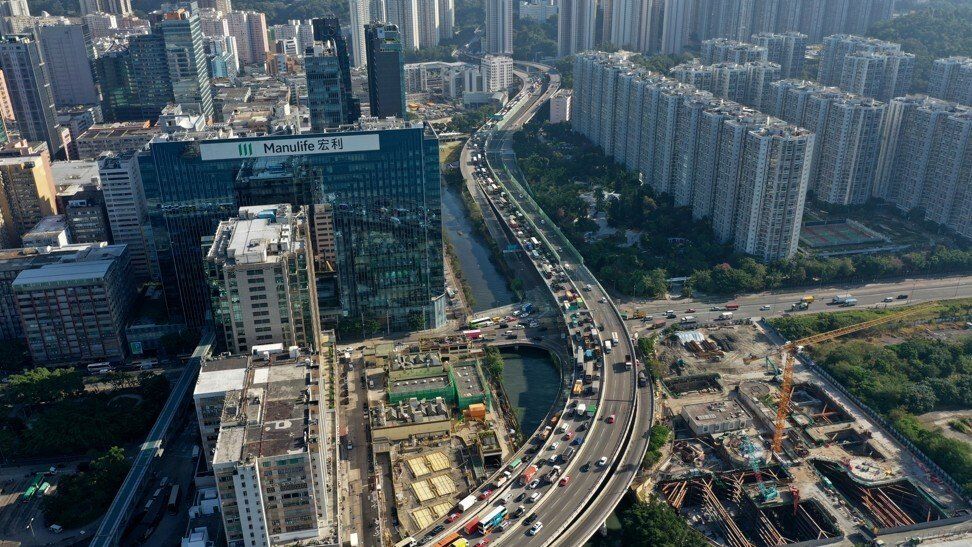 Manulife may be spending an estimated HK$4 million a month for the four floors at Manulife Place in Kwun Tong.

The group, which ranks as the largest provider of pension plans under the city's Mandatory Provident Fund, will take up 145,000 sq ft of space over four floors in International Trade Tower in Kwun Tong, to be renamed Manulife Place, in Hong Kong's biggest grade A office lease since July 2019.

"Our expansion shows our commitment to Hong Kong where we have operated for 124 years," Green said, declining to disclose the cost of the additional office space. At a market rate of about HK$28 per square foot, it would amount to HK$4 million per month, one property analyst estimated.

The space at Manulife Place would be its fifth office in the city, with four in Kowloon and one in Causeway Bay.

Its demand for larger space is in contrast with several local lenders such as HSBC, Standard Chartered and DBS who have cut or plan to trim their footprint by adapting work-from-home and third-party flexible office locations into their regimes.

"People crave the social interaction and professional work environment that the office provides," said Anthony Couse, chief executive of JLL Asia Pacific in Hong Kong. "One in two employees missed the face-to-face collaboration with colleagues, as well as access to efficient infrastructure, including good internet connectivity, ergonomic workstations and collaboration areas," he added, citing a survey it conducted recently.

Unlike banking, the insurance business is a more people-facing business, Green said, as agents need to meet their customers face to face to better explain their insurance products.

Manulife aims to strike a double-digit growth in its agency headcount this year. The insurer had a market share of 18.4 per cent in terms of new business sales from agencies at the end of March, according to data published by the Insurance Authority. AIA had 27.7 per cent while Prudential claimed 13.1 per cent.

The top three insurers last year hired a lot of former airline workers and those from the tourism industry who were displaced during the pandemic-driven slump. Hong Kong-based insurance sales staff expanded by 5 per cent to a record 129,939 at the end of May, official data shows.

"The Greater Bay Area project is going to bring in a lot of talent and capital flow between mainland China, Hong Kong and Macau," Green said. "There will be more visitors when the borders are reopened. This is why we need more office space and a bigger customer centre to capture these opportunities."

Green, a 52-year-old Australian, has been living in Hong Kong since 2011. He does not worry about the challenges in the aftermath of the 2019 social unrest or the legislation that came after the troubles.

"I do not want to talk about anything political," Green said. "But I'm a permanent resident and I believe in the strong growth of Hong Kong, Macau and the Greater Bay Area as a whole. Our expansion shows our confidence in the future of Hong Kong."