November 25 seen as possible launch date for compulsory use of 'Leave Home Safe' app across all 16,000 licensed restaurants, bars citywide.
Customers at all of Hong Kong's 16,000 bars and restaurants will be required to use the government's coronavirus contact-tracing app from as early as next week, the Post has learned, a move drawing widespread industry support for its potential to help boost business.

A government source on Friday revealed the possible start time for mandating the "Leave Home Safe" app at those venues following negotiations between officials and catering groups, which sought an extension of the scheme to bring about lighter Covid-19 regulation and avoid the verification pitfalls of the existing system.

"The catering sector was consulted on Thursday on whether [the mandatory system] can be done as early as next Thursday. But the decision hasn't been made yet," the source said.

Making the app's use compulsory will eliminate the current option for patrons to write down their contact details on paper rather than scan a QR code.

Catering sector lawmaker Tommy Cheung Yu-yan said he expected the government to bring in the new rules next Thursday at the earliest, when the current social-distancing rules were set to expire.

Cheung, who also sits on the Executive Council, and representatives of six food and beverage groups held talks with officials on Thursday in a bid to extend the scheme.

"[Restaurant groups] with multiple branches should take note and start discussing with their corporate management to prepare for this change and how to implement it," he said.

The government app launched a year ago to help health authorities trace the close contacts of Covid-19 patients. Users can scan QR codes on their arrival at venues, which logs where they have been but without collecting personal data or tracking movements in real time. A government spokesman said data was only saved on users' mobile devices in an encrypted format.

Those with privacy concerns can instead fill out their name, contact details and Hong Kong identification number on a paper form.

According to official figures, the app has been downloaded more than 6.75 million times, while 78,000 private venues and 22,000 public venues are equipped with the QR codes for scanning.

Authorities earlier this month made using the app mandatory for entry to public buildings such as government offices, wet markets and leisure facilities. Exemptions are limited to children, the elderly and people with disabilities.

The move, which took effect on November 1, was regarded as a necessary first step towards meeting Beijing's standards of coronavirus prevention and for accelerating the reopening of the border with mainland China.

Hong Kong has kept coronavirus cases and deaths to a minimum through maintaining tight inbound travel restrictions and stepping up local infection controls to align itself with the mainland's zero-Covid strategy.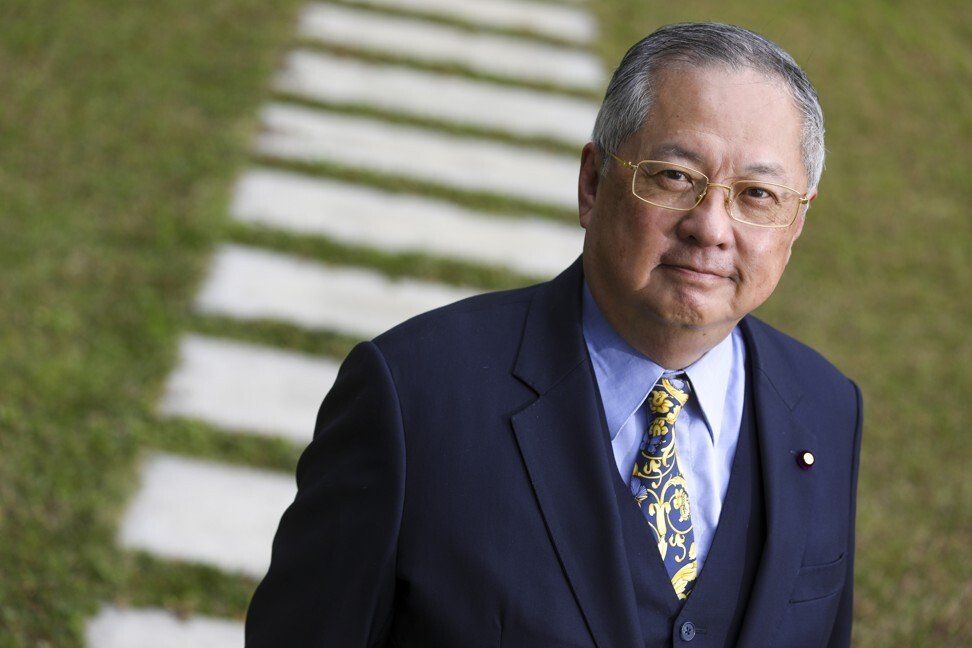 Lawmaker Tommy Cheung.

On Friday, the city confirmed one imported Covid-19 case, a domestic helper arriving from the Philippines, taking the infection tally to 12,396, with 213 related deaths.

The helper was found to be carrying the L452R mutant strain of the coronavirus which is linked to the more transmittable Delta variant.

Her infection was detected only after she completed 21 days of mandatory quarantine on November 13 and she returned to her employer's home at Way Man Court in Happy Valley. The building has been placed under a compulsory testing order.

Outlining the food and beverage industry's enthusiasm for expanding the "Leave Home Safe" scheme, lawmaker Cheung said: "If using the app more broadly would speed up cross-border travel, we would gladly comply with it as the catering sector is also hoping for the return of tourists."

Simon Wong Ka-wo, president of the Hong Kong Federation of Restaurants and Related Trades, said restaurant operators were often the ones reprimanded for customers entering false contact details on paper forms or using fake versions of the app.

"It puts a lot of burden on frontline catering workers to verify the contact details of guests and makes the dining experience unpleasant. The industry suggested making the app mandatory at all restaurants to prevent such problems," he said.

Wong also noted that restaurants enjoyed a resurgence of bookings and a revenue boost when they opted to meet requirements under the government's "vaccine bubble". The staggered system allows longer operating hours and larger seating capacities based on vaccination rates and use of the contact-tracing app.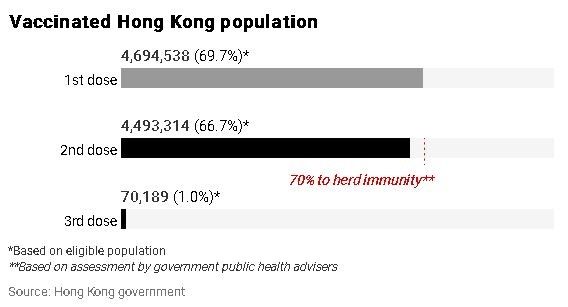 Under the current rules, the app's use is only mandatory at Type D venues, which are allowed to seat a maximum of 12 people at a table.

The government recommends use of the app at Type B or Type C establishments, which can serve tables of up to four and six customers, respectively.

Of the roughly 16,000 licensed restaurants and bars in Hong Kong, roughly 11,000 operate under the Type B system, compared with 3,000 opting for mode C and 2,200 for D.

Only a handful of restaurants are Type A venues, which can only put two customers at a table and must shut by 6pm. Wong predicted they would have to adopt the app to survive.

He added he hoped wider adoption of the app would allow officials to introduce higher seating capacity and extend operating hours at restaurants in time for the busy Christmas season.

Festive celebrations were muted last year as the government imposed some of the strictest social-distancing rules amid the pandemic so far as part of the fight against a fourth wave of infections.

Restaurant receipts in the fourth quarter of 2020 plunged 25.1 per cent to HK$19.5 billion (US$2.5 billion) from HK$26 billion over the same period a year ago.

Wong said he expected restaurant revenue to bounce back to roughly 80 to 90 per cent of 2019 levels if seating rules were eased.

Ben Leung Lap-yan, charter president of the Licensed Bar and Club Association of Hong Kong, supported the government expanding the scheme to all catering venues, adding he expected newcomers under the mandatory requirements to quickly adapt.

Vaccine bubble rules for bars allowing groups of up to eight to sit together already require patrons to use the app and show their Covid-19 vaccination records.

"When the vaccine bubble scheme was first introduced in May, it was difficult to implement and a lot of people were hesitant about it. Nearly six months later, bar patrons have accepted scanning apps and their vaccine records as a way to have some sense of normalcy," he said.

Leung added that health authorities should stop making catering and bar operators liable for customers who provided false personal information or used fake versions of the app.

"It's quite harsh that authorities force a business to shut for 14 days if a customer is found to have provided false information," he said. "Businesses are doing as many checks as they can."