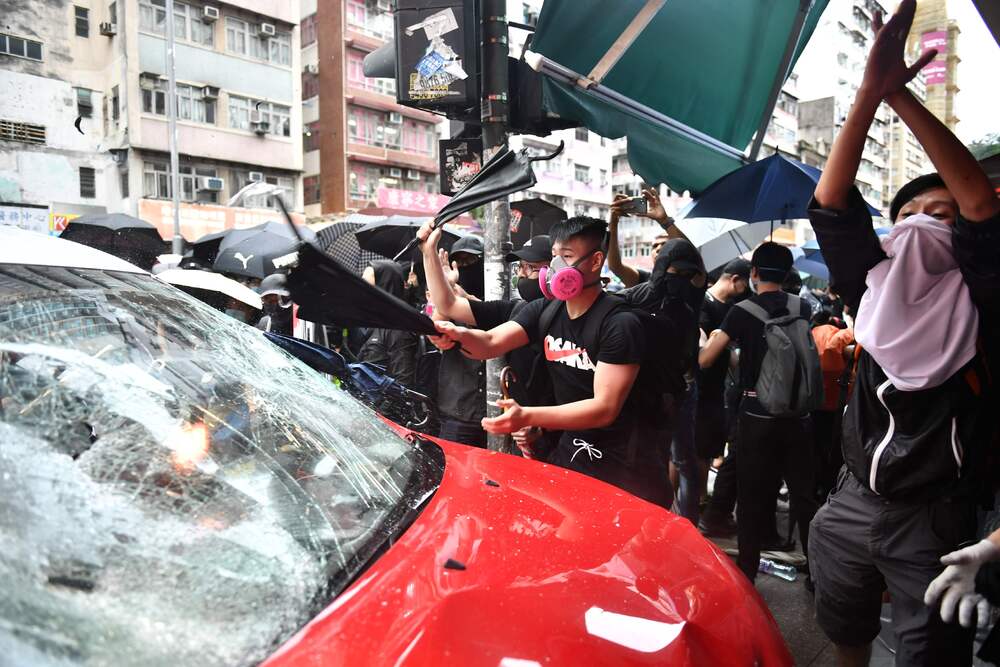 Man sentenced to three years in jail for violently assaulting cabbie during 2019 protest
District Court on Tuesday sentenced a man to three years in jail after he was accused of assaulting a cab driver who crashed onto a pedestrian road amid the protest against the anti-mask law in 2019.
The two defendants were 32-year-old company manager Cheung Tsz-lung and 25-year-old female teacher Chung Wing-yee. They were charged with participating in a riot with other unknown persons at the junction of Cheung Sha Wan Road and Yen Chow Street on October 6, 2019.

They were also accused of using a facial covering, namely a black mask, in unlawful assembly without lawful authority or reasonable excuse.

The prosecution said the woman had passed away earlier, and her charges were terminated. The man earlier pleaded guilty to rioting and using a facial covering and was sentenced to three years in jail.

The case read that cab driver Cheng Kwok-chuen at about 5pm on October 6, 2019, was driving past 382 Nam Cheong Street in Sham Shui Po, where the road was blocked by a group of masked men in black.

As he managed to drive through the roadblocks, the group became agitated and chased the cab from behind. They threw objects at the cab, causing damage to its windshield and side-view mirror. The video footage showed the crowd screaming at the cab and threatening to kill Cheng.

When Cheng later passed Yen Chow Street in Sham Shui Po, some 200 to 300 people set up roadblocks along the street. At about 5.15pm, Cheng arrived at the junction of Cheung Sha Wan Road and Yen Chow Street and stopped in front of the barricades.

About 70 masked men came forward to block the cab. Some of them hit the cab with umbrellas or iron pipes, while others opened the front left door and beat Cheng with sharpened iron pipes from outside and inside the cab.

Cheng failed to control the cab and had it crash onto the pedestrian road, hitting two women.

After that, some 30 people used umbrellas, iron pipes, and hammers to damage the cab, while some dragged Cheng out of the vehicle, kicking and stomping on his head with their feet.

The process lasted for about four minutes, during which the male defendant wearing a black mask stepped on Cheng and hit him twice with a blunt object.

Cheng had a total of seven stitches on his head and lip, seven broken ribs, and numerous bruises on his body. He was discharged from the hospital after five days.

District Judge Clement Lee Hing-nin said the attack was incidental and not premeditated. The riot lasted for about five minutes, and Cheng was attacked for about four minutes.

Lee said it was shocking that these people influenced each other and attacked Cheng mercilessly without understanding the circumstances of the incident. However, compared to other cases, the case was of a medium level of violence.

He added that the defendant, who was highly educated and a mid-level manager of an accounting firm, should have been able to look at the situation calmly and clarify the facts before taking reasonable and lawful action.