Ching Wai-ming, 64, is standing trial on charges of taking part in a riot and conspiracy to wound with intent.
A 64-year-old man living in mainland China has been accused of entering Hong Kong three years ago to join a white-clad group in an indiscriminate attack on demonstrators and railway passengers which became a watershed moment of the 2019 anti-government protests.

Hong Kong identity card holder Ching Wai-ming, who lived in neighbouring Shenzhen before his arrest last year, is standing a District Court-level trial on charges of taking part in a riot and conspiracy to wound with intent in connection with the overnight violence at Yuen Long MTR station between July 21 and 22, 2019.

Around 100 white-clad men, many of them armed with rattan and wooden sticks, stormed the station and injured at least 45 people, claiming the move was to protect their homes.

At the time of the attack, some black-shirted protesters were making their way back from a mass demonstration on Hong Kong Island against a now-withdrawn extradition bill.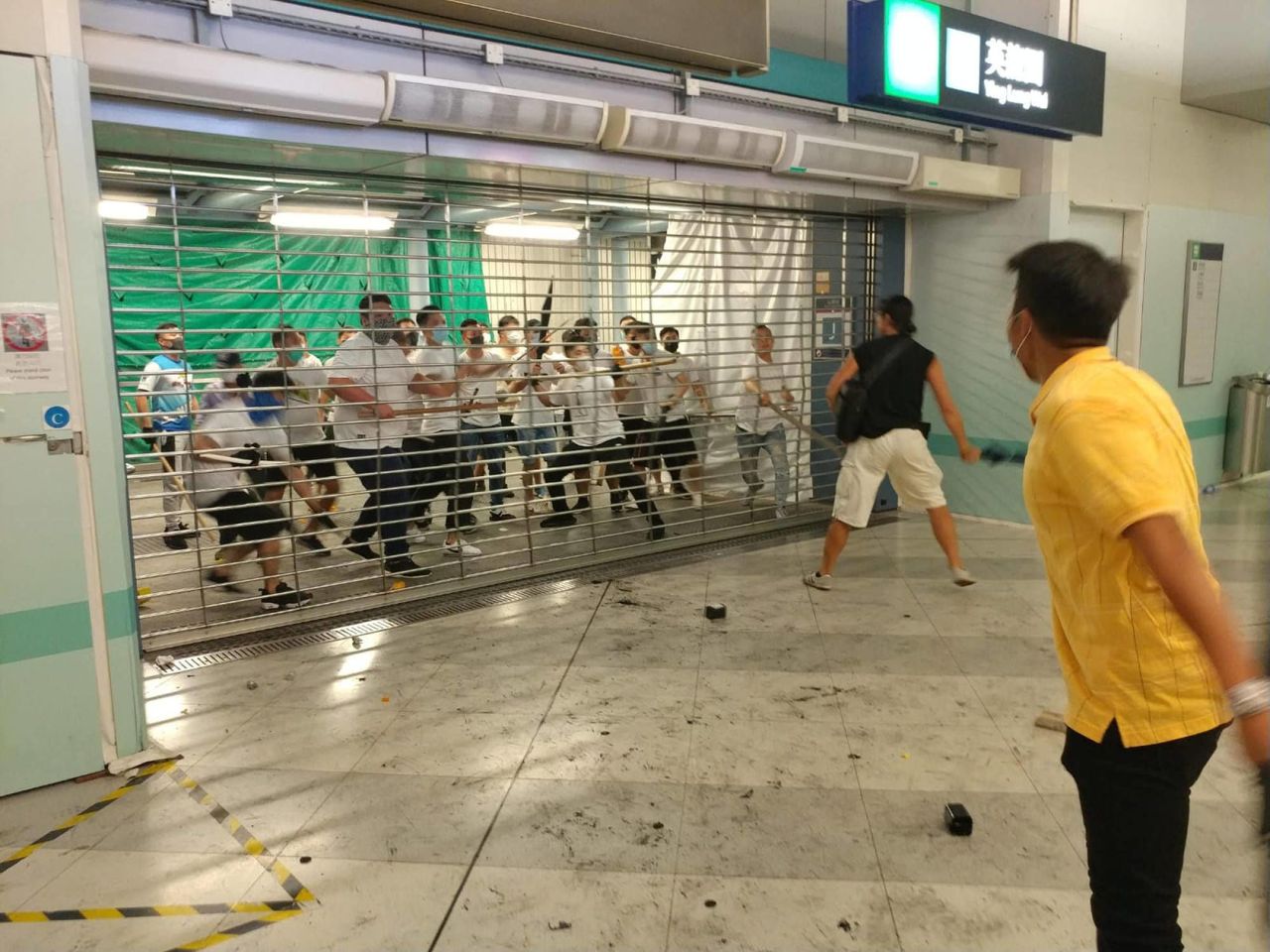 The overnight violence at Yuen Long MTR station occurred between July 21 and 22, 2019.

In his opening statement on Monday, prosecutor William Siu Kai-yip said the defendant crossed the border via the Lok Ma Chau checkpoint at 3.43pm on July 21, four hours before he was spotted assembling with other white-clad men near the station that evening.

A banner emblazoned with the words "Defend Yuen Long, defend our home" was seen hanging at the backdrop of the gathering, with participants chanting through an amplifier: "We are a volunteer army group in Yuen Long."

The prosecutor said Ching, who was wearing a white top, went to the station at around 11pm and assaulted at least three people within three minutes.

"The defendant and other white-clad men stormed into the paid area [of the station], and used their fists and rattan sticks to assault a man in a grey top," Siu said. "Outside the paid area, the defendant and other white-clad men launched at least two attacks on people wearing black."

Siu said the accused then instructed his comrades to proceed to the station's platform to go after commuters inside a stranded train, before leaving the premises alongside other white-clad men at around 11.14pm.

Ching returned to Shenzhen via Lok Ma Chau at 12.11am the next day. He was arrested on August 12 last year after entering the city through Shenzhen Bay Port.

The court debate centres on whether Ching was indeed the assailant shown on various video clips of the attack.

Police had identified Ching using his unique outfit, including a crew neck T-shirt with black-and-white tiger-shaped patterns on the collar, as well as a black waist belt with a light-coloured buckle. The defendant was wearing a black belt with a gold-silver buckle when he revisited the city last August.

A government forensic scientist tasked with analysing the video evidence opined that the belt seized from Ching had no "unexplainable differences" from the one worn by the assailant.

The prosecution will call 11 civilian witnesses and rely on the medical reports of eight of them to demonstrate the level of violence used by the white-clad men.

The trial before Deputy District Judge Newman Wong Hing-wai is expected to last for 12 days at West Kowloon Law Courts.