Air arrival arrested with 59 pellets of what is believed to be cocaine weighing 1.2kg hidden in his body.
An airline passenger who flew into Hong Kong from Ethiopia was arrested with 59 pellets of suspected cocaine worth about HK$1.2 million (US$153,000) hidden in his body, it was revealed on Tuesday.

The suspicions of officials were aroused after the 43-year-old man, a foreign national who arrived from the Ethiopian capital Addis Ababa via Bangkok, Thailand, tried to clear customs with little luggage and no hotel booking.

Customs officers suspected the man, who arrived on Sunday, of having dangerous drugs hidden inside his body and sent him to hospital for examination.

It was confirmed on Monday that foreign objects had been concealed inside the man's body and he was arrested.

Police said they had recovered 59 pellets of suspected cocaine weighing about 1.2kg (2.6lbs) in total.

Tsang Yau-chuen, the acting senior investigator of the airport investigation group of the customs drug investigation bureau, on Tuesday said more of the substance might be recovered.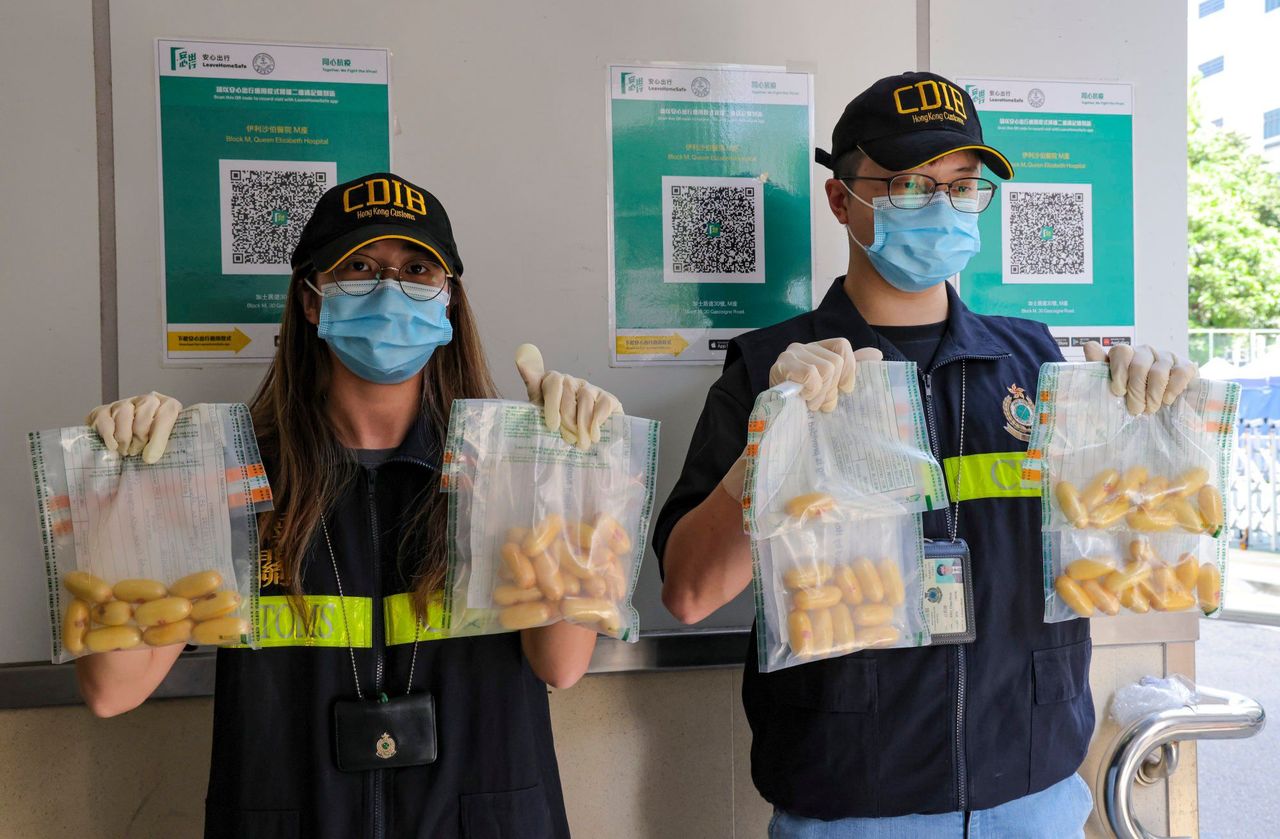 Customs officers display suspected cocaine, which was hidden inside the body of an air arrival from Ethiopia.

He explained that the relaxation of the city's quarantine measures and an increase in the number of air arrivals meant that criminals would try to capitalise on the opportunity to bring drugs into the city.

Tsang said customs officers would apply a risk assessment strategy to select inbound, outbound and transit passengers for checks in a bid to disrupt drug trafficking.

Customs officers arrested three men last month after they seized HK$14 million worth of cocaine hidden in a seaborne container that arrived from South America.

An 18-year-old jobless man was arrested in August and customs officers seized HK$6.4 million worth of cocaine in a crackdown on a drug-trafficking syndicate that used an industrial unit rented by the hour as a temporary packaging and mailing centre in a bid to avoid detection.

Hong Kong eased its quarantine measures for overseas arrivals on September 26, introducing a "0+3" model, under which travellers have to spend three days under home medical surveillance with limited citywide movement.

Arrivals were earlier required to undergo a three-day hotel quarantine and four days of home medical surveillance.