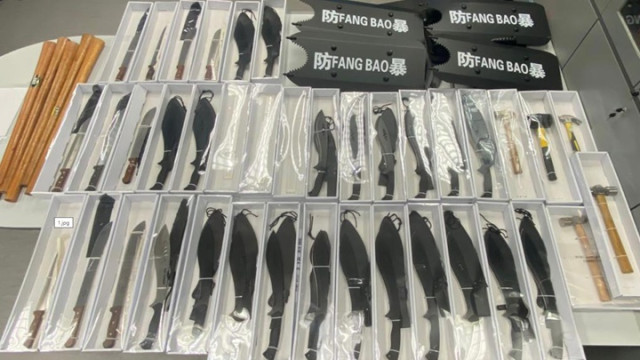 Man arrested as over 30 knives seized in car-cum-arsenal in Hung Hom
A 34-year-old man was on Friday arrested after police seized a significant number of knives and shields with the word "Fang Bao" – which means anti-riot in Chinese – in the trunk of a car in Hung Hom.
The car-turned-arsenal was busted at around 10am yesterday (Fri) by officers from the Kowloon City district anti-triad unit after intelligence analysis and in-depth investigations.

Cops found a total of ten 44-cm-long beef knives, 21 48-cm-long machetes, five 94-cm-long softball bats, five hammers, and seven shields.

After investigations, police arrested the 34-year-old surnamed Lee for possessing offensive weapons. He was remanded in custody.

Police said the investigation is ongoing, and they may make more arrests.