Comments by carrier come after midnight deadline for staff to sign tough deal, but unions warn of backlash from staff in years to come.
A "majority" of Cathay Pacific pilots and flight attendants had opted for permanent pay cuts, the carrier said on Thursday, after the deadline for staff to sign up for "maximum" financial support to soften the blow dealt by Covid-19 to the sector.

The airline's unions representing cabin crew said they respected the individual choices of members, while pilot representatives criticised the manner in which aircrew had been forced into pay cuts or job losses.

The Hong Kong Aircrew Officers Association (HKAOA) and flight attendants' counterparts had sought to overturn a decision by the city's flag carrier to overhaul pay and conditions, which came on top of 5,900 job cuts , and the closing of regional carrier Cathay Dragon.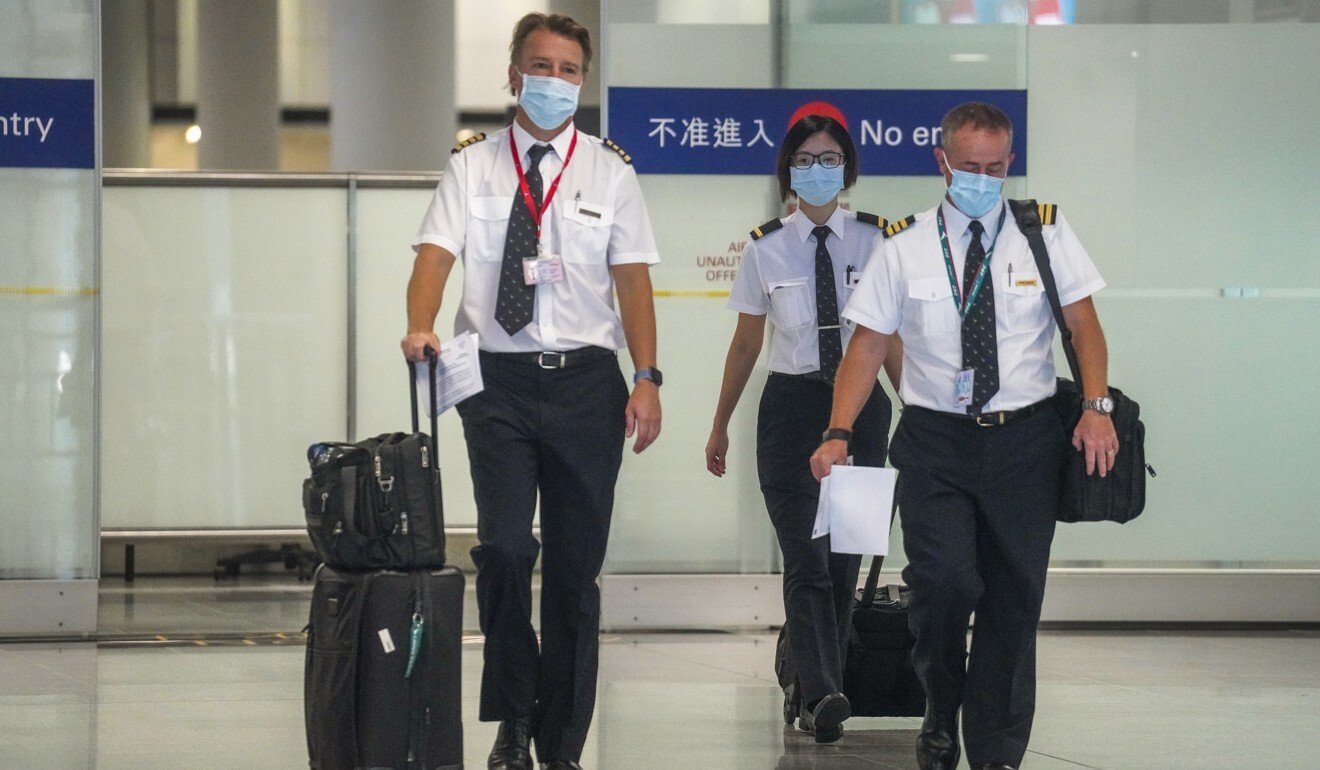 Cathay pilots arriving at Hong Kong's airport.

"We are very grateful that a majority of our pilots and cabin crew have already signed up to the new conditions of service," the airline said, without specifying a number. "We would like each and every one of our pilots and cabin crew to join us and be part of Cathay Pacific's future."Chris Beebe, general secretary of HKAOA, said if the airline's comments were accurate, it would serve "as proof that bullying and intimidation" worked.

"The real [payback] may come in the months and years ahead as pilots remember how they and their families were dealt with harshly and opportunistically when most vulnerable," he warned.

The airline has sought to cut the cost of its Hong Kong-based pilots and cabin crew with cheaper contracts that could see flight attendants lose 20 to 40 per cent of their pay, with the range at 40 to 60 per cent for aircrew.

Cathay Pacific Airways announces its largest job cuts in history


Airline revenues in 2021 were expected to be about half of 2019 levels, the International Air Transport Association (IATA) said, as a slow recovery brought on by the global pandemic has devastated the industry and seen scores of brands disappear, including Cathay Dragon."The airline industry is in such a bad situation we are obliged to cut costs," IATA director general and CEO Alexandre de Juniac said, responding to a question about staff resisting changes to employment, pay and conditions.

Airlines globally had "done everything to preserve jobs", de Juniac said. But he added: "If airlines are coming to a point in which they cut these jobs, especially [for] pilots and flight attendants, it's because [if] they cannot do otherwise, they will die."

The IATA chief added: "I would ask the pilots and flight attendants to accept this very difficult role and actions to help the airline industry survive."
Union members were instructed not to sign the new terms and conditions as the HKAOA and Cathay Pacific Flight Attendants Union (FAU) sought legal advice and Labour Department help in recent days.

Cathay Pacific warns of historic HK$9.9 billion loss due to coronavirus pandemic

Cathay Pacific has cut its workforce by 24 per cent based on the number of job positions eliminated. However, the actual number of workers made redundant pushed the figure to 17 per cent, one of the lowest in the industry.

IATA said airlines might be forced to cut as much as 40 per cent of jobs if they wanted a realistic chance to stem the bleed.

The Hong Kong carrier will operate less than half of its pre-pandemic schedule in 2021, which hinges on an effective vaccine being widely adopted by the summer of next year.

Brian Pearce, IATA chief economist, said: "We are not quite as positive about the second half of next year. We have cut our forecast to 2021, we are expecting, as we are with revenues, for air travel to be still around about 50 per cent down on where it was in 2019."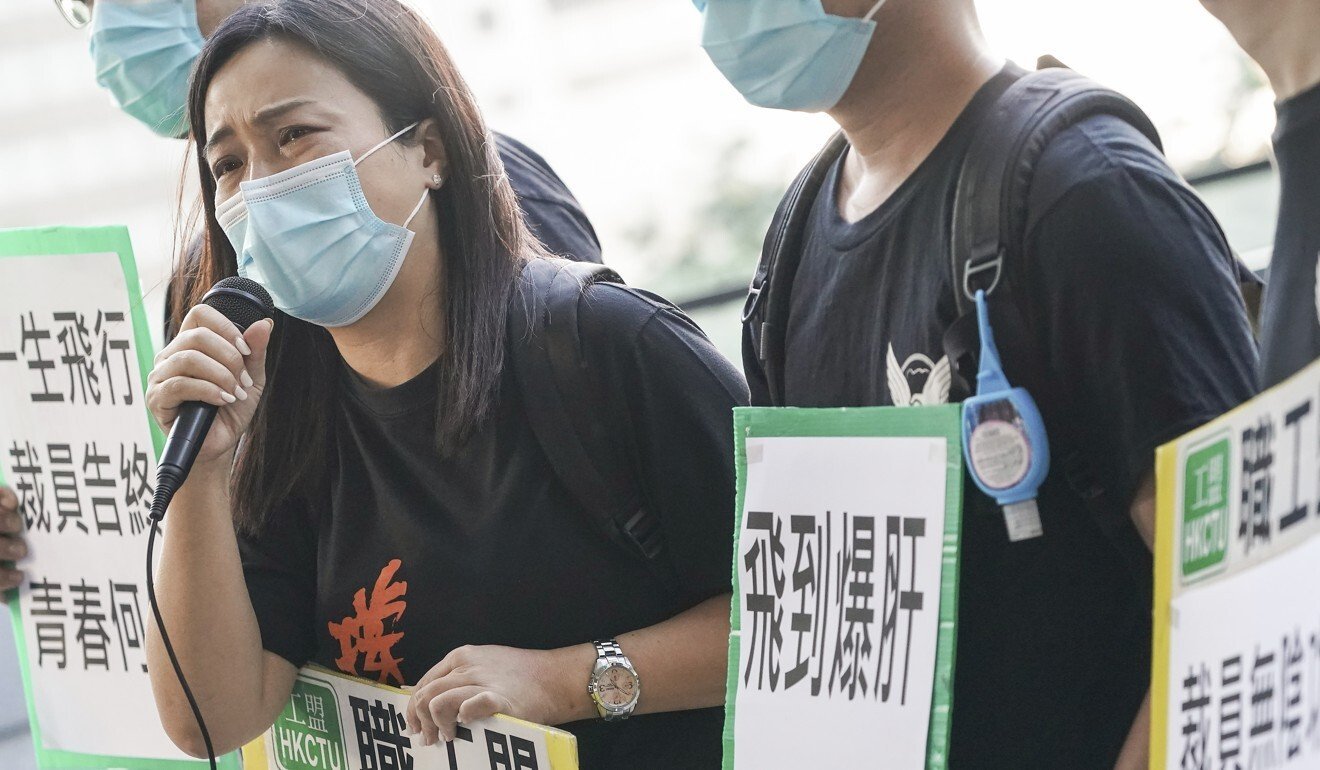 Carol Ng, a former cabin crew union chief, speaks at a protest earlier this month.

Former cabin crew union chief Carol Ng Man-yee said: "My view is you have to get the government and the employer together. You'd better use the chance to talk and not [take] legal action because it may take money and time," she said.

"If you choose [legal action], it may not convince the other side to talk."

If Cathay pilots refuse the new terms, they will be fired, not made redundant. Pilots who signed before midnight on Wednesday were allowed to keep the bulk of their accommodation and education subsidies for two years. Those who sign from Thursday until November 4 will keep the benefits for one year.

Cabin crew who signed before midnight on Wednesday would retain a special allowance, but those who buy in over the next seven days would get no benefits, and those that do not sign by November 4 will lose their jobs.