Four-day visit involving National Health Commission officials comes as both sides prepare for first phase of reopening the border.
A high-level delegation of mainland Chinese health officials and experts arrived in Hong Kong on Saturday to inspect Covid-19 prevention measures as both sides prepare for the first phase of the border reopening early next month.

The officials from the National Health Commission and experts from Guangdong province, Shenzhen and Zhuhai are expected to visit departments and facilities involved in the city's fight against the pandemic and attend meetings with local officials over the course of their four-day visit.

Chief Secretary John Lee Ka-chiu said the tour, which would be joined by officials from the Hong Kong and Macau Affairs Office and the liaison office, was an important follow-up on two rounds of talks held in September and earlier this month.

The local government would continue with its zero-Covid policy and aggressively keep out imported infections to ensure the border could fully reopen, Lee said.

The Post earlier reported that residents would be allowed to enter the mainland without undergoing quarantine starting from early December, about two weeks sooner than originally planned. The number of people allowed to cross each day will be limited to a few hundred at first but that number is expected to grow to several thousand.

Hong Kong has managed to keep the number of coronavirus cases and related deaths extremely low through some of the world's strictest pandemic-control measures. All but three of the city's border checkpoints have been shut for about 20 months.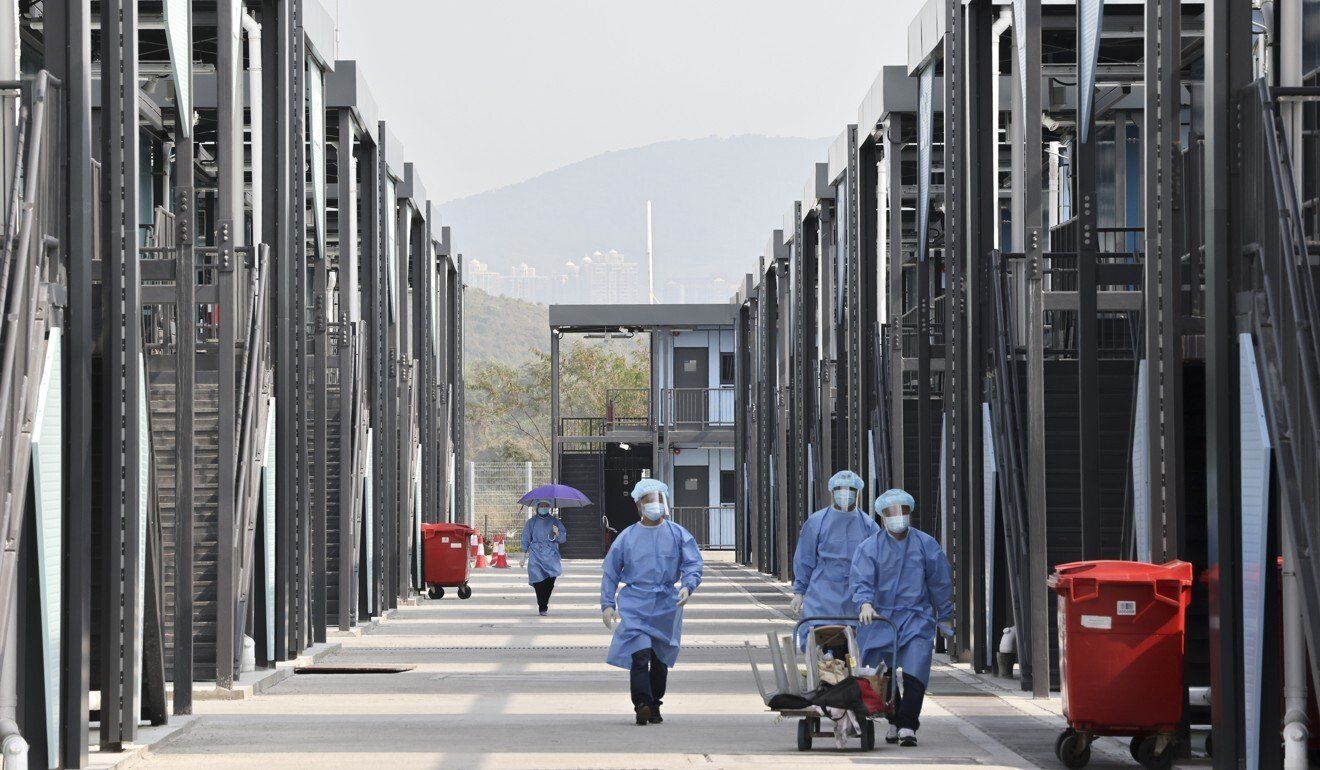 The Penny's Bay quarantine facility on Lantau Island.

Meanwhile, more than 100 Cathay Pacific employees were allowed to leave a government quarantine camp after authorities determined the workers had not come into contact with three cargo pilots in Germany infected with Covid-19.

Officials also warned that legal action could be taken against the pilots if they were found to have lied about their whereabouts during their layover in Frankfurt.

The Department of Health said it had ended the compulsory quarantine of 111 Cathay staff, who had stayed at the same hotel as the three pilots in the German city, although 10 aircrew colleagues remained classified as close contacts of the trio and would remain in isolation.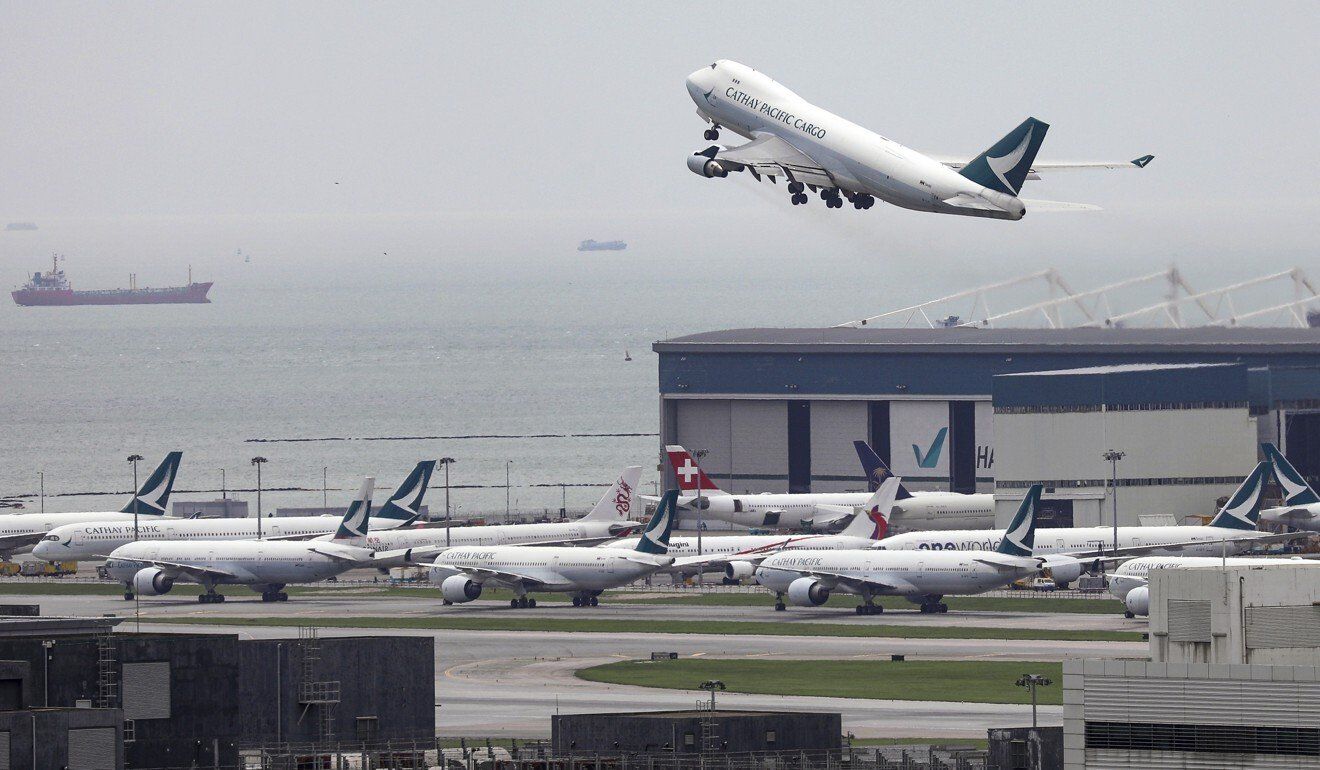 A Cathay Pacific cargo plane takes off at Hong Kong International Airport in Chek Lap Kok.

The three pilots eventually admitted they left the Hyatt Regency Mainz multiple times to meet up with each other or a friend after earlier insisting they had remained inside the entire time, according to the department.

The Centre for Health Protection said German authorities had confirmed no Covid-19 cases had been reported in connection with the hotel.

"It is very likely that they [the trio] acquired the infection from each other or a common source outside the hotel and the chance of an outbreak in the hotel was relatively low," the Department of Health said.

Cathay fired the three pilots on Thursday after an internal investigation found they were involved in an unspecified "serious breach" of crew requirements while overseas.

Hong Kong exempts cargo crew from quarantine and the cases prompted authorities to toughen monitoring of aircrew. Staff must undergo daily screenings during the first week of arrival and not leave their homes for the first three days except to buy medical and essential supplies.

Two of the pilots, aged 29 and 57, were confirmed as infected on November 10, and the third pilot, 53, on Sunday.

The cases forced more than 150 Cathay staff in total into quarantine at Penny's Bay, along with many close contacts. Dozens of the airline employees left the facility earlier this week after completing the required period of isolation.

More than 120 pupils at Discovery Bay International School, where the wife of one pilot teaches and two sons attend, were also sent to Penny's Bay, and about 70 friends and colleagues of two of the pilots forced into isolation.

The CHP said it would investigate whether they had violated the Prevention and Control of Disease Ordinance and provided inaccurate information to officials. The government said it would take enforcement action if necessary.

Under the ordinance, anyone who knowingly provides false or misleading information, including on their whereabouts, contact with others or medical history faces a maximum fine of HK$10,000 (US$1,280) and up to six months in prison.

A Cathay Pacific spokeswoman said: "[We are] pleased with the news that our aircrew who have been quarantining at Penny's Bay solely because they stayed in the Mainz Hotel have now been allowed by the health authorities to return home. We will continue to support a number of our aircrew who remain in the facility and provide all necessary assistance."