Insider says authorities looking into 'minimising' number of polymerase chain reaction tests for all arrivals, with health minister gathering relevant scientific data.
Mainland authorities will start issuing tourist and business visas to allow Chinese nationals to enter Hong Kong starting on January 8, while sources have said the city is set to minimise polymerase chain reaction (PCR) testing requirements for inbound travellers.

China's National Immigration Administration on Tuesday said it would also gradually resume land border checkpoints with Hong Kong and Macau, as well as its express immigration channels.

The current 3,500-quota system for Hongkongers heading to the mainland would go "offline" on the same day, in what a Hong Kong government source said was preparation for a gradual border reopening.

"How [gradual reopening] is to be done is something we need to discuss with the mainland side," the source said.

Health experts and politicians in Hong Kong called on the authorities to review their overall anti-pandemic policies, with some arguing that the city should follow Beijing's relaxation, while others feared a spike in Covid-19 cases would spill over to the city.

A day after Beijing announced its plan to scrap mandatory quarantine and reopen the borders, the Post learned that Hong Kong would adjust its PCR testing requirement for all arrivals before the end of the year to minimise discrepancies between entry procedures for mainlanders and other travellers.

More details on the resumption of travel for mainlanders were also announced. The immigration administration said it would resume processing passport applications by mainland residents for tourism, while a policy that allowed visa-free transit of up to 144 hours for travellers would also be restarted.

The extension, renewal and replacement of visas and residence permits for foreigners would also be restored, it added.

The administration had said in February it would only renew or issue passports for essential travel, including for going abroad for study, employment or business, while the international Covid-19 situation was still severe and cross-border movement posed "great security risks".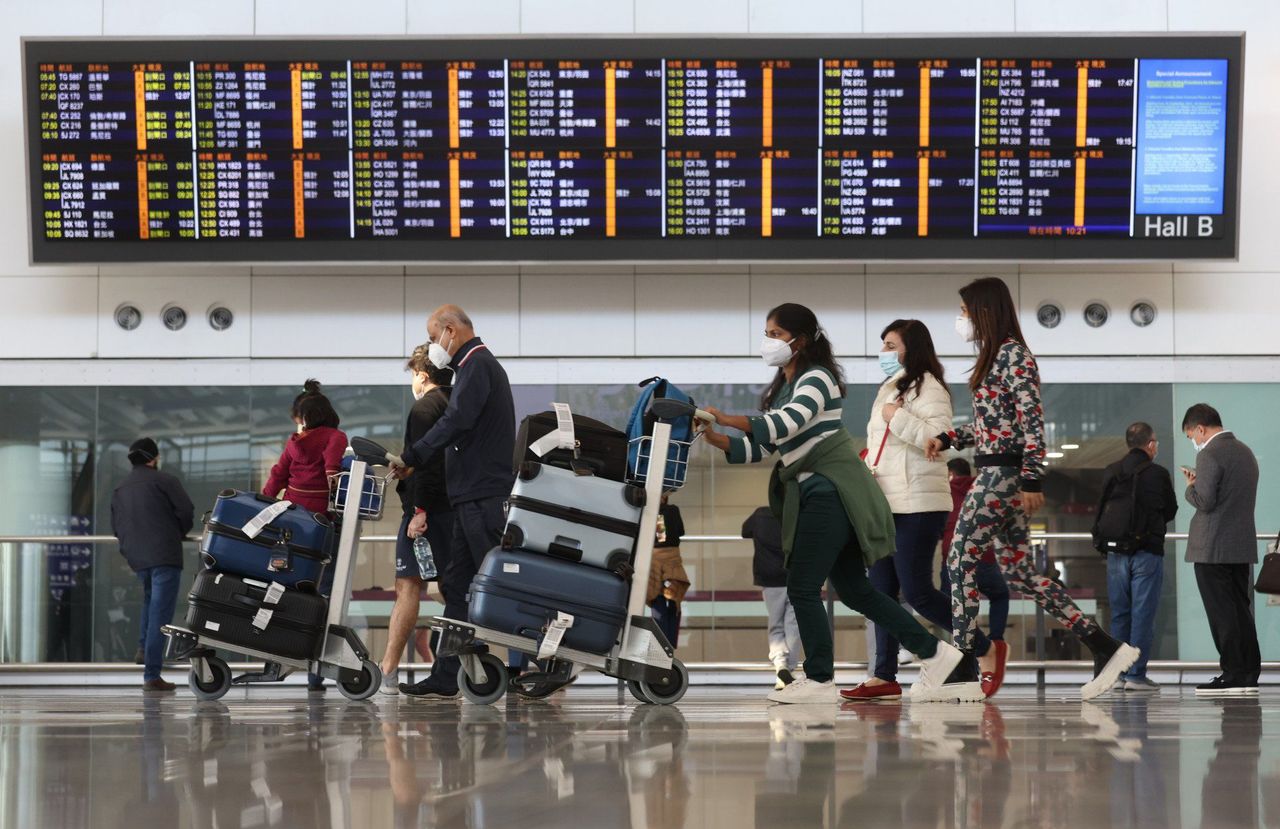 Travellers arrive at Hong Kong International Airport.
Japan, a popular destination for Hong Kong residents, has ordered flights from the city and Macau to be directed to four airports in Tokyo, Osaka and Nagoya only, while imposing
Covid
-19 tests on inbound travellers from the mainland from December 30, amid worries of an influx of infections.
Cathay Pacific, Hong Kong Airlines and Hong Kong Express have been asked to suspend their flights to Sapporo, Fukuoka and Okinawa from Friday.
However, a check by the Post found outbound flights to airports including Okinawa, Sapporo and Fukuoka in the coming week were unaffected as of 8pm on Tuesday.
Tickets to most Japanese destinations in January, however, appeared to be "sold out" on the Cathay Pacific website. Its subsidiary budget carrier Hong Kong Express has also listed all tickets for Okinawa as "sold out" from December 30.
A Cathay spokesman said its flights to and from Japan would continue as scheduled, including those to and from Fukuoka and Sapporo, adding that it was working to clarify the situation with the Japanese authorities.
Back in Hong Kong, a government source said more details on the change in testing rules for all inbound travellers would be announced in the next few days.
"We are looking into possible minimising of PCR testing for arrivals and will make the announcement once the health minister has all the data ready," the insider said.
"Possible changes may also be made in the reduction of rapid antigen tests [RATs]."
Currently, inbound travellers to Hong Kong from overseas must be double-jabbed against
Covid
-19 and undergo a rapid test no more than 24 hours before departure.
They are also required to undergo a PCR test upon arrival at the airport followed by a second one on their third day in the city, as well as conducting RATs for five days.
Travellers from the mainland and Macau are exempt from any
vaccine
requirements or pre-departure screenings but must undergo a PCR test on their third day in Hong Kong.
The insider also explained that there was no contradiction between Chief Executive John Lee Ka-chiu's call for a gradual easing of cross-border travel curbs and Beijing's policy rollback.
Central authorities on Monday night said they would start lifting
coronavirus
restrictions from January 8, including scrapping centralised quarantine and
Covid
-19 tests on arrival, while doing away with the need for travellers to apply to Chinese embassies for a health code before departure.
Passengers who test positive on arrival and experience mild symptoms can isolate themselves at home. The new entry regime will only require travellers to undergo a PCR test up to 48 hours before entering the mainland.
"China still requires people to do PCR before coming into the country and will put crowd control measures back in place if the situation gets worse, while fully reopening means no restrictions at all on railway or flight numbers to a pre-pandemic level, which requires more time at this point," the source said.
Commerce sector lawmaker and Executive Council member Jeffrey Lam Kin-fung said he hoped the reopening with the mainland would be done in "an orderly basis and progressive manner", adding that he would be worried if the government announced a full relaxation at short notice.
"It's easy to [call for] opening the border, but we have to be equipped with hardware and software … [the Hong Kong government] needs to coordinate on immigration, customs and whatever needs to be done at borders," he said.
He added that the government needed to clarify more details ahead of the reopening, including PCR testing, immigration requirements and how people could renew their cross-border car licences.
Hong Kong recorded 18,626 new
Covid
-19 cases on Tuesday and another 53 deaths. The city's total tally of infections stands at 2,522,836, with 11,562 fatalities.
Government pandemic adviser Professor Ivan Hung Fan-Ngai said all infection control measures, including PCR tests for travellers, should be scrapped, except the mask mandate.
Legislator Doreen Kong Yuk-foon, who had previously criticised Hong Kong's stringent anti-epidemic rules, said she welcomed the change in national policy, and urged local authorities to scrap the mask mandate,
vaccine
pass and social-distancing measures subsequently. She added that Hong Kong should no longer characterise
Covid
-19 cases as a "public health emergency".
But Regina Ip Lau Suk-yee, convenor of the Executive Council, said Hong Kong had previously tailored the more nuanced details of national anti-epidemic policies to suit the city while broadly adhering to the central government's stance.
She said the government's priority at present was preserving lives amid an increasing strain on the public healthcare system.