Tournament gets off to slow start, but crowds and atmosphere builds up as night falls.
The magnificent Sevens returned to Hong Kong on Friday and the rugby tournament's crowds got bigger and the excitement built as night fell after a slow daytime kick-off.

Thousands attended the start of the tournament, with spectators pleased to be back at the event after a three-year suspension because of Covid-19.

The daytime crowds only numbered dozens at the Hong Kong Stadium, but the customary atmosphere asserted itself and the crowds thickened as the day went on.

The traditionally rowdy south stand of the stadium was packed with fans, many using the occasion to take part in the event's tradition of fancy dress.

Alex Fan, a 23-year-old Australian art dealer, and a friend showed up dressed as Snow White and Cinderella, and he said he was delighted to be back in the city and at the Sevens.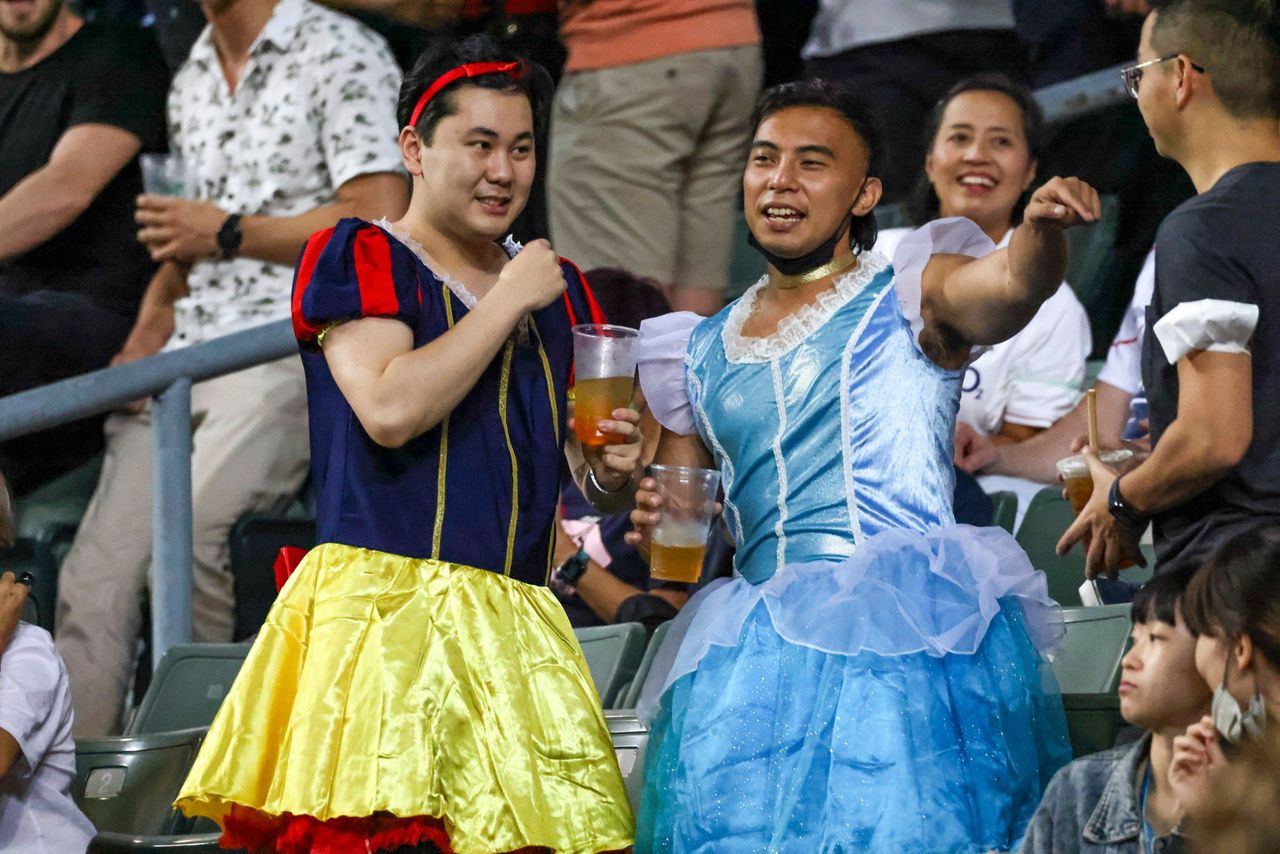 Alex Fan, 23 (left) from Australia gets into the party spirit of the tournament in a Snow White outfit while a friend, dressed as Cinderella, also gets to go to the rugby ball at the Hong Kong Stadium.

"We are here in Hong Kong and we are celebrating the Sevens for the first time in a long time," Fan said.

Fan, who arrived on Monday, agreed that the atmosphere had heightened as the day went on.

"It's not as big as the last couple of Sevens, but I am hoping the weekend will be bigger," he said.

Rugby fans also found they faced more rules this year, apart from the difference in atmosphere.

Organisers said health precautions included scans of spectators' Covid-19 exposure risk "Leave Home Safe" app, compliance with vaccine pass requirements, and a negative rapid antigen test result before entry was allowed.

A group of four South African tourists who came specially to watch the tournament were barred from entry because they were unaware of the three-day medical surveillance rule, barring people from visiting premises such as sports venues, bars and restaurants.

Renier Du Plessis, 38, said he and his friends made the 11,350km (7,065 mile) journey from their homeland, and arrived on Thursday. But they were stunned when they were told the earliest they could attend would be on Sunday, the final day.

"We are not aware of any issues per se, because in South Africa, we don't wear masks any more. We don't even know how to do the rapid test," Du Plessis said.

"We didn't know you have to be here three days before. It's disappointing, the fact that you can't do anything, we are not allowed anywhere. So, where am I supposed to be in the next three days?" he asked.

Du Plessis said he could not remember how much he paid for the tickets, but a general three-day admittance costs HK$2,028 (US$260).

He added the government should have done more to alert travellers to the restrictions.

Hong Kong in red and blue take on Australia on the opening day of the rugby Sevens tournament.

But Irish rugby fan John Kinney, 59, said he arrived in the city on Tuesday to make sure he could attend the games.

Kinney who will also attend his son's graduation ceremony while in the city, said he would not have travelled if stricter quarantine measures had been in place.

"If I was a pure tourist and … if I'd never been to Hong Kong beforehand, I would probably think, 'no, I'm not going to go there'," he said.

"Even though the place may not be full, it's still fantastic. You can see just the way all the people are enjoying it."

One of the first to arrive at the Causeway Bay venue was city resident Carla Yee, 48, her husband and two sons.

"We are really excited. We pulled our sons out of school for the day just to go," Yee's husband, who asked not to be named, added.

Yee said the family had packed some sandwiches, but said they were still unsure about the rules for eating and drinking in the stadium.

It was earlier announced by the government that fans could drink but not eat during the Sevens because of the coronavirus risk. But two weeks before the event kicked off, the authorities relented.

Hao Zhuran, 23, a mainland Chinese university student, said he would remain cautious while watching the tournament, his first time at the event.

"I probably won't be eating there. I'm still worried about the pandemic," Hao, who went on his own, said. "If I'm really hungry, I might leave earlier to look for food before coming back."

Long-time rugby fan Sean Lai, who is in his 30s, clutched a huge Fiji flag as he queued to enter the stadium.

"I was born in Fiji, so of course I'm supporting them. I'm also supporting the Hong Kong team as well," Lai said.

"This is one of Hong Kong's biggest sporting events. I hope this could help Hong Kong attract more tourists and boost the economy," he added, although he said this year's event was relatively quiet because there were fewer visitors.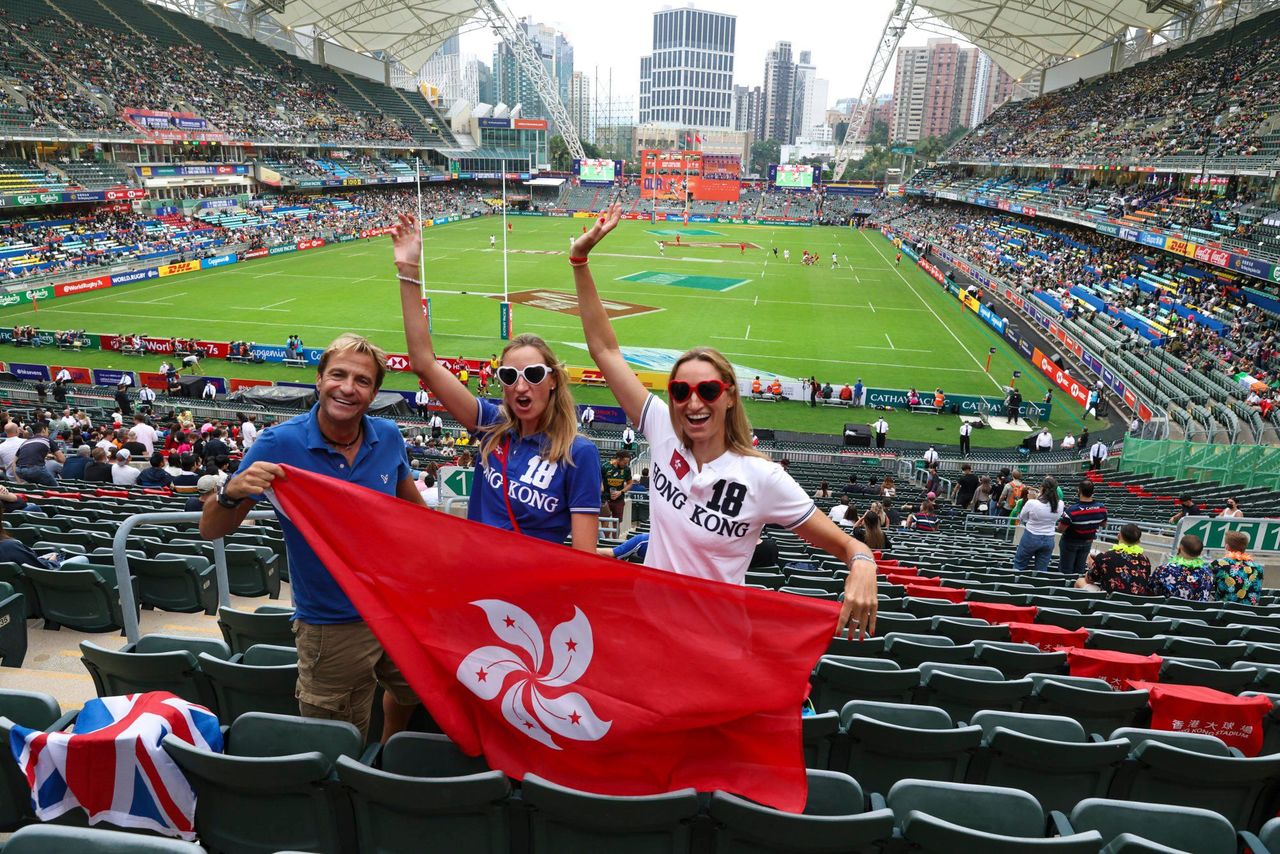 Rugby fans enjoy some of the early action at the Hong Kong Sevens tournament.

Darling Mohammad, 18, who has watched every tournament since 2015, said its return was "something to be happy about".

But she said it was a shame that spectators had to wear masks and could not meet the players or get photos and autographs.

"Overall, for them to bring it back, it is very exciting and will make us look forward to it even more," Mohammad said.

There was a heavy police presence at the event, with officers in tactical equipment on patrol in and around the stadium.

Officers from the force's counterterrorism unit were seen patrolling near the main entrance earlier in the day and drugs and explosive sniffer dogs were also spotted outside the venue.