The signing ends a year-long jostling for the rights to run gambling halls in the only place on Chinese soil where casinos are legal, coinciding with the relaxation of the draconian Covid-19 rules.
Macau's government signed contracts with six companies to renew their casino licences for the next 10 years in the world's gambling hub, hot on the heels of easing Covid-19 quarantine rules for inbound visitors, including those from Hong Kong.

Chief Executive Ho Iat-seng, Secretary for Administration and Justice Andre Cheong and Secretary for Economy and Finance Lei Wai Nong signed the concession agreements for the territory's government, according to a live-stream of the proceedings by Macau Daily News.

The six licences, effective from January 1 until the end of 2033, are held by their incumbent operators: MGM Grand Paradise, Galaxy Casino, Venetian Macau, Melco Resorts Macau, Wynn Resorts Macau and SJM Resorts. GMM, an upstart bidder controlled by the Malaysian casino mogul Lim Kok Thay, failed to make the cut during a tender exercise last month.

The long-anticipated signing concludes a year-long jostling for the rights to operate gambling halls in the only place on Chinese soil where casinos are legal, coinciding with the relaxation of the draconian Covid-19 rules that have emptied the territory's glitzy casinos since 2020 and left a tax hole in Macau's finances.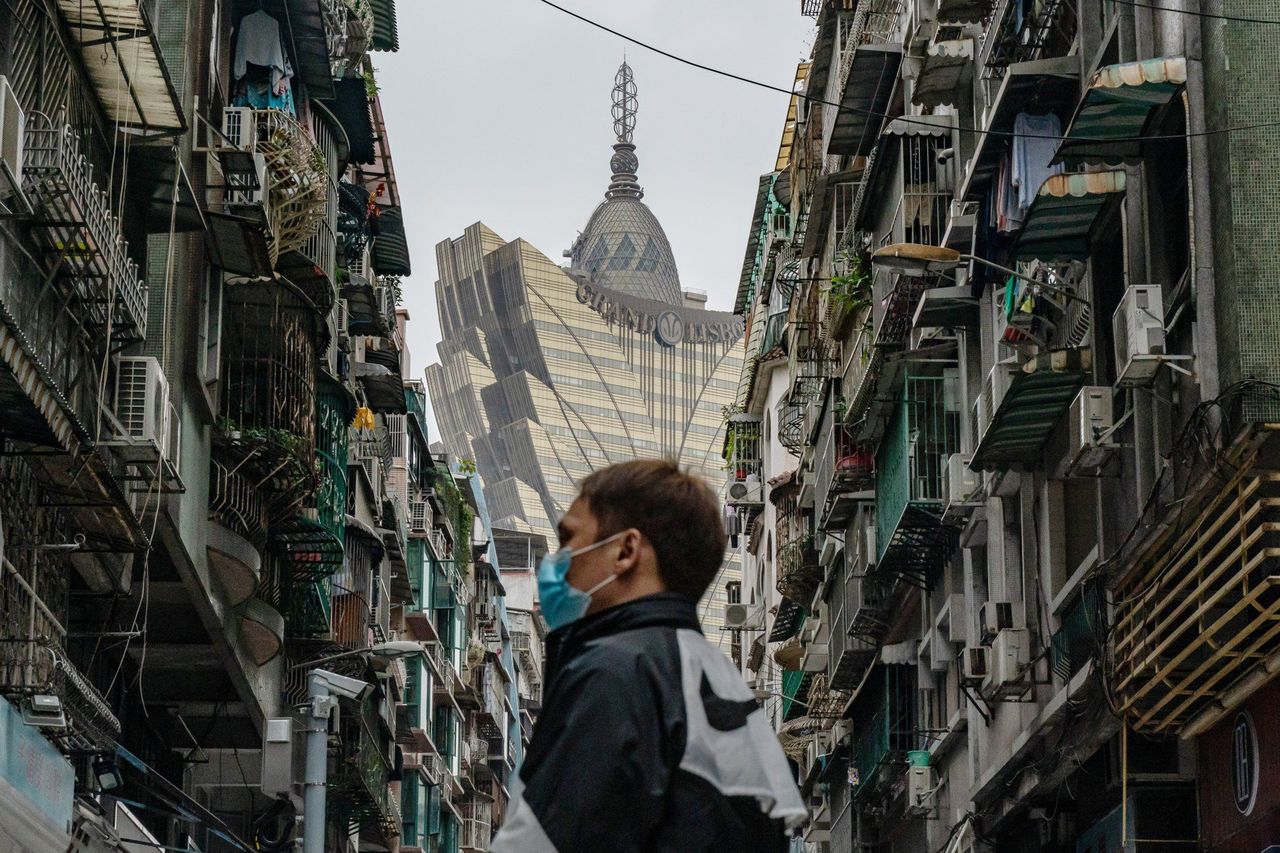 A man wearing a protective mask walks across a street in front of the Grand Lisboa Hotel in Macau. The city has relaxed quarantine rules for overseas visitors.
The top executives of each of the six concessionaires are scheduled to appear at a press conference on Saturday, where they will take turns to present their investment and expenditure plans during their licensing period. High up on their priorities will be ideas to maintain jobs, promote tourism, enhance entertainment and conferences to help the city diversify its economy from gambling, according to the requirements of their tender.
The casino operators will pour 118.8 billion patacas (US$14.8 billion) between them into Macau under their contract obligations. Venetian will invest the most with 30.24 billion patacas, while Melco the least at 11.8 billion patacas.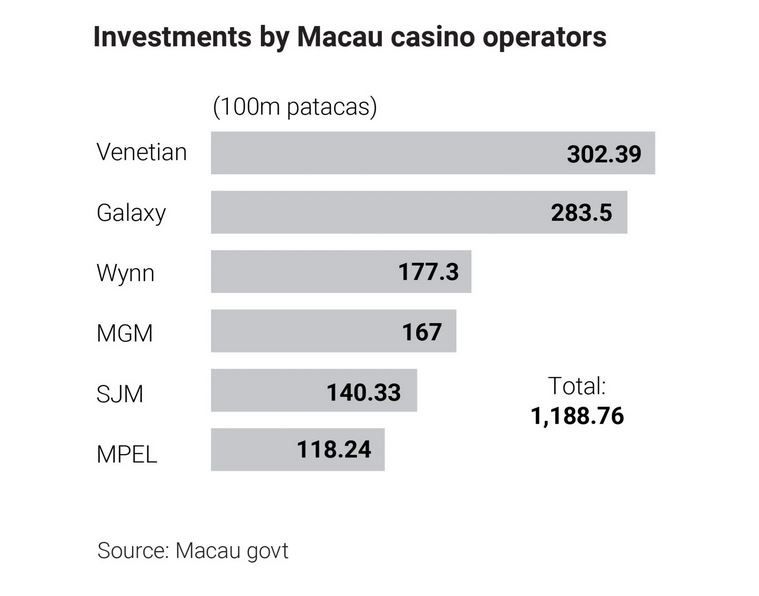 "Each company will need to submit, at the end of September each year, their non-gaming investment, development, and implementation plans for the following year to relevant government departments for approval and follow-up," Cheong said at the press conference. "We hope that the development of exhibition centres, performances, sports competitions and other non-gaming activities can attract more tourists to Macau from different destinations and stay for longer intervals than before. This will generate strong economic benefits for the whole of Macau."

Hours before signing the concessions, Macau's government scrapped quarantines for all inbound travellers, requiring them to undergo daily antigen tests during a five-day home isolation period, effective Saturday.

The "0+5" scheme will mean visitors' health code will be red upon entry to Macau for three days, yellow for two days and green thereafter.

"The lifting of some of Macau's more onerous zero-Covid restrictions holds out some hope for the new concessionaires that next year will be better than this one," said Ben Lee, managing partner at IGamiX Management & Consulting in Macau.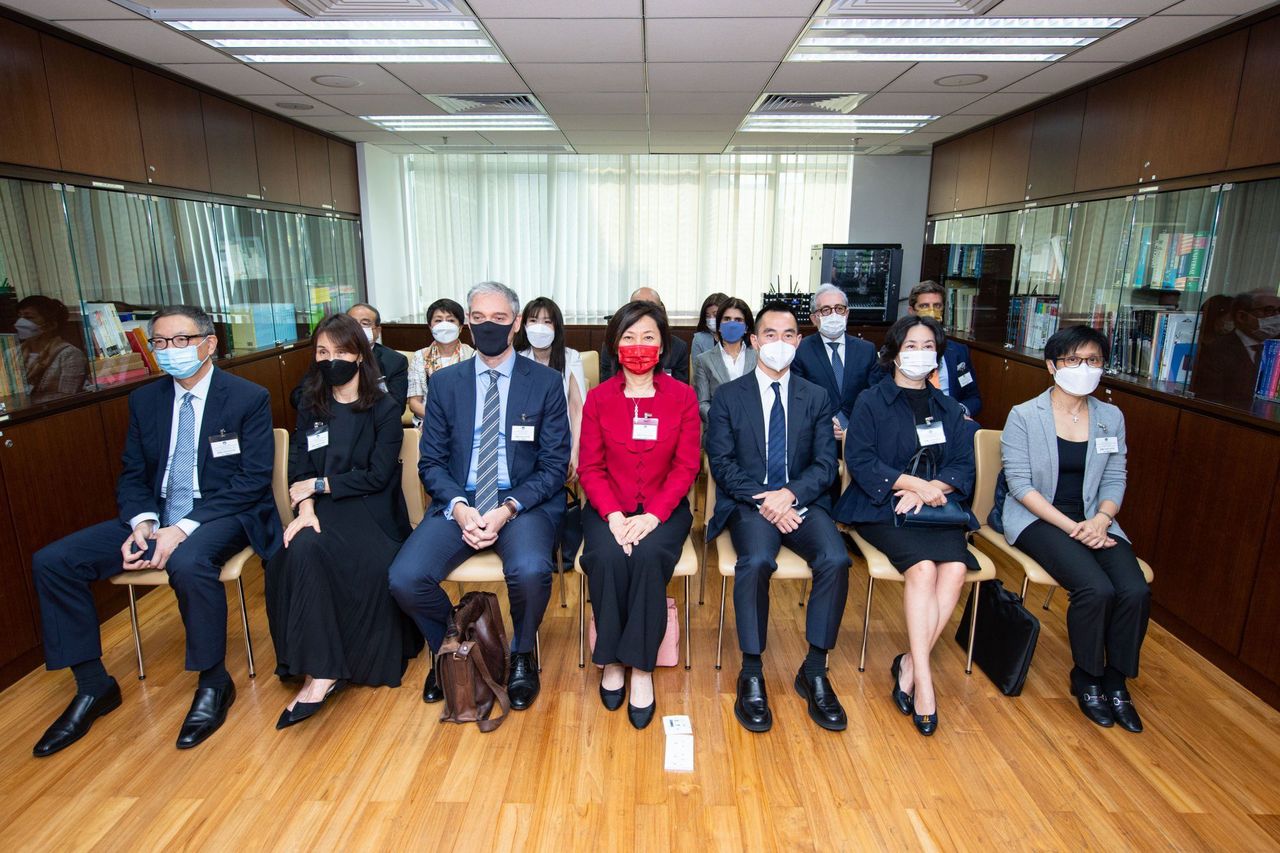 Macau casino licence applicants presented their bids to the Committee for Gaming Concessions Public Tender in Macau earlier this year.

Macau's zero-Covid rules have decimated the gambling and tourism industry, driving the collective gambling revenue to 38.7 billion patacas (US$4.8 billion) in the first 11 months of this year, putting the city on track to fall short of the all-time low in 2020 of 60.40 billion patacas. November revenue plunged 56 per cent from last year to 3 billion patacas.

Tourism will be allowed to return to Macau in phases, starting with Guangdong, Shanghai, Zhejiang, Jiangsu and Fujian. These groups represented about 57 per cent of Macau's 2019 tourist arrivals from mainland China.

"Assuming that the first group tour visas will resume after March 2023, gross gaming revenue (GGR) could start recovering from the second quarter next year onwards," said George Choi, director and head of global gaming research at Citi Research, adding that second-quarter GGR could rise by 165 per cent next year to 22.5 billion patacas.

Some 11 satellite operating casinos will have their licences renewed, down from 18 currently, said Cheong.

"If the Covid-19 situation comes within our control, we believe it will not be too long before the current measures are further relaxed," the Secretary for Social Affairs and Culture Ao Ieong U said at the press conference.