Macau urged to make most of Guangdong-Macau cooperation zone in Hengqin to generate new sources of income
The return of mainland Chinese tour groups to Macau in November will inject much-needed cash into its struggling tourism-dependent economy, but the casino hub should also seek to integrate with neighbouring cities to diversify sources of growth, observers have said.

Hong Kong's long-awaited end to hotel quarantine on Monday has raised questions over whether its neighbour will follow suit and also ease restrictions aimed at keeping Covid-19 out. But Macau Chief Executive Ho Iat-seng on Saturday said the city had no plans to relax travel curbs for international arrivals, who must undergo seven days of hotel quarantine followed by three days of health monitoring.

Ho's message was clear: even as the city prepared to welcome 40,000 mainland travellers a day, the government would adhere to the nation's "dynamic-zero" Covid-19 strategy that prioritised eliminating cases as soon as they arose, rather than adopt a policy of living with the virus.

Eilo Yu Wing-yat, a political scientist at the University of Macau, said Ho's stance on keeping its pandemic-control measures aligned with the rest of the nation's was understandable as the city heavily relied on its open border with the mainland, across which flowed a stream of workers and solo travellers daily.

"Macau cannot really make its own choice. Its economy depends on tens of thousands of workers who cross the border from Zhuhai to work in the casino hub every day," he said. "I cannot see why the city's government would take any drastic action to change the status quo."

Macau recorded 39 million tourist arrivals in 2019. Even though their numbers fell to 5.9 million in 2020, they rebounded to 7.7 million last year, with 90 per cent arriving via land from the mainland.

The gaming industry accounted for 66 per cent of gross domestic product (GDP) in 2019, 30 per cent in 2020 and 37 per cent last year. Overall, GDP contracted by 8.9 per cent in the first quarter of 2022 and by 39.3 per cent in the second, both year on year. By comparison, 33 per cent of Hong Kong's GDP in 2020 came from the finance, real estate and business services sectors, and another 20 per cent from the public, social and personal services sectors.

Au Kam-san, a former veteran opposition lawmaker in Macau, said the return of tour groups could throw a lifeline to a city struggling with a contracting economy and an unemployment that had worsened from 2.3 per cent in late 2019 to 5.4 per cent for the three-month period ending in July this year.

"We hope that when more tour groups arrive from the mainland in November, more jobs will be created," Au said.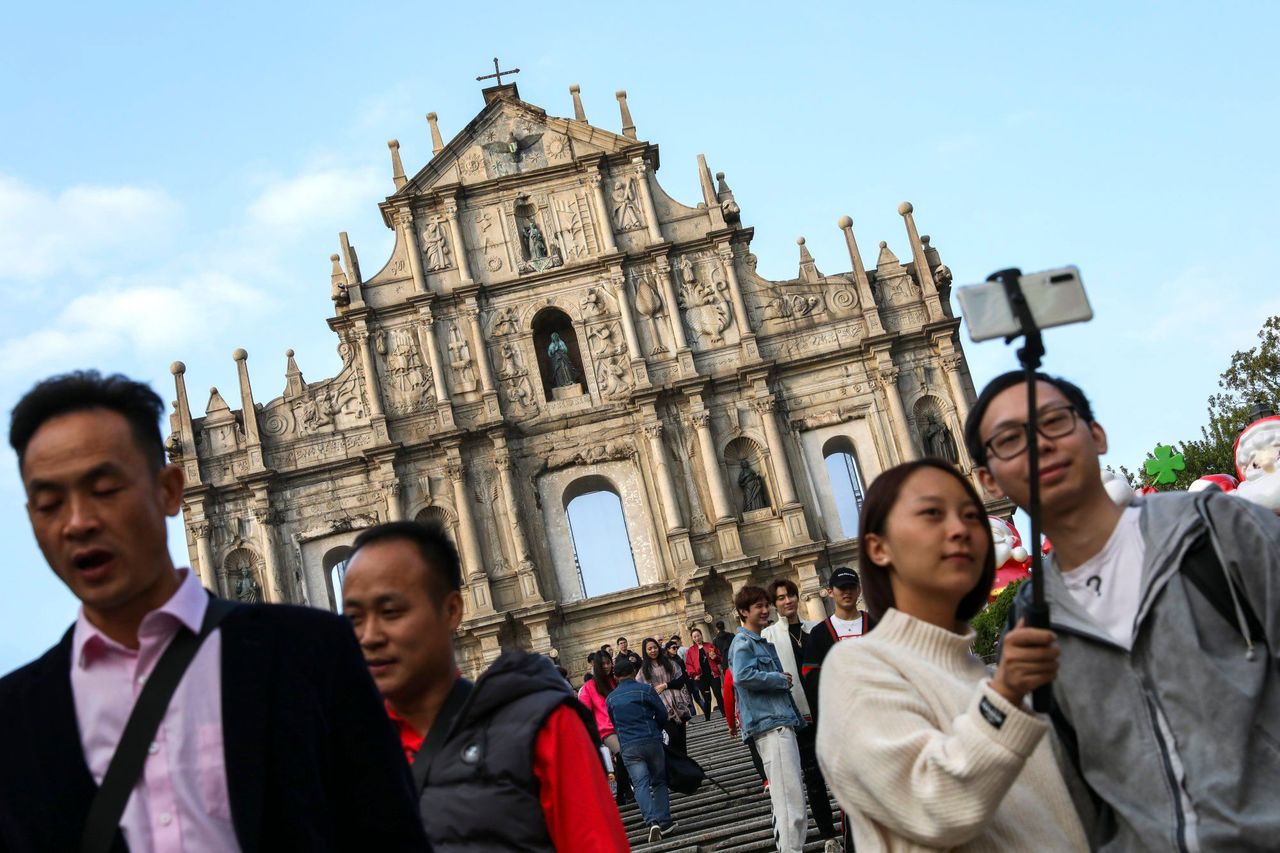 Tourists visit the ruins of St. Paul's in Macau, where the government has decided to stick to its "dynamic zero" approach to the coronavirus, in line with mainland China.

But former lawmaker Sulu Sou Ka-hou, now a deputy chairman of the political group New Macau Association, said he was doubtful the arrival of mainland tour groups would significantly bolster the economy.

Sou noted the city had remained open to individual mainland travellers, yet tourist arrivals fell from 821,000 in December last year to 331,000 last month.

Beijing's approval of Macau authorities' request to welcome mainland tour groups came after Chinese Vice-Premier Han Zheng convened a high-level meeting on Friday.

During the discussion by the Central Leading Group on Hong Kong and Macau Affairs, Han said Beijing fully supported the casino hub's efforts to diversify its economy while containing the pandemic.

The vice-premier also urged officials to take advantage of opportunities offered by the Guangdong-Macau cooperation zone in Hengqin to "create new spaces for work and life of Macau residents".

The central government intends to turn Hengqin, an area south of Zhuhai and west of Macau, into a development zone focused on finance, technology, traditional Chinese medicine, culture and sports.

Sou said he was optimistic that the broad blueprint would provide a boost to the culture and sports sector in Macau.

"Many state-owned enterprises have helped us to build hotels, convention centres, and sport facilities, as well as to organise international mega events," he said.

Au noted the Macau government had been eager to attract international investors to the new economic zone, and expressed hope authorities would ensure foreign money would benefit both the city and Guangdong province.